Chuck's 2004 Ramblings...
Current 2013 2012 2011 2010 2009 2008 2007 2006 2005 2004 2003 2002 2001 2000
Colo Vacation 11 Colo Adventure 04/05 Our Cruise 03 Myrtle Beach 02 Egypt 02
10:18:08 0001Failed to execute CGI : Win32 Error Code = 259

12-5-04
I have not updated this since before Thanksgiving so I better do it now. A couple of mornings before Thanksgiving Karen and I awoke to a telephone call. It was Michael, needing to be bailed out of jail. To make a long story short, the two "love-birds" were fighting and it escalated to the point where "something" happened. The cops were called and someone went to jail. My guess is that Katrina was pissed at Michael and goaded him into doing something he shouldn't have and then had his ass thrown in jail just before Thanksgiving. We bailed him out for $250.00, which he hasn't bothered to repay us yet, so he could keep his job. I tore into Katrina pretty hard about her petty crap and me having to piss away $250 could have been completely avoided by better thought through actions on her part. They ended up coming over for Thanksgiving dinner, have been fighting ever since I guess. I predict it is just a matter of time before Katrina moves back to her mothers house in Nebraska. Maybe it is for the better.
Thanksgiving dinner found us playing host to Karen's brother's family and her parents as well. Karen's best friend Chris Edwards also attended. Chris made all of the fancy and thoughtful Thanksgiving decorations including place setting name tags. Karen cooked a twenty pound bird in the oven and I cooked a seventeen pound bird in a deep fat fryer. It took four and a half gallons of peanut oil. The fried bird only took an hour to cook and was delicious. Karen's bird was excellent also, but it took nearly four hours. We had all the trimmings, ham, green bean casserole, onion casserole, yams, stuffing and mashed spuds as well as pies to feast upon. I took a bunch of pictures with the digital camera for everyone to enjoy.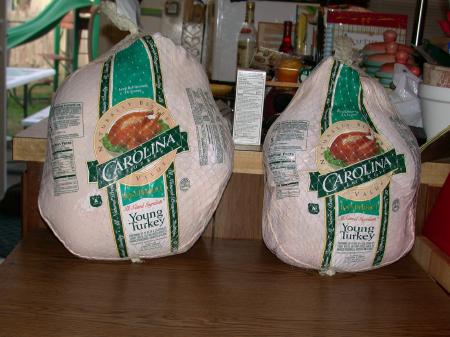 20 lb. and 17 lb. Turkeys, the smaller one is Chuck's
---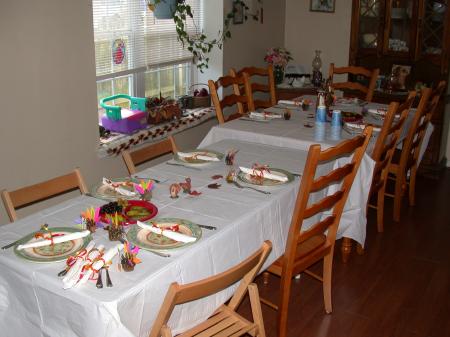 Pre-feast table settings by Chris
---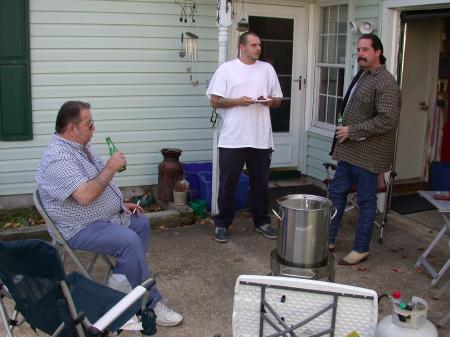 Frank, Mike and Brian
---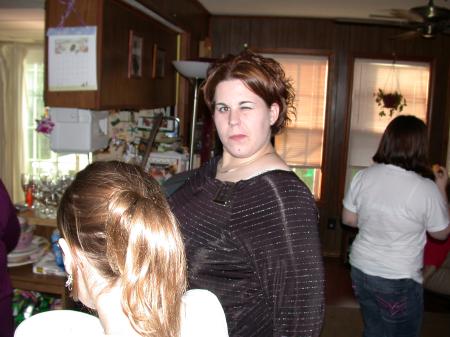 We don't call her Dork for nothing!
---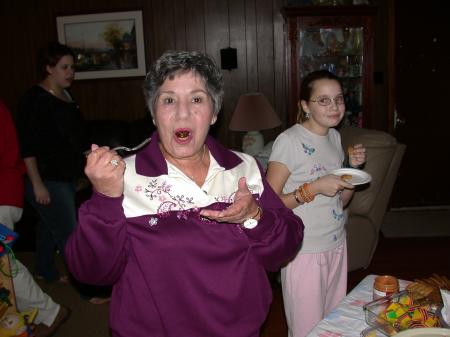 I "wonder" which side of the family it came from...
---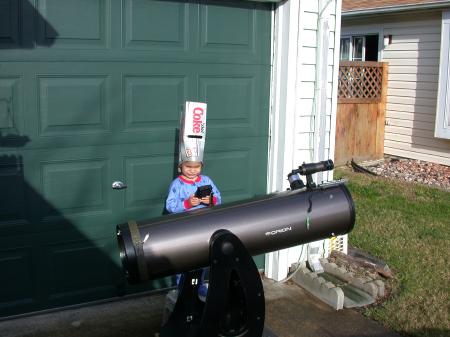 And it was passed down to the next generation!
---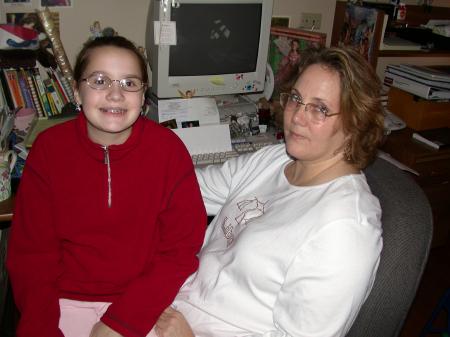 Barbara & Mandy
---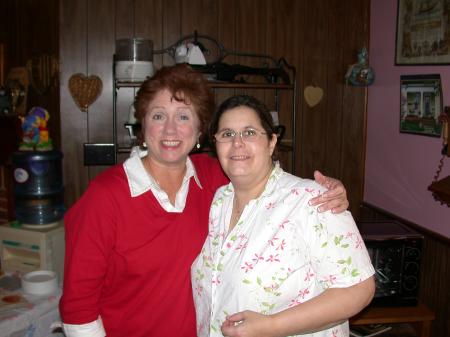 Best Friends, Chris & Karen
---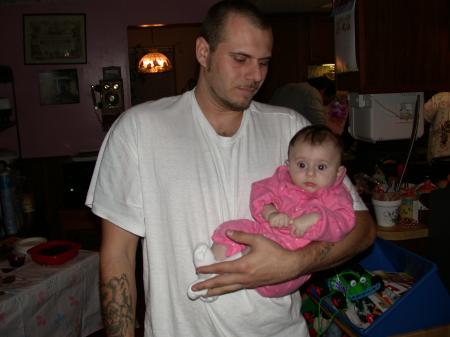 Mike & Sabrina
---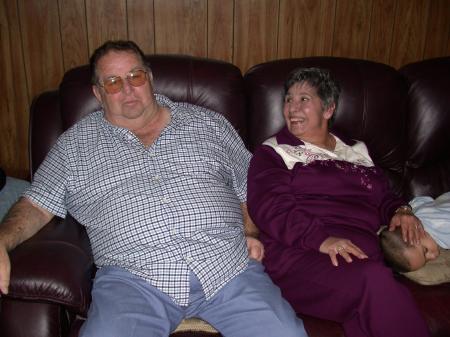 Frank & Carol
---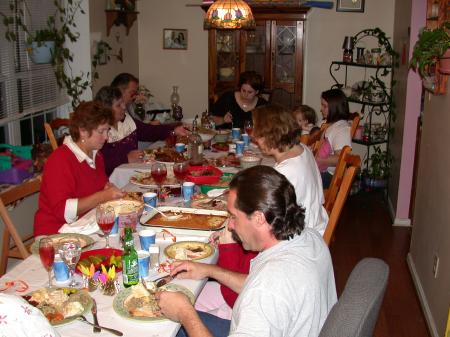 Dig In!
---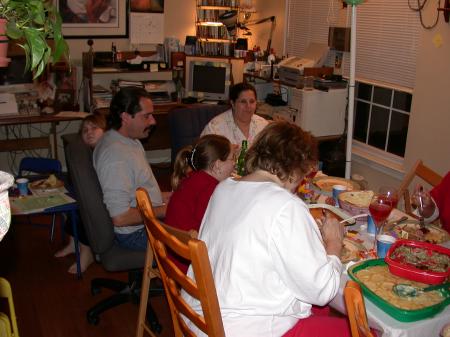 More Feeding at the other end of the table.
---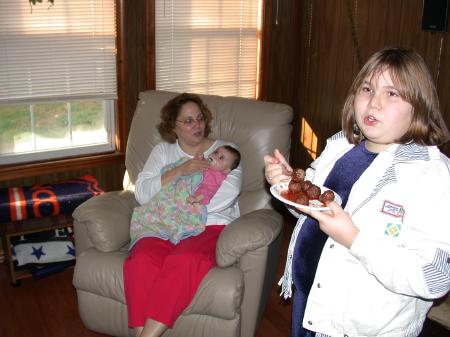 Barbara, Sabrina and Lauren
---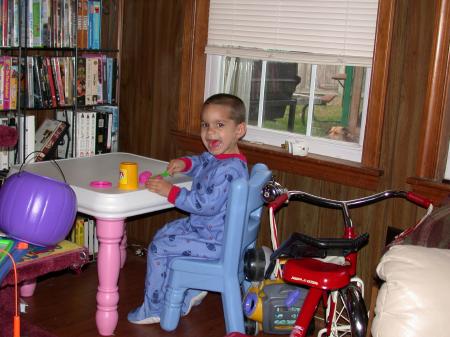 Cameron doing his own "cooking"!
---
Just before Thanksgiving I learned that my mother is beginning her battle with breast cancer. She had a biopsy and it proved to be malignant. Her surgery is scheduled for December 9th. I am nearly at wit's end over it and have been trying to help as best I can. I will be heading out to Colorado to help out on the ranch for at least the month of January while she heals. My sister and cousin Tom will help from after her surgery until I get there just after Christmas. I just hope she knows how much everyone is thinking of her and wishing for her the best.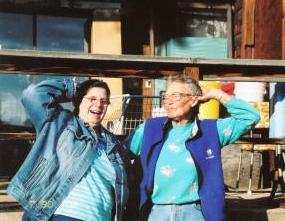 Karen and my Mom Glamming it up!
---
11-13-04
Once we managed to get the previous settlers out of the newly acquired home for Mike and family, we began inspecting the joint real close. I knew we had to replace the carpets. So off looking for a "deal" on carpet. A few days later and a thousand bucks poorer the new carpets were scheduled for installation. The day before the installation, I began removing the old carpet, usually just a dirty, smelly job. These folks had placed layer upon layer of carpet instead of removing the old carpet. I removed two layers overall from the entire place with a couple rooms having three layers, dirty and smelly don't even come close a good description. After the carpets were up, I found only one small section of the floor that was in need of repair. It measured about 8 inches wide by about 14 inches long and was part of a 4 foot by 8 foot piece. I decided to replace the entire 4 X 8 piece. I will say that this was probably the stupidest thing I could have done. It took Mike and I nearly two hours to pry up that hunk of wood. Actually we pried, chipped and broke it out of there and then nailed down the new sheet, a bunch of work for sure. The new carpet came and was installed, looks very nice.
Next came the move, not really too bad as Katrina had moved the majority of small things earlier after the carpet was down. We found that the sinks don't drain well and one toilette is stopped up a bit. We replaced the locks and a new toilette seat for the working toilette. Our friend Chris had been storing our previous kitchen table and chairs so we retrieved them for the new home. Karen's parents decided to buy them a washer and dryer to help out. Had a pretty good ruse set up so that Katrina would be home on the day of delivery. I told them that a sailor on my base was being transferred to GUAM and had reached his limit of weight to ship over there and his parents had just given him a new washer and dryer and he only wanted $100 for the set. I was to go over on the 8th and inspect them and then arrange for delivery. I called Katrina from work on the morning of the delivery, the 8th, and told her I gave the guy's brother who worked for Sears $20 to deliver the set, and that he would be hauling them out there in a Sears truck. The set was delivered and Katrina claims she did not catch on until she had to sign the delivery papers. The delivery folks were supposed to install the set, however they ran into a bit of a problem. The previous occupants of the home could not unscrew their rusted on water hoses for the washer, so they just cut them right up against the fitting. Boy I tell you I was a little pissed. I called up the nimrod we bought the place from and gave them hell over the phone about being such assholes to cut the hoses off flush. They at least could have left a few inches to splice a new hose to. After cooling down, I took my Dremel rotary tool and using a cutting blade, I managed to cut the old hose fixtures off and not damage the PVC valves underneath. So now the kids have their own laundry, maybe ours will get a break now...
Karen is doing well, getting ready for the push for the holiday sales season. Cheryl is still taking classes and Cameron has learned that he can just about get whatever he wants by throwing a tantrum. Mom and Grammy are getting wise and have been not giving in so much as they have in the past. Cammie knows that Grampy "don't play that game"...
Astronomy has still been hampered by either poor weather or real crappy light pollution. I have been trying to negotiate an agreement between myself and the City of Chesapeake to use a city park located out in a rural section of the city that has skies two orders of magnitude darker than where we live. The park is named Cornland and has no amenities other than being flat and mowed regularly by the city. I have requested a special permit to use the park after dark. So far the park managers have been quite adamant about granting after hours access. I will keep pushing, probably all the way to city council...
---
10-11-04
Seems like after a few quiet weeks everything has to go all at once! Such is life with our family. Everything was nice and quiet up until last Saturday night. Michael decided in the middle of the night, around midnight, to head up to the local convenience store a few blocks from his house on foot for some cigarettes. On the way he was accosted by three African American individuals on bicycles. First they asked Mike for a smoke and then asked him if he had change for a fifty dollar bill. As Mike stuck his hand in his pocket they jumped him and robbed him. Mike did not give up without a fight, he managed to put one of the thugs into the hospital supposedly with permanent paralysis, thank you Bubba Walters Karate. The other two escaped and the police are supposedly on the hunt for them. Mike was bruised and scraped up as the other two managed to kick and punch him a great deal. Lucky for Mike they had no weapons and that no bones were broken. Thus the problems begin...
Just a few days after the robbery, the "at large" thugs are now on the hunt to take Mike out for tearing up their running mate so badly. Of course there is nothing the police can do until an actual crime is committed, meaning someone is either hurt or dead. Another African American acquaintance of Mike's from the "hood" out of the blue offers to take him out for a night partying on the town at no cost to Mike. At least Mike is wise enough to smell a rat, and that this "acquaintance" is probably just trying to help set Mike up for a fall so Mike did not go. Add to that that they have observed strange cars idling in front of their house at nearly all hours. Something they have never observed before. Sunday morning Mike and family show up at our house visibly shaken over the events of the night before. I am not real clear of what exactly transpired but it involved some African American folks coming to the door of the downstairs neighbor wanting to know exactly where Mike lived.
With their options and finances tight, they came to us for help. At first the thought of five adults, two toddlers and one infant living in our little tract house was enough to make me want to scream, especially the wonderful way that brother and sister (Mike and Cheryl) still manage to get along... There had to be a better way.
Being how we provide the Dork and her spawn a place to live pretty much for free, it is hard to not try and figure something out for Mike and his family. Now keeping in mind that Mike has been working the same job now longer than ever previously, and long enough to receive a promotion and actually be put in charge of a couple other workers on job sites is a good indication that, hopefully, the responsibility angel has touched him. Before leaving for our trip to Colorado, Karen and I refinanced our home, again, to take advantage of the mortgage interest rate drops of late. We cashed out enough equity in the house to pay for a kitchen remodeling job and perhaps some rework in the bathrooms. From all of this I hatched a plan.
After conferring with my bride, I proposed that Karen and I purchase a used mobile home in a decent park for Mike and his family to move into and get out of the slums of South Norfolk. He would be responsible for the park fees, utilities and upkeep. So with the understanding from Karen on losing her new kitchen, Mike and I set out looking at mobile homes. Let me tell you, there are some real shit-holes out there folks are trying to pass on as livable domiciles. After seeing some real "beauties" we happened upon a fairly decent singlewide with three bedrooms and two baths in a nice park about ten miles away from South Norfolk in the South section of Chesapeake. A deal was struck and now Karen and I own two homes. The home should be ready for them to move into before the end of the month.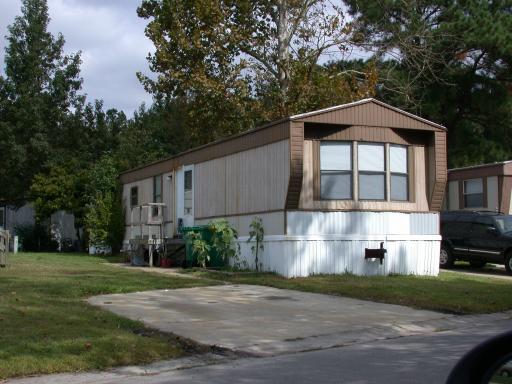 Michael, Katrina, Raegan and Sabrina's New Digs!.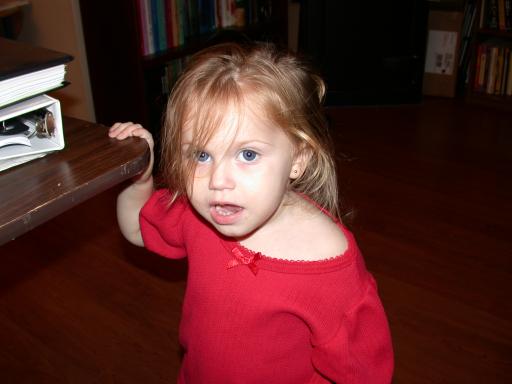 A nice picture of Raegan
---
9-5-4
Quite an eventless period of time since the last Ramblings... The storms have come and gone, there are more brewing but not expected to head this way. Everyone is in pretty good health. The baby is getting bigger, she really looks like Michael, but I see Katrina in her also.
The Dork has started fall classes at Tidewater Community College, she has classes nearly every night of the week. Michael, Katrina, Raegan and Sabrina are all well, Karen and I are doing well. Work is slowing down, I actually have no major projects on my plate - perhaps a nice relaxing fall!
Skies have been just crappy recently so not a whole lot of stargazing going on. And if one does get outside for a couple of hours, the mosquitoes begin to devour the obscure places you might have missed with repellant, like the inside cusp of your ear, your knuckle and my favorite, the crack of your arse as you are leaning over to look through the scope... I did make a pretty neat panoramic picture from our Colorado vacation. There is a link to it from our
Jagow's Astronomy Page
I also added a bunch of pictures I have been taking, twenty two deep sky object and two lunar pictures. The first lunar picture is kind of cool, shows where the Apollo 11 landing site is, the second one was kind of crappy. Of the twenty two new deep sky pictures many are globular clusters which all start looking the same after a while. The best in that series is the shots of M51 the whirlpool galaxy. My images are improving as time goes on.
---
8-19-4
Latest News, Sabrina Jean Jagow, born to our son Michael and his girlfriend Katrina on August 18th 2004. She weighed in at 7 pounds and 4 ounces. Mother and baby are doing well. She should come home Friday the 20th.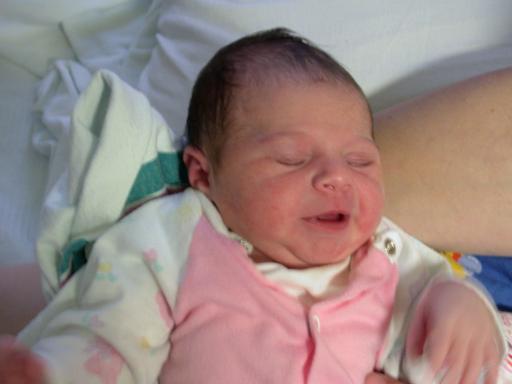 OH My Gosh! Where am I?!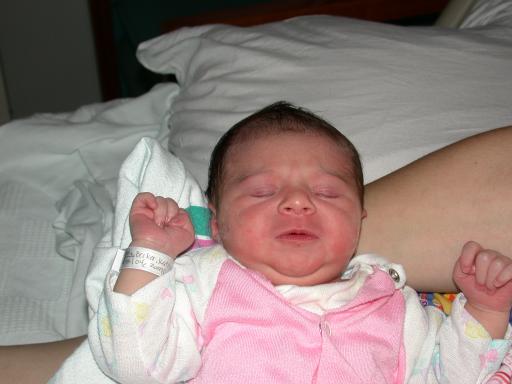 Oooo I want to nap!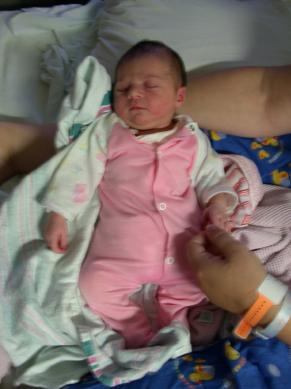 I'm a big girl!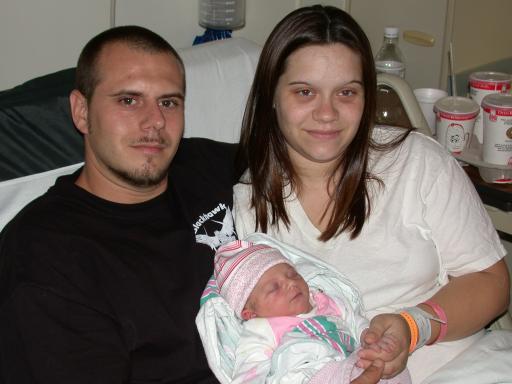 Michael, Sabrina and Katrina.
---
8-18-4
Karen and I returned from vacation just in time to have to start preparing for a potential hurricane strike by a storm named none other than Charley. Preparations were not real crazy, we just needed to replace the generator that our son sold when his car detailing venture went belly-up. He now knows it is not "proper" to sell items that have been loaned to him. The storm came ashore the first time in Western Florida as a category 4 storm with sustained winds over 140 mph. So far 13 dead and about 15 Billon dollars in damage. It then traversed the state and exited on the East coast right about at the Georgia / Florida border. Florida took most of the steam from Charley who was down to a category 1 hurricane with sustained winds over 80 mph when it again made landfall in North Carolina just above the South Carolina border. It continued to lose energy until it arrived at the Virginia border where is just about fell apart. We ended up with about 30 - 40 minutes of heavy rain, and a little wind. I don't think any damage has been reported here. However, we continue to have rain ten hours after the storm center passed over us. All in all, we have a new generator, a better one now and we are set for the rest of the hurricane season.
In preparation for our vacation I began loading the van on the Sunday before we left. Michael and I loaded grandma Helen's headstone into the van. Boy it was heavy! I continued to load the van with all of my telescope gear including batteries and all my accessories I kept noticing that the lift gate was considerably lower as I kept whacking my head on it. That prompted me to go get the van weighed at a truck stop with a full tank of gas. Allowing for Karen and I and our luggage I figured the van was about 200 lbs. over the max gross vehicle weight. No time for a dieting, so something had to be left behind. I went home and as I pulled everything out of the van I weighed it on our bathroom scales. Then I sat down at the computer and entered all of the weighed items into a spreadsheet and began calculating what to leave home. I figured if I left all of my 12 volt DC batteries, one of the minivan's chairs and one case of lens accessories out we would only be about 50 lbs over. Heck my mom and I have severely overloaded pickups with hay, and that darn truck is still running around so I figured 50 lbs would be OK. I would just tell Karen to pack "light".
We managed to get started by 7:15 AM Monday morning. We made pretty good time until Karen managed to be mislead off of I64 and drive a couple hours in the wrong direction. After a short panic we found we could "cut" through West Virginia and make it back to I64. That "cut" consumed about 3 hours of driving time and put us a few hours behind. We only made it to the Eastern half of Kentucky. The next day we made it past Kansas City. The third day we arrived at my mom's house around 7:00 PM. It was a long drive for sure. We spent the first night at the ranch. Karen had a pretty tough time breathing with her asthma, thin air and a bit of dust so we decided to spend the remaining nights in a small motel in town and not risk an asthma attack many miles from an emergency room.
It was clear the first night we were there, we awoke several times and looked out the window during the night and marveled at the Milkyway and the stars. I was too tired from the drive to set up the telescope. Silly me, I should have taken advantage that night, as that was the only night it did not rain until the last night. Out of eight days I was able to observe only about 10 hours. I was very disappointed to say the least. We had a nice visit with my mom and my sister and her family came up for a couple days to see us. The night they arrived we all played poker for a couple of hours.
A good friend that spent a year on the ranch with us when we were growing up, Kenny Duran, helped unload grandma Helen's headstone. Initially we set it right next to grandma Helen's niece Phyllis but not on a cement base. Later on my mom contracted with a mortuary place to install a cement base. I dug a hole about two and a half deep and we placed half of grandma's ashes in a container. The other half will be placed next to her father's grave in a small cemetery at the Pines Ranch which is about a half mile from our ranch. My mom has a very nice metal marker to place there.
It seemed as soon as we got there it was time to leave. I managed to get about 5 hours of observing the last night we were there before I had to pack everything up ready for the journey home. It was a very good vacation despite the poor astronomical viewing, for more on the astronomical part of the trip visit
Jagow's Astronomy Page
. Here are some pictures I took during the trip.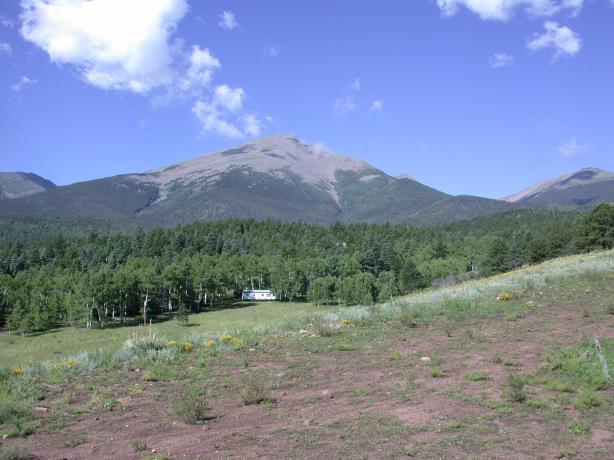 Gibbs Peak, the mountain behind my mom's ranch!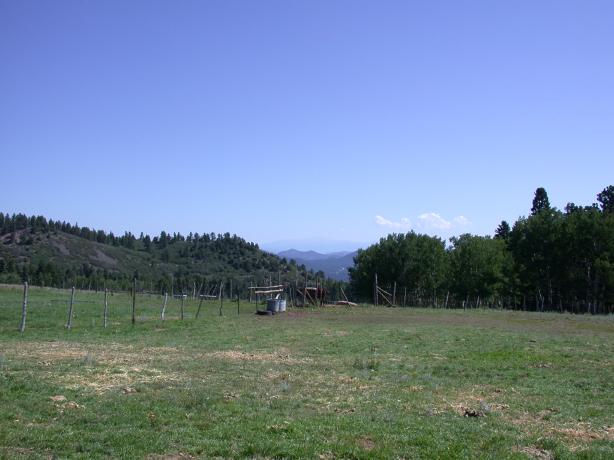 Pike's Peak about 80+ miles away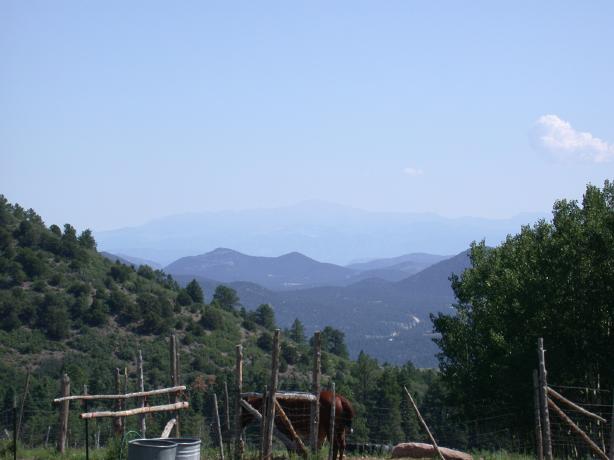 Zoomed in on Pike's Peak!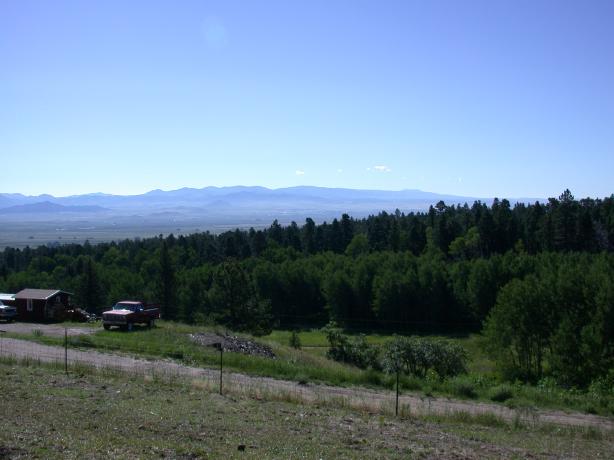 Overlooking the Wet Mountain Valley about 1000' below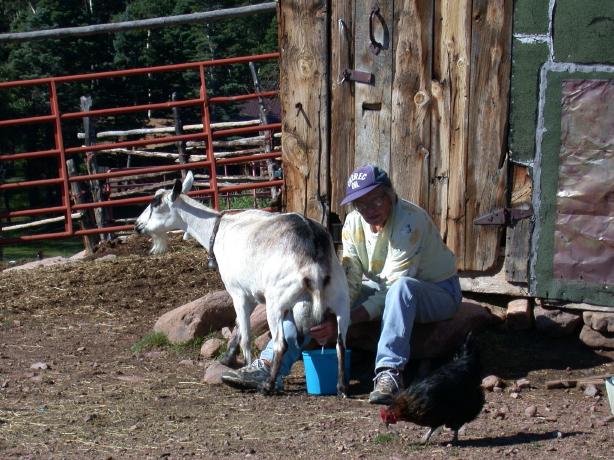 My mother milking her lone goat!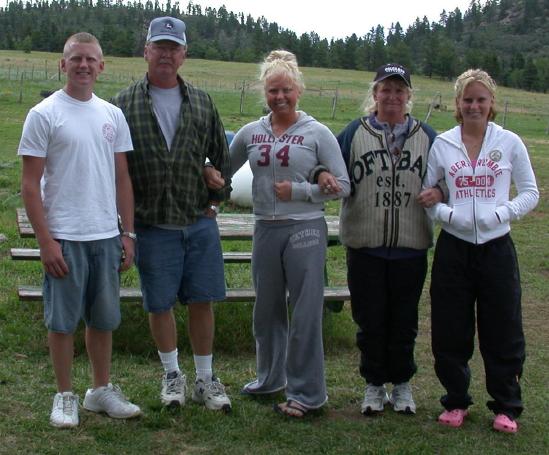 Josh, Gary Cristen, Rhonda and Sara Cleland, my sister's brood!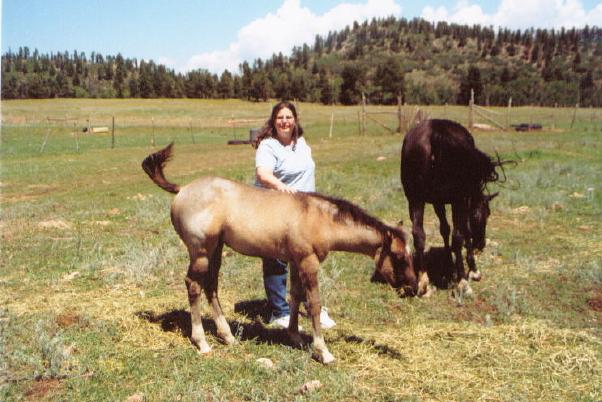 Karen discovering her "cowgirl" side!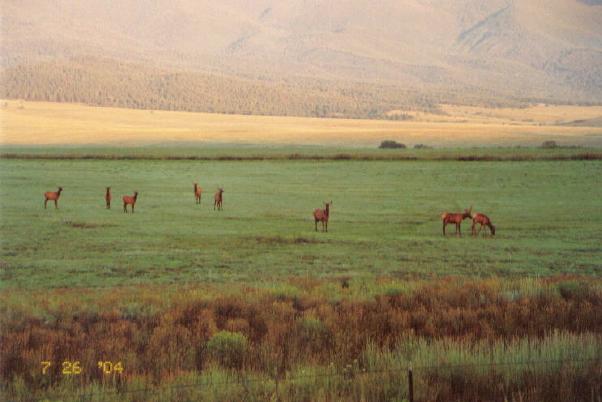 Eight elk feeding in the valley!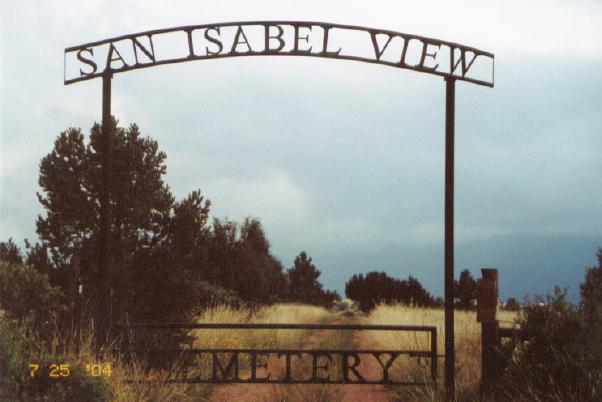 Grandma Helen's ashes rest inside.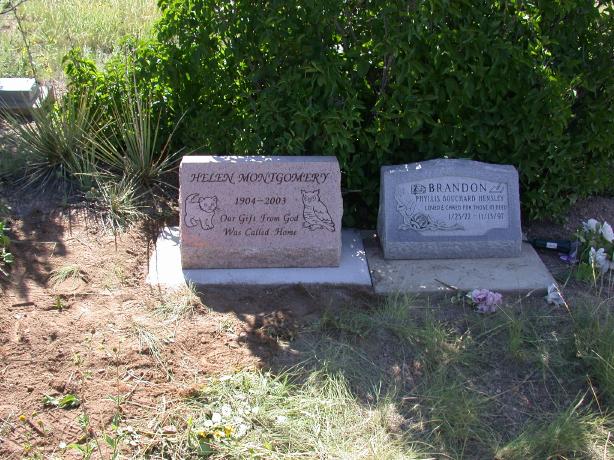 Grandma resting next to her niece Phyllis.
---
7-11-4
Let's see, where to begin... This would be so much easier if I just updated this every week or every other week, but no, I let it slip my sieve like mind and it goes nearly a month and a half between updates. Shame on me! The first few weeks involved me deciding (read that heavily prompted by Karen) to buy and then construct a playset for the grand children. We shopped around at Costco and Sam's club and finally decided on the one at Sam's club. After dumping nearly nine hundred dollars and with the help of two strapping young Sam's club workers it was loaded into the van for a very long slow ride home. Now I had four enormous boxes and a long green plastic slide in the back of the van and the boxes each weighed a couple hundred pounds, Karen was at the doctor's office. I slowly moved them one at a time until I managed to get them out of the van and on the driveway. I began unpacking the boxes for an inventory which included three bags of hardware, each almost the size of a load of laundry, I set those aside for future inventorying. Three hours later the wood and large materials inventory was complete. I then began the inventory of the hardware bags around 5 PM. I finished with the hardware being separated into 40 some odd labeled zip-lock freezer bags around 9:30 PM.
The next morning was Wednesday, Karen helped me assemble the main frame. We only had to do it twice due to my interpretation of the instructions. Now let me say that this set of instructions were the most complicated set of assembly instructions I have ever encountered. It consisted of over fifty pages with more than 120 steps! The second page of the booklet welcomes the consumer and thanks them for purchasing their play set "kit". Then it very tactfully goes into how some constructions projects can seem simple but then progress into a rather daunting task that might overwhelm the casual homeowner. It went on to suggest hiring someone else to professionally construct the swing set. HA! We don't need no-stinken professionals!
On the third attempt at the frame and a half hour before my bride had to leave for work, I discovered another misread, by me, of the instructions which could have required another disassembly and reassembly which we did not have time for. When I finished screaming obscenities at my stupidity and throwing the mallet around the yard, Karen simply asked "why don't you just drill a couple additional holes in this leg?", after picking up my mallet I concluded that she was brighter than I was obviously being that day. She left for work and I continued assembly, reading each step two or three times first and then completing the step, this continued until dark. Construction continued through Thursday, Friday and ended around noon on Saturday when Michael came over to help with the last few items I could not do by myself. Saturday also marked the end of the hottest and most humid week we had in June. I was drinking nearly a gallon of Gator-aide and water each day. I think I sweated more though. All in all it was worth it. The grand kids love it! Here are some pictures of the project.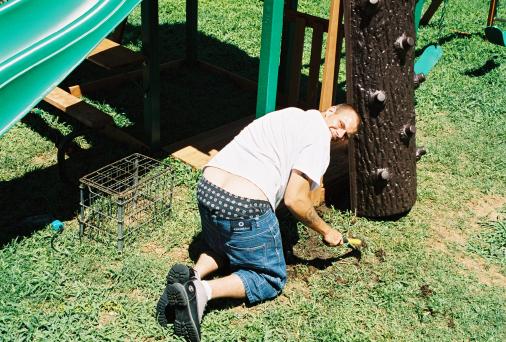 Any questions as to who his father is?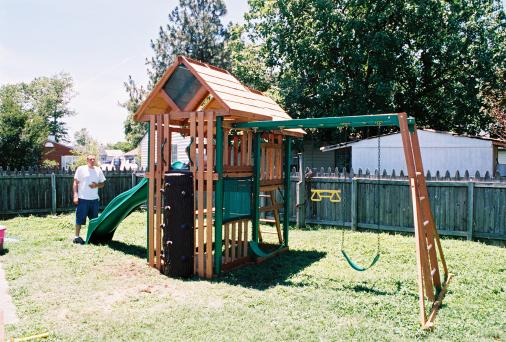 Finished at last!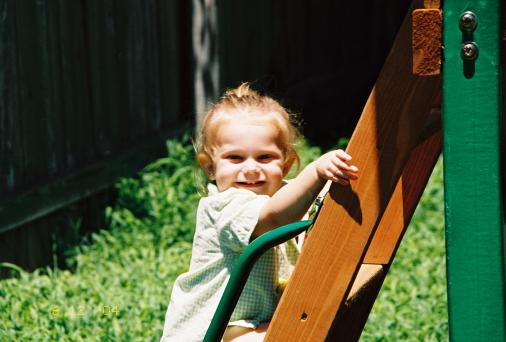 Oh Boy here I go!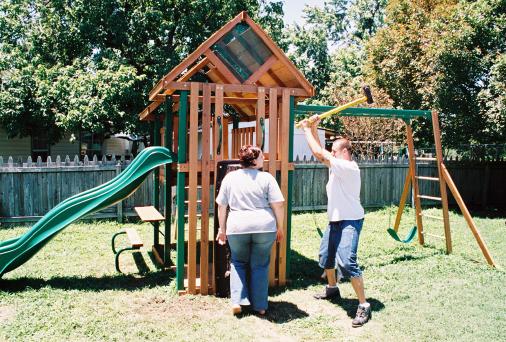 Sibling Love.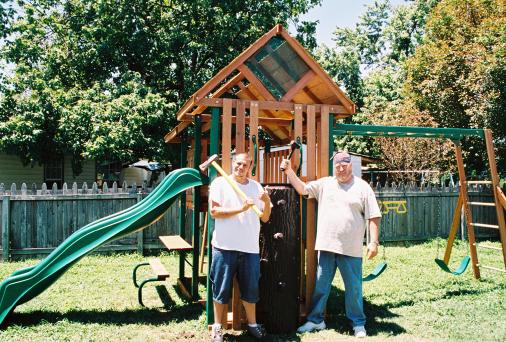 The Crew!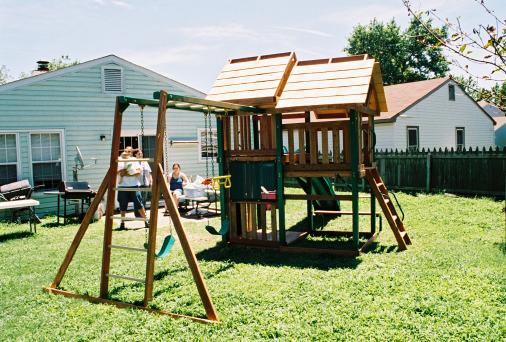 Back side of the Beast.
Once completed I soon discovered how much of a pain in the arse it is to mow the back lawn now with this big thing in the way. As you can see from the pictures, it consumes nearly the entire back yard.
The weather has been horrible. Hot, humid, rainy and overcast nearly the entire last four weeks. This has put a rather big damper on practicing astro-imaging with the camera I acquired last month. I have only had a handful of nights where I could try to image something. The humidity seems to help reflect or amplify the sky glow from the city of Chesapeake which makes deep sky imaging nearly impossible. I am looking forward to our trip to Colorado in a week or so. The dark skies will be great. I just hope I don't drag the crappy weather back there with me! We are driving out there to take my grandma Helen's headstone so I we are taking the telescope with us!
Karen's brother David and his family have spent the last two weeks here. On the Monday holiday over the 4th of July holiday, we drove up to Charlottesville Virginia to see Monticello, Thomas Jefferson's home. Two minivans full of people made the trek. Karen and I drove up with Mike, Cheryl and their cousin Sarah. David, Laurie and their 18 month old baby John rode with Frank and Carol in their minivan. Cameron was at his other grandma's house and Katrina and Raegan opted to stay at home as Katrina was not feeling well. Katrina is getting tired of spending another summer pregnant, she is due in mid August.
Monticello is a really good visit, you get to tour his house, but not take any pictures of anything inside. Jefferson designed the house and grounds to be utilitarian, everything had a purpose. Very pretty and interesting. Again the heat and humidity were oppressive, really taking it's toll on everyone. The drive home encountered some really heavy rain and thunderstorms. All in all, it was a very nice trip.

Frank & Carol waiting in the shade for the house tour.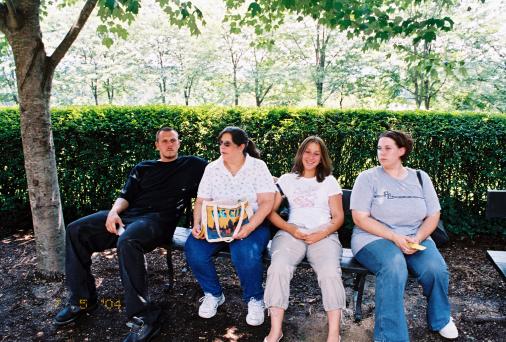 More waiting in the shade, guess who is not in the shade?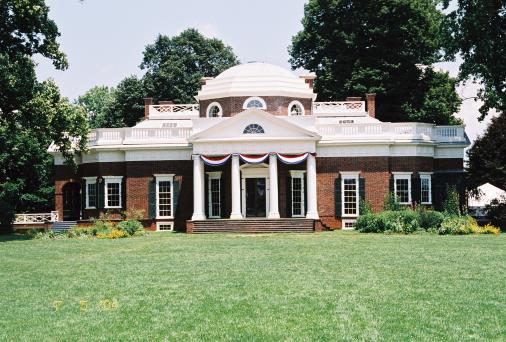 Looks just like the back of a Nickel.
One last bit of good news, the Shithead

has gone to jail for three months for not paying any child support for Cameron! Now let's hope that the cocaine possession charges add a "little more" time when they are addressed later this week.
---
6-5-4
Such a unique date! I better go play the lottery... It has been a long month with quite a bit to yak about. First off some very good news, the headstone I ordered for my grandma Helen's final resting place was finished and we picked it up early in the month.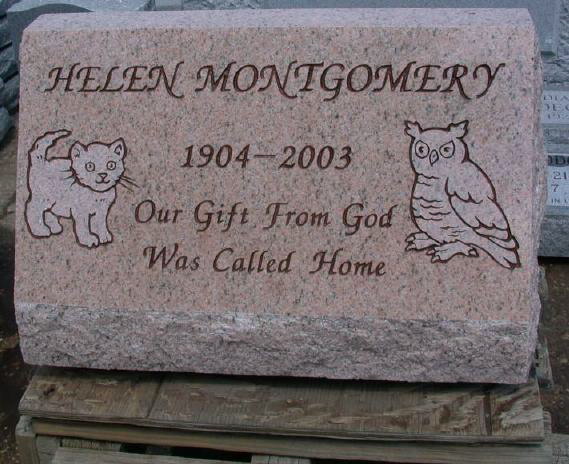 It sure looks nice with a symbolic kitten and owl on it representing her pets that she managed to keep when she first moved into Sangre De Christo mountains from Cripple Creek Colorado back in 1906 or 1907. The stone is sure heavy, I had to lift it twice once into the minivan with the fellow who made it and then again the next day to take it out of the van and on to my motorcycle lift with Michael's help. My back was sore for a week, it must weigh close to four hundred pounds. It is about 2 feet long, a foot and a half tall, a foot thick at the base and about six inches thick at the top.
Another bit of pleasant news for Karen and I at least, the Shithead

is once again looking at some serious jail/prison time. He was busted with some cocaine and he goes to trial sometime this month or next. Maybe he will be out of our hair for a while. If it is a felony this time, that makes three and the Commonwealth's Attorney could throw him away for fifteen years or more. I can only keep my fingers crossed! Cheryl has taken him to court to increase the amount he is supposed to pay for child support. It's pretty hard for him to pay child support from prison/jail I guess.
Astronomy things have been going well. I just received my SAC8 camera from SAC-Imaging. This is my first attempt at a color deep sky object. This picture was the result of aligning, stacking and mapping 80 images. The SAC-8 camera is not a color camera so I must take a series of unfiltered images, a series of images through a red, green and blue filter. Then each of the series of images luminance (unfiltered), red, green and blue must be aligned and stacked into a master image for that series. Then the red, green and blue master images must be mapped to the luminance master image. Once they are all mapped, the four must be combined into into a color image and then finally this image is color processed to bring out the proper colors. I searched for a picture of M57 taken by the Hubble Space Telescope so I could get an idea of M57's colors, then I processed my image to match. Hope you like it, it is my very first color deep space image.M57 is 2000 light years from earth and about one light year across, one light year is 6 trillion miles.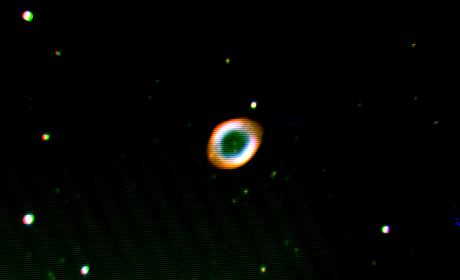 Messier #57 The Ring Nebula.
We managed to go to the Pungo Strawberry Festival this year. We have lived here over 17 years and this was our first trip. It was kind of fun, the kids had a good time and Frank had a nice time sitting and watching the Carnies. Here are some images from the day.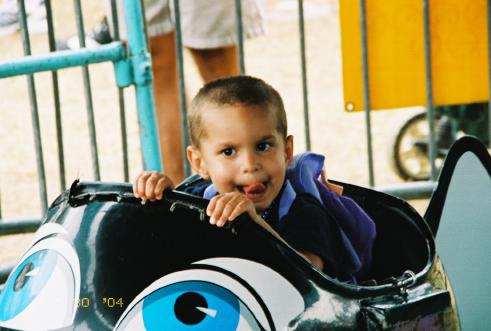 Cameron riding a bug!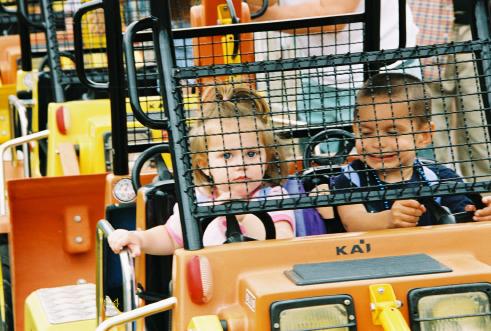 Who is driving Who?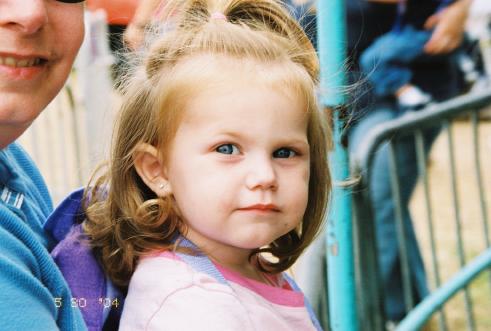 You want me to smile?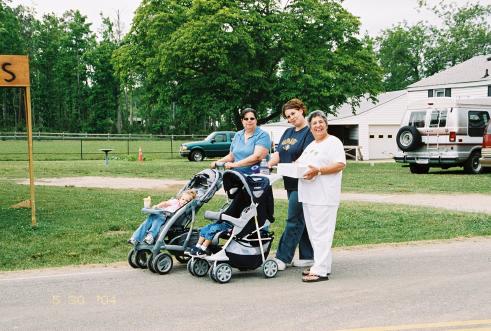 The Pack, Raegan, Karen, Cameron, Cheryl and Carol.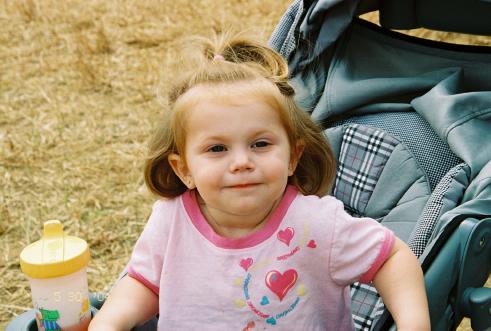 Almost a smile.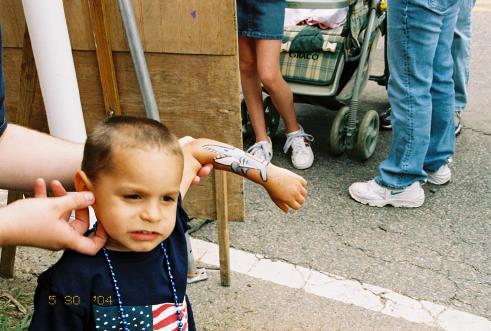 Shark bait Oooh HA HA!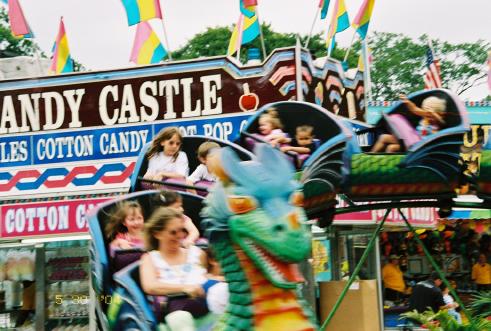 Sissy and Cammie in the next to last car!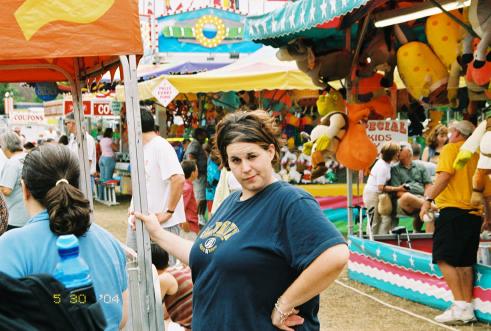 Who you calling a Dork!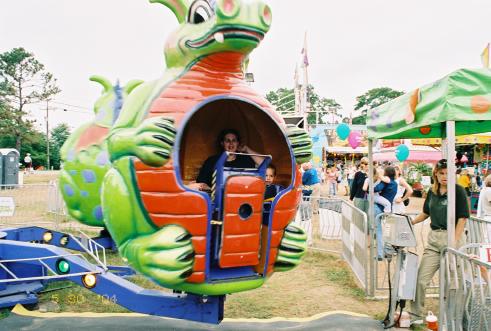 Dork and Ratbert ride a dragon.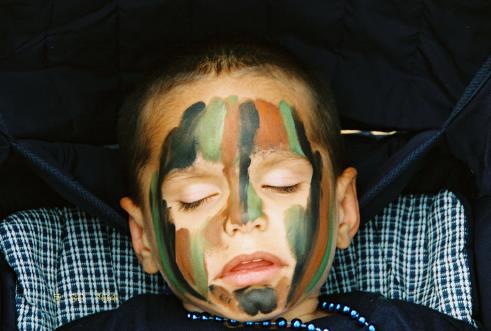 Never fall asleep at a carnival!

Get me off of here!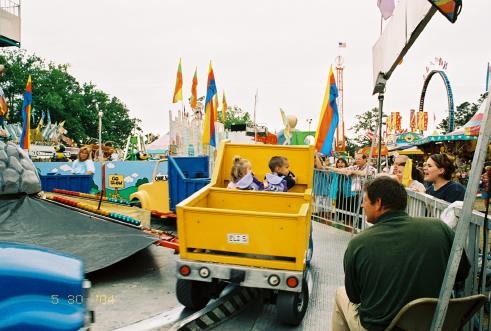 Woman drivers!

The great Dumbo ride!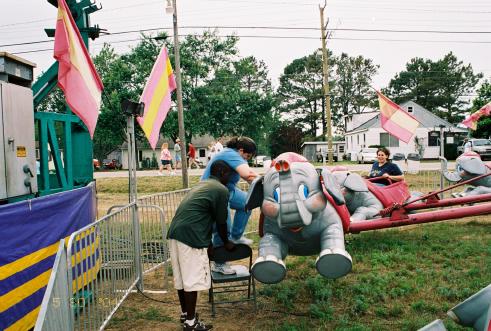 The Goat needs to climb in!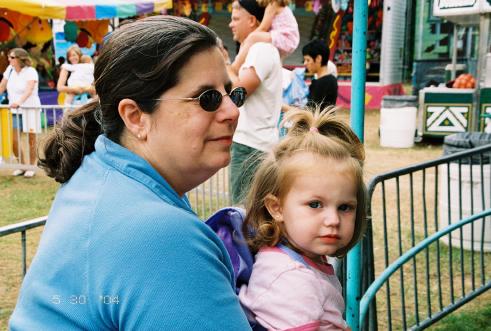 Still no smile.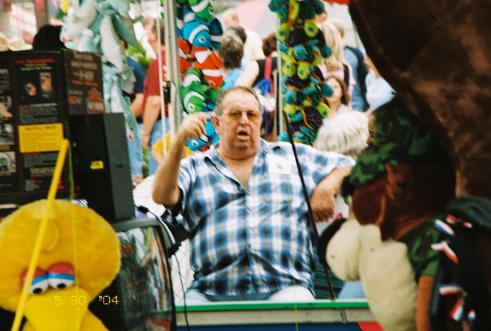 Frank conversing with the Carnies.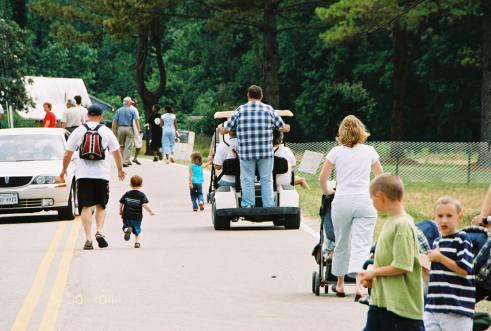 Time to go home eh Frank?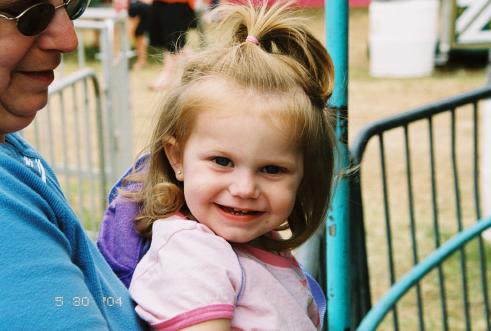 OK! I'll smile!
---
5-9-4
Unbelievable, I have not updated the Ramblings since March! I am surely loosing my gourd! I have been busy with two trips to San Diego to work on LHA3. It's a long, long story, I won't bore you with the details, the equipment on the boat is now working and they are happy.
Easter was a big event with Karen's brother's family coming over, along with her parents as well as Michael, Katrina and Raegan. And of course Karen, Cheryl and I. The kids, along with our across the street neighbor's kids, had an egg hunt at the little park near our house. The parents hid the eggs and then the kids were turned loose to find them. Much food was eaten and everyone had a nice time. Here are some Easter pictures.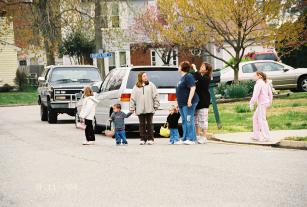 Waiting For The Hunt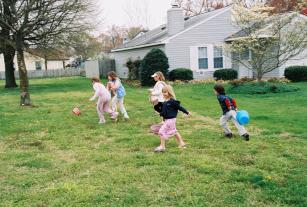 Let's Go!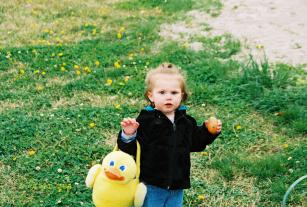 Raegan's First Egg!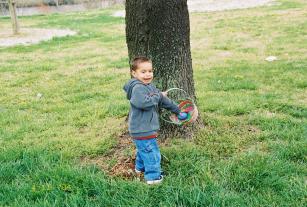 Cameron's First Egg!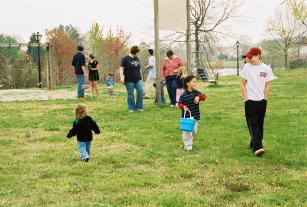 Still Looking For Eggs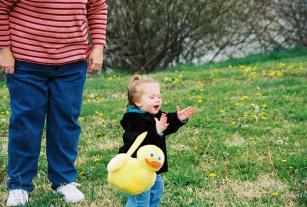 Raegan Found Another Egg!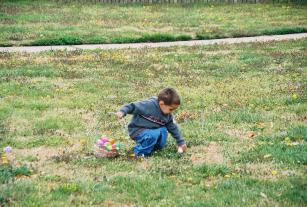 Another Egg For Cameron!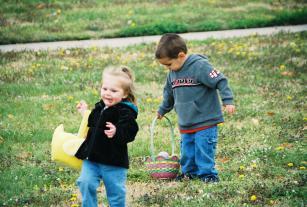 Cameron & Raegan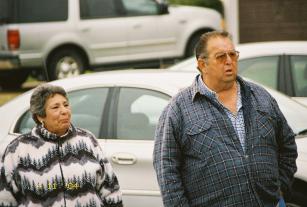 Frank & Carol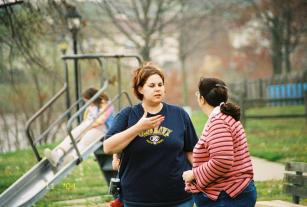 The Dork and Karen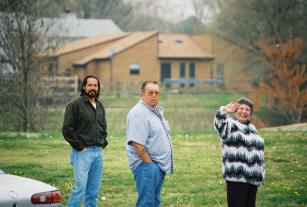 The Wells clan, Brian - Frank - Carol
Cheryl is contemplating enrolling in Tidewater Community College. Michael has been endeavoring enrolling there using with his military education benefits he earned during his stint in the Army. Hope the best for both of them, but they will have to look elsewhere for help with their homework.
Astronomy has been going slowly, the skies have not been real cooperative while I was available to view. Last night we drove to Franklin to the Franklin 4H fairgrounds where the 4H folks have agreed to let us come setup in their parking lot. It was nice when we arrived, clear skies. Within two hours we were completely cloud covered. So we all packed up and drove the hour or so home. The night before was out at the Northwest river park where it was OK until about 10:00 PM and the high clouds came in and shut us down. Hopefully next weekend will be OK as we are headed to Chippokes out near Surry.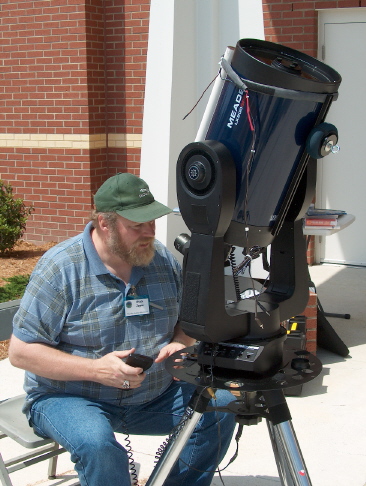 Finding Venus in broad daylight!
This picture is from Astronomy Day where our Astronomy club set up scopes at several locations for folks to observe the sun through special solar filters. it was real neat, quite a few folks stopped by to look and then subsequently came to one of our night time public viewing events.
---
3-28-4
I have been busy that I actually forgot about updating the Ramblings! Now I am only in my mid forties and Alzheimer's is not supposed to kick in for a couple more decades I thought! Maybe I will be a "special" case.
Other than my forgetfulness, everyone is basically healthy, Cameron has a runny nose and a cough - but that is the norm with him being around other sick kids all the time at daycare. Spring has finally sprung, at least a little bit. We had a nice warm day, cloudy though, and everybody and their dogs were out at the home improvement stores. Luckily I only had to grab two things and get out, but there were about a zillion folks standing in the three open checkout lines so it took about 20 some odd minutes to get out of there.
Michael, Katrina and Raegan came over to fish in the lake yesterday, so here are some pictures of them.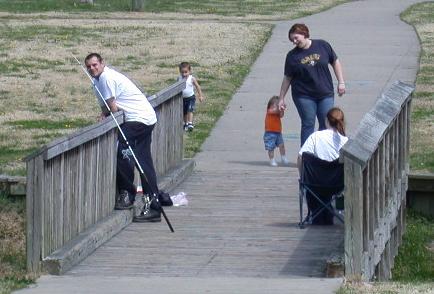 Fishing at our bridge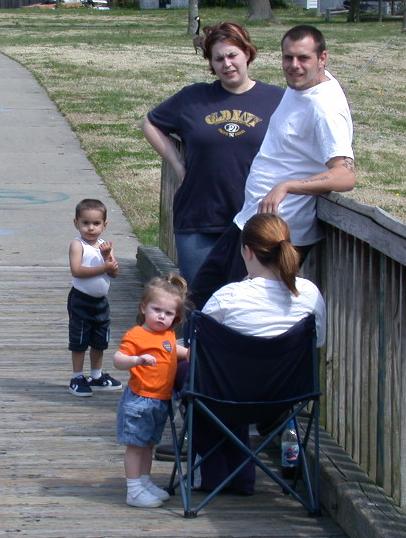 Come on Mommy turn around for the picture!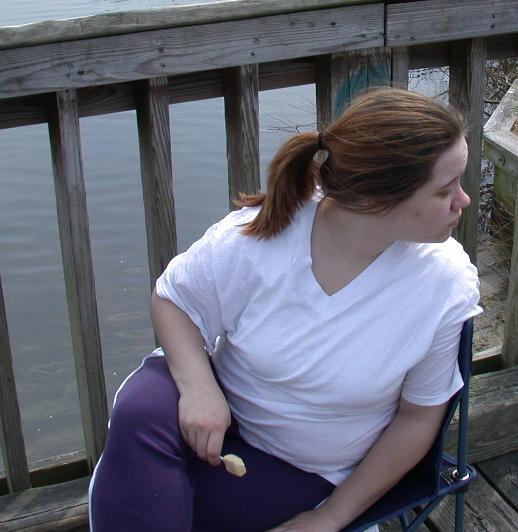 Where is the camera?
Michael and Katrina have discovered that Raegan will have a sister sometime late in August. Michael is busy working and has managed to get a hold of his Montgomery GI Bill benefits and starts at Tidewater Community College in a few months. I sure hope he doesn't work on a basket weaving degree! HAHAHA! I am not sure, but I think he is going to work toward becoming a certified Heating and Air Conditioning technician and then work towards a degree program. We wish him all the luck.
Cheryl, as well as Karen and I by default, are attempting to potty train Cameron. He has some successes and some not so successful events. He is starting to let us know when he needs to go, however his timeliness needs work. A few days age he was standing next to me at the computer in his underwear, he did tell me he had to go pee, as he was peeing on my leg! Somehow his "pointer" was pointing straight out the fly opening in his underwear and the stream never even touched his underwear! I am still waiting to find turds rolling around on the floor like our kids did.
Last weekend I managed to pack up the minivan and attend Kent Blackwell's East Coast Star Party down in Coinjock North Carolina. Kent has a trailer in a campground in Coinjock that has very dark skies. He makes arrangements with the owners of the campground and they let a bunch of us stargazers in to camp for a couple of nights. If you would like to read more about it, click on
Jagow's Astronomy Page
to jump over to my new web site for my astronomical adventures.
My command at Dam Neck, CDSA, has been in the throes of transitioning to the new Navy and Marine Corp Intranet network for over a year. Last Friday our office was converted over. What a mess. The techno-wizard assigned to do my "cut-over" reminded me of Ralph on the Simpson's. He kept screwing up and having to go ask questions to fix his blunders, the net result was that it took much longer to get my new NMCI workstation "on-line" than it did for the other folks in the office. We must maintain two computers on our desks as the email feature of the the NMCI system is not working correctly yet for us. I was supposed to have some of extra software on for CAD work, it was not there. This NMCI transition has been dreaded since it's inception. I now just plain don't have any room in my cubicle for much of anything...
---
3-1-4
Been about two weeks so I figure it is way past time to update. Everyone has been OK with a couple of sniffles and coughs here and there. Cheryl and Cameron are cruising along despite The Dork locking her keys in her car at work earlier in the week. Would have been an expensive lesson for her if we had not had a spare key. Back a couple of years when The Dork was actually taking up housekeeping with the Shithead

I had threatened to take possession of her car since she was letting the Shithead drive it as we were paying the insurance on the car and Roderick driving it was a significant liability as he has never had a license and no an ounce of responsibility or sense. I ended up going to the dealer and paying over $20 for a key just in case. That is why we have a key to her car.
Telescope activity has been sporadic dependant upon the weather. I took these shots about two weeks ago of Jupiter

and Saturn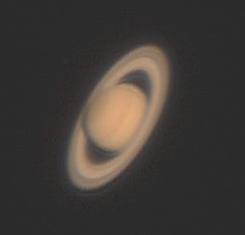 It was fairly clear but cold. A brief respite in the clouds as a classic Nor'Easter storm was on its way on Thursday. Then Saturday came and I took this neat picture of the moon.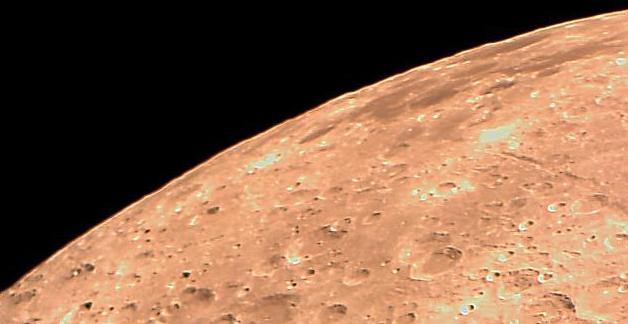 Then I slewed over to Saturn for this shot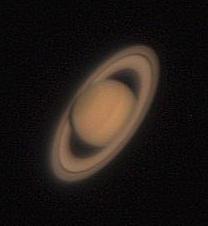 and last but not least Jupiter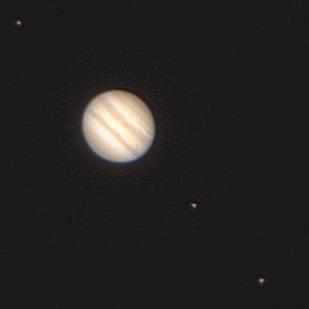 with three moons visible.
We took the cat to the vet last Friday for her 20,000 mile check-up and with only 19690 miles on her we are told the rear disc brakes need new pads. The dealer wants $350.00 to do the work. I declined and went home. I yanked the wheels off and looked at the pads myself, and they are getting worn down there quick. I have never heard of REAR brakes going bad prior to front ones. I wonder if the emergency brake is dragging. Now I have to find out who will do the cheapest job for me - I looked at doing them myself, but I could not get the caliper off of the disc. Something was applying pressure, probably the emergency brake...
---
2-8-4
All is well with the Klan despite Cameron brining us home a new sniffle here and there from daycare. I am busy at work trying to get several new cabinets together, one is for a ship and the others are for a shore based trainer. Karen is busy selling books and Cheryl is busy at juvenile courts. Cameron is growing, Raegan is growing. We try to get everyone together for dinner once a week, last week and this week being the exceptions due to conflicting work schedules. Mike and a friend are trying their hand at a car detailing business. They used Katrina's tax refund to buy an old beater van, a pressure washer and big shop-vacuum and various cleaning and polishing materials. I hope they do well. I traded my gas generator to them for a few car detailings. Here is their business card.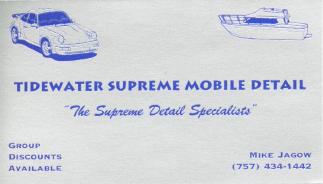 I am a relative newcomer to Astronomy, I started back in high school. I used to go over to our science teacher's house to look through his telescope. It just so happened that I was "sweet" on his daughter so it was a means to an end. I remember a few of the items he taught me but now I am learning a more everyday. I am also a firm believer in jumping into a project with both feet and if you don't make a good splash you better try again. I also don't hold much truck for buying something at an entry level, then a few months later buying a middle of the road item and then, perhaps a year later buying a full featured gizmo. This game ends up lining the pockets of the supplier, while I am sure they want you to "take it slow and careful" what the really mean is take your time and spend as much money as you can. I only see it as time wasting and more so as a waste of money. In example, I know someone who started photography with a Minolta SRT101 SLR camera back in the 80s. She soon progressed to a more featured camera and ultimately ended up with a medium format professional camera setup. She spent thousands of dollars along the way as she "upgraded" because each upgrade had "more-better" gadgets to go along with it.
Now that I told you that, I can tell you this.
As I lamented in previous Ramblings, my dear wife bought me a 70mm scope for Christmas, I took it back to the store the next day and traded it in with a full refund on an 125mm scope. I probably would have kept that one for some time if I had not observed a 10 inch scope (twice as big as the 125mm scope) with many more bells and whistles at a local star-party. I was trying to figure out how to justify having two expensive scopes in the house when Karen found out that we could trade the 125mm scope back in for a full refund and order the bigger one. We could not get to the mall fast enough! So I have done the mechanization of small - medium - big with a telescope except I have not lost any money in the process. The store that was so gracious to help us out? None other than our local Discovery Channel Store in the mall. Their price for the Meade LX200GPS-SMT 10"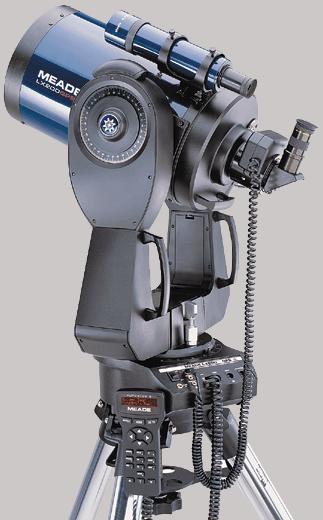 was identical to all of the mail order and Internet joints. They offered a break on shipping too, and since the clerk ordered it from the main Discovery Channel Store via the internet, I did not have to pay sales tax as it never officially went through a Virginia retailer.
Now it gets good. The 10" arrived last Tuesday. I went through the MAPUG (Meade Advanced Products User Group) recommended checklist prior to "first light". All was well. The scope slewed from the handset OK, it slewed from my laptop OK. It went through several faux alignments in the house, all in all everything was going well. I then started to upgrade the scope's firmware. It went bust and both the scope and the PC had to have power cycled. The scope's computer came back dead. The folks on the various astronomy Internet groups were probably sick of my pleas for help to rectify the situation. Eventually it was determined that the scope experienced some kind of power glitch during the firmware load which rendered the scope useless as far as computerized "GOTO" operations are concerned. I contacted Meade, their take was to send the scope back for checkout. They also indicated it might be a couple of weeks before they could look at it. That meant I would miss all of February and a good chuck of March viewing. I was a little bummed to say the least.
I contacted the Discovery Channel Store online and told them of my woes. That was Wednesday last. The Discovery Channel Store is sending me a replacement scope air express to be delivered Monday. They will then take the old scope back and deal with Meade on their own time. And you know what I have to pay? Nothing! Not even a dime for the express shipping!. Now that is customer service! And if I wanted to, I could have just taken the scope back to the local Discovery Channel Store in the mall and had them do the same thing.
So here I sit making dew heaters with resistors, duct tape and weather stripping! Isn't duct tape grand? I wish I would have known of its existence when I was in high school, that old '49 Chevy pickup would not have squeaked so, and there would have been more bailing wire around the ranch. Dew heaters are banks of resistors tied together with a 12VDC power source and is wrapped around the main body of the scope just behind the front lens element and it keeps the temperature just above the point where dew forms. I have also made a dew shield which fits all the way around the front of the scope and also helps to keep dew off of the lens.
I have to work on the USS WASP Monday, so my loving wife will handle the swapping of the scopes as she has Monday off. I will be hankering to be home fooling around with my new scope instead of climbing around on that big old gray ship for sure!
---
01-25-04
I scribbled out last weeks Ramblings either a little too soon or I didn't knock on wood. That day, Karen became ill performing the techno-color yawn. Later in the day I began feeling poorly to boot. I managed to maintain breakfast where I initially placed it, and not out for all to see. We were mostly better by midweek with Cameron and Cheryl feeling better by the days end on Sunday. Currently, knocking on lots of wood, we are all well right now!
I acquired a new (used) digital camera on E-Bay that I can screw right onto a telescope eyepiece and take pictures of astronomical things. There has only been one night that was halfway clear and I did not get any decent shots yet. As soon as I capture some real good pictures I will post them up here. We were supposed to attend another star gazing event on Saturday night, however, poor visibility and inclement weather prevented it. Maybe another chance soon.
Here are some pictures from the new camera. These pictures were initially taken at a very high resolution, 2048 X 1536, and I shrink them down to 320 x 200 to put up here on the web site. The quality of the original pictures are very good, much better than my previous HP 1 Mega-Pixel camera. The new one, a Nikon CoolPix 995, is a 3.34 Mega-Pixel camera.
This is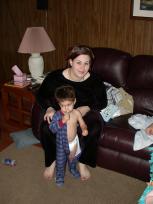 Cheryl and Cameron getting ready for church. This is what we watch over and over again, Cameron loves the "Finding Nemo" movie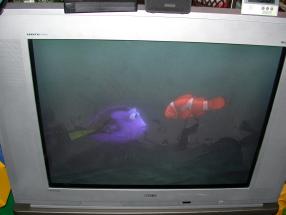 as it plays and it plays and it plays. Just how long do VHS tapes last?
Cameron also loves to play catch. He is allowed to throw only SOFT balls made out of MATERIAL in the house so that they will not break things or cause bruising, as he is rather proficient in attaining significant velocities. In this picture he is getting ready for a "toss".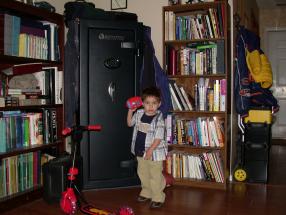 This is an "after the toss" picture with the ball in mid-air bearing straight down onto Cheryl's cranium. Take notice of the great follow-through and form! He was less than six feet away from her and the ball seems like it was in the air less than a second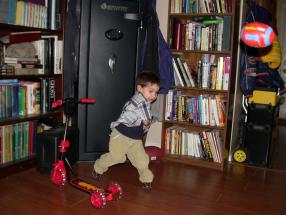 before finding it's mark. Lucky for us, his accuracy is improving. Sometimes you might be aware enough to catch the ball as it is hurdling towards you, mostly it just bounces off of you and surprises the hell out of you! Usually we ask him to back up about twelve or fourteen feet so that we have a chance in Hades of catching the ball.
---
01-17-04
Nearly everyone here is sick with some kind of bug this morning. Cheryl seems to have the flu and Cameron was sick at daycare yesterday, but feels fine today. I have been "under the weather" of some sorts since September. Coughing here, sniffling here and BLOCKED UP now. I have been consuming a steady supply of Sudafed. Karen is the lone holdout, not getting sick.
The weather has been a little cool making my stargazing excursions just a tad bit uncomfortable. Karen and I have the weekend off together, and so far we are just fiddling around the house doing little things trying to look after Cameron while Cheryl is sick.
Raegan, Mike & Katrina's daughter recently had tubes put in her ears to help with having so many ear infections, so far so good. Mike and family are doing well, working and getting along. I gave them my old computer as Mike is trying to put together a book that he has been thinking on for quite some time. Maybe the next Steven King? I surely hope so...
I attended my first Skywatch as a new member of the Back Bay Amateur Astronomers club last night. It was out at the Northwest River Park in Chesapeake. Much darker skies than around Greenbrier for sure and there were lots of scopes with mine being the smallest one. It's always bad having the smallest tube… One of the members, Kevin, has my "next" scope. It is a Meade LX200GPS 10" and it has several times the light gathering capability of my little 5" scope and can handle several times the magnification of mine making object brighter and clearer. It also has more gadgets on it like a GPS receiver and True North sensing hardware to ease initial alignments which must be done every night. My scope is harder to align and not quite as accurate when locating things but I can see all of the planets with the exception of Pluto if they are in the night sky, and the moon is very impressive. This is a picture of the moon I took holding my old digital camera simply holding it up to the eyepiece. It took me nearly 10 minutes to get a decent image into the camera.

I have already bought a new digital camera that will thread onto an eyepiece so I can take some pictures of what I see much easier and twice the resolution as my old digital camera. Karen does not know how much of a money pit she has opened. But in my friend Dick's words "at least it will keep me from buying more guns" perhaps....
---
01-10-2004
Here is the first posting of the new year. Karen and I celebrated the start of the new year at her brother Brian's house until about 10:00 PM which is when we left to go home as I was feeling really poor. I have been feeling crappy since before Thanksgiving and I still have the bug, luckily Karen has avoided it so far. Cheryl and Cameron are doing well, Cameron is well into the terrible-twos and is becoming more independent each minute. He is trying to wear out his Barney, Nemo and Teletubby VHS tapes all at our expense. I think we all know every scene in greater detail than the films editors. Christmas morning brought a special gift to Cameron,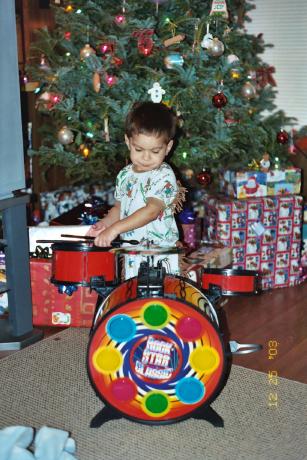 A nice drum set!
What a wonderful gift for a two year old... At least right now he can't find his drum sticks so he is content with just slapping them with his hands once in a while. Karen pulled another surprise gift out of her hat for me. I had no idea what she had bought until I opened them. She had three rather large boxes for me to open with instructions which one should be opened first. I opened the first one and it was a big rugged looking plastic carry case. She said it was for my camera or guns or whatever. It had foam inside, although already cutout for something that was unfamiliar to me, I set it aside and said I would probably use it for my guns or something as I already had a nice case for my camera. Package number two ended up being a tripod, I again thanked her and told her we already had a tripod for the camera, I was already wondering what store I was going to have to battle to return it to. The last package ended up being an astronomy telescope! It was a Meade ETX-70 model which means it had a 70 mm wide aperture. It sure looked big to me! Now the case, and the tripod all made sense! I had to wait until night time to try it out. I poured over the instructions ahead of time so I would be prepared once I took it outside. I had not used a telescope to look at the stars since the winter of 1975 where I used the guise of coming over to my science teacher's house to gaze through his telescope, the real reason was to spend time with his daughter Lisa Dolby whom I had a big crush on at the time. It was kind of a pain in the arse to find the extra-terrestrial object and then it would only stay in the view of the telescope for a couple of seconds. It was harder than I thought it would be. Now this new scope is called a "goto" scope which means once you have it aligned with a couple of stars you could punch into the hand controller the item you want to view and it would then slew the scope to approximately where the item was and get it more or less in the eye piece for you, and it would then track the item for as long as you wanted to look at it! The first alignment star was Vega which somehow I knew where it was and the second alignment star was Rigel part of the Orion constellation. Orion and the "dippers" were the only constellations I knew where they were and what they looked like. The next thing I did was tell it to find Jupiter, BEEEEP the controller squawked it is below the horizon, next I tried Neptune, BEEEP went the controller again as it told me that Neptune was also below the horizon. I punched up Saturn and didn't hear a beep, I heard the whirr of the motors slewing the scope around and then slowing down and finally stopping. I looked through the eyepiece and behold a yellow round object was discernable. The focus knob slowly brought the image into better view. I could see the planet and it's rings! Oh my God! I have never seen it before! It was just hanging there like a big Christmas ornament in the sky! That was about 8:15 PM Christmas night, I spent the next three hours in the cold looking at stars and then coming back to Saturn every so often to make sure it was still there.
The next morning was the day after Christmas and Karen was working. I was looking at the the promotional materials that came with the telescope and it showed bigger scopes. I called the Discovery Store in the Macarthur center mall to see what they might have in stock. All they had left was three 125mm scopes and one 105mm. I next called Karen and asked her if she would be mad if I returned the scope for another one a little bit bigger. She said no problem and told me where the receipt was for the scope. I again called the Discovery Store and asked if I could return the scope for a bigger one to which they replied "sure!" I was on my way! Once at the Discovery Store, I first returned the 70mm scope and then went looking at the other ones. I was initially thinking of the 105mm scope, but then I saw the 125mm one next to the smaller scopes and said to my self "it is easier to acquire forgiveness than permission", a saying that has helped me many times in the past, so I walked out of the Discovery Store with the 125mm scope with a couple of accessories and three different powered eyepieces.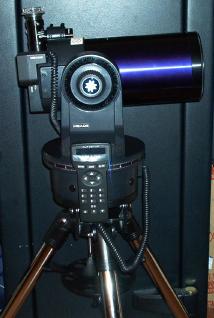 The Meade 125mm Scope
That night was clear enough again for me to start stargazing - and Saturn watching, until it was too cold outside. This is great! Now I have to join an astronomy club so I can learn more about my new hobby!
The last weekend Karen's brother David was here, we all piled into three vehicles and the whole brood went to Colonial Williamsburg. The brood consisted of Karen and I, Michael, Katrina, Raegan, Cheryl and Cameron, Karen's parents Frank and Carol, her brother David, his wife Lori, their 11 month old son John and Sarah who is David's daughter from his first marriage, along with the other brother Brian, his wife Barbara and their three girls Amanda, Lauren and Brianna, quite the brood indeed. The first step was getting all three vehicles to Colonial Williamsburg and then tickets for all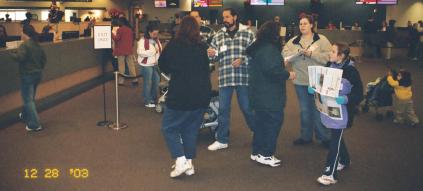 which were sure expensive! It cost us over two hundred clams for Karen, Cheryl Michael, Katrina and I. Once everyone had their tickets we loaded on a bus to take us down to the attractions. We walked and we walked, not all of the attractions were open and not even one ride, save the bus ride, for us to fling around on!

Baby John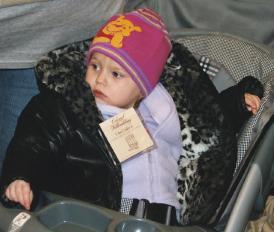 Raegan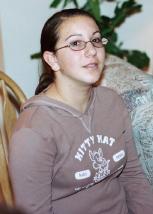 Sarah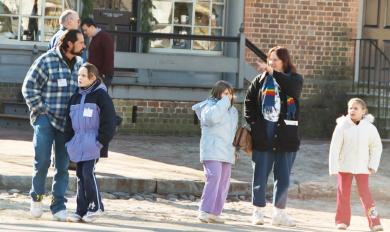 Brian, Amanda, Lauren, Barbara and Brianna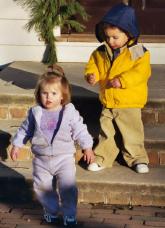 Raegan & Cameron

Raegan her daddy Mike and Cameron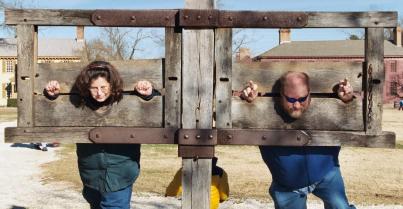 Karen and Chuck in the stocks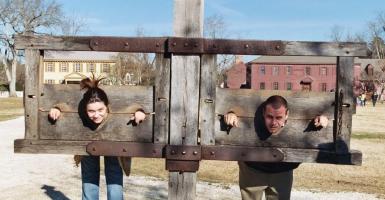 Katrina and Michael in the stocks also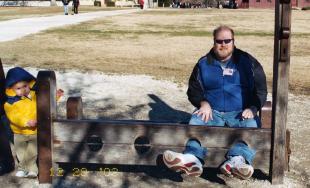 Cameron putting Grampy in time out
---