My Colorado Adventure 2004/2005
02:10:11 0001 Failed to execute CGI : Win32 Error Code = 259

My mother, Mary, had been diagnosed with breast cancer back in November of 2004, she ended up having a single mastectomy in early December. My sister and my dear cousin Tom Bouchard came to stay with her during and after the surgery and to help with the ranch chores. I wanted to go help also and I found out I could use some of my accrued sick leave to do so. So I began planning my trip which would include me packing up most of my telescope gear and driving the trusty Honda Odyssey minivan the 1912 miles to my mom's house. I initially planned on traveling the Monday after Christmas and staying until the end of January, a little more than four weeks. I ended up starting my leave the Monday before Christmas, that Monday I decided I should spend Christmas in Colorado with my mom as cousin Tom and my sister were going to bug out on her so they could spend Christmas with their families. I figured I have spent about twenty seven Christmases with my family and I should spend this one with my mom. So Monday I packed up the van with telescopes, cameras and some clothes, including some very warm ones. Karen had the day off so we shopped for some warm chore boots for me. Karen was all for me going, where can you find such an understanding woman? I got lucky I guess, our "starter-marriage" is still going strong after twenty six years now.
I managed to get going pretty early on Tuesday morning, I hatched a story to tell my mom so she would not expect any emails from me for a few days, a rouge about me traveling to Florida to fix a computer on board a ship which she bought hook - line and sinker. The first day I drove to Frankfort Kentucky, I had initially hoped to drive all the way to Lexington, but I was very tired and I hate to drive at night. The next morning found me wishing I had pressed on for a couple more hours, as it was raining a mixture of freezing rain and rain. It took me forever to get to St. Louis! I drove for over six hours at speeds under 30 mph due to the heavy snow and wind. I found myself following an enormous semi truck loaded to the gills, as it was crushing the snow down flat in front of me. I just followed him all the way to St. Louis. We passed vehicle after vehicle stuck in the snow including several other big rigs lurched over the side of the road. On one occasion we passed a snow removal truck that had slid off the road and was laying on it's side! We just kept going as the State Patrol was already on site. I decided that due to the bad weather I would just press on and drive as long as it took to get to Kansas City. When I arrived in Kansas City, I decided to drive all the way across to the Western side in Kansas City Kansas so I would not have to deal with commuter traffic in the morning. The nightly weatherman said Kansas would be clear, cold and windy for my next days drive.
Kansas has to be the most boring state in the Union to traverse, I went eleven miles at times between curves! And let me tell you the forecaster forgot to mention it might also SNOW while I was driving across their lovely state. Again slow driving in the WIND and SNOW blowing so hard you can't see the road - but that didn't stop those 4 X 4s from speeding around me like boogers in a hearty sneeze flying out of your snout. I made it into Burlington Colorado around two in the afternoon. I had an Arby's sandwich and fries and then forged on. I made it to Colorado Springs a little before four. I could not find my cheat sheet on how to circumnavigate that city so once again, like last summer's trip, I became lost in downtown. I eventually had to ask for directions to Canon City. Once on the way to Canon City I discovered more crappy roads and snow. I was starting to get concerned about driving up the less traveled roads to my mom's house. I made it to Canon City about five o'clock and stopped at the Safeway food store and bought some grub, including milk, I wasn't ready for "worm-cereal" with goat's milk. The drive up the river road wasn't too bad, but I was concerned about black ice so I took it pretty slow. The roads were mostly clear until I ventured into Custer County, then the became snow packed. I turned onto Verdemont Lane, the dirt road to my mom's house at about six thirty anticipating getting stuck in the snow about a half mile from home at the dreaded Demski's section of the road. I have rolled trucks at the Demski's section before in the winter. The four and a half miles went very well with no problems for the front wheel drive minivan. I pulled into the yard about ten before seven and when I opened the sliding glass door into the kitchen where my mom was sitting and bellowed MERRY CHRISTMAS! I think she was a little surprised, knowing her, she was probably pissed at me for telling her a story about going to Florida!
We visited and I unpacked my clothes and stuff as we watched the temperatures fall to about 22 below zero that night. I laid my big warm sleeping bag out on the bed in my Grandma Helen's room on a single bed. The next morning I managed to go outside and learn the chore routine from mom's friend who was helping her this week with chores. Man was it cold, just a few degrees above zero.
Christmas morning came I and I had mom open all the presents we brought her and other folks had left for her, we had a grand time, I brought one present from Karen's parents so I would have something to open and it was a couple of boxes of SUGAR FREE chocolate candies. Then came chores on my own, four and a half hours to break all the ice and feed the dozen horses, fourteen chickens and who knows how many rabbits.
The day after Christmas found me trying to wedge some small chucks of wood under the toilet so it wasn't so wobbly. I ended up breaking the flange on the darn thing. Bathroom repairs took the next eight days to complete as they rebuilt the floor while they were at it and shored up things around the tub were things had been leaking for years.
I ended up buying new water hoses to water the critters as it was kind of disheartening to turn the water on my mom's old hoses and just watch the water spraying out through the cracks and breaks. Being a bit frugal and creative with electricians tape my mom had probably extended the life span of these hoses by nearly 1,000 percent. I was just not in the frame of mind to mend these damn hoses, so when cousin Tom came to get his clothes I asked him to pick up a few hundred feet of NEW hoses and I would pay him. A hundred and four dollars later I was watering the horses with hoses that could maintain decent water pressure.
By now mom is back out with me doing chores in a limited way, she is feeding the chickens and rabbits while I continue to feed and water the horses. Before I go on to much longer here are some pictures from the trip.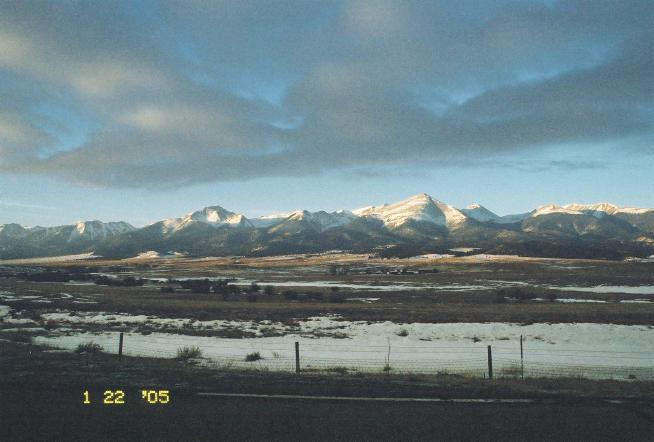 This picture shows the mountains Spread Eagle on the left and Gibbs peak on the right, the tree ringed open area to the lower right of Gibbs is where the ranch is, this area is lovingly referred to as "the flat" even though there is nothing flat about it.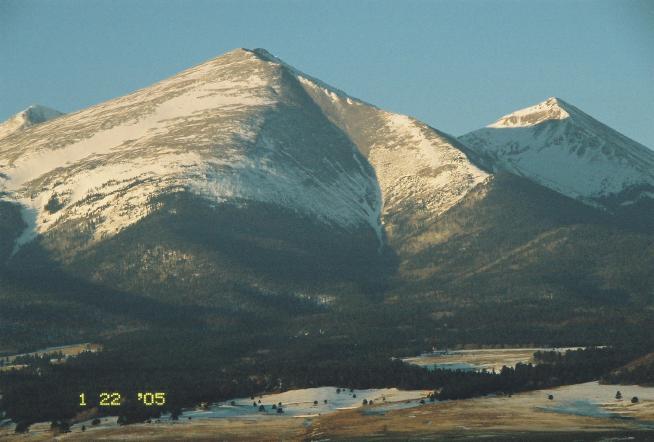 This is a close up of Gibbs peak and the flat. The pointed peak to the right is named Electric peak.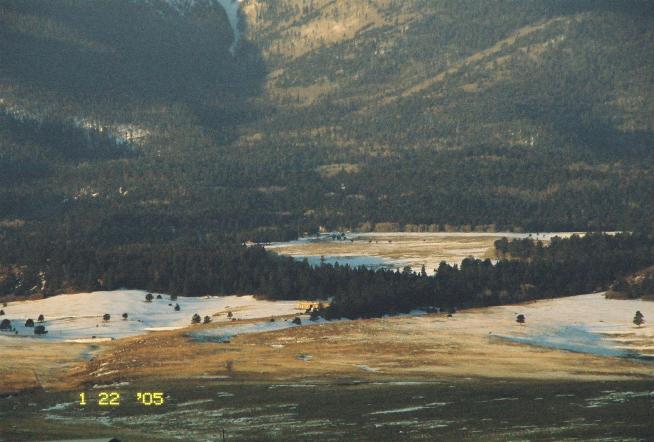 This is a zoom-in of the flat, the ranch sits in the left most nook of the opening. My mom still owns a chunk of the flat and most of the rest is owned by other descendants of the Brandon/Montgomery clan who homesteaded it in the early part of the last century.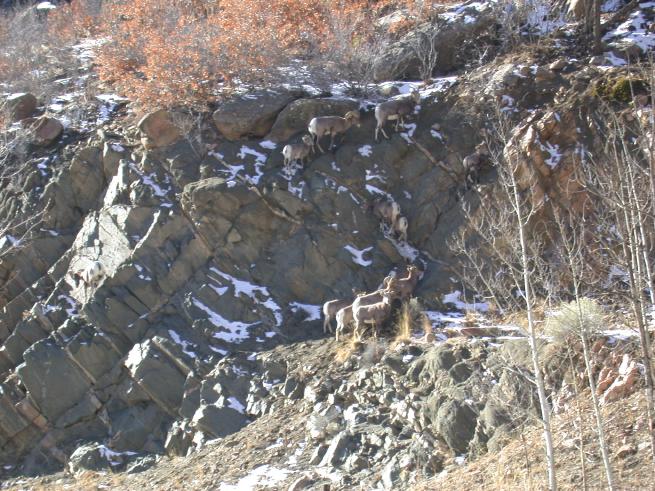 The first week in January we had to travel to Pueblo for a visit with the oncologist concerning the prognosis after the cancer surgery. On the way down a local road named Hardscrabble, we encountered a herd of mountain sheep which I duly pissed off the vehicles behind me by pulling over so I could take some pictures. There are twelve sheep in this picture. The oncologist did not paint a very rosy picture, she will have to take regular IV administered chemo treatments instead of the chemo pill and that she should follow the chemo with radiation treatment. She must also have an echocardiogram completed and a Q-Port surgically implanted before they can start the chemo treatments. We managed to get all of that stuff done and over with so she could have her first chemo treatment in Pueblo on the 18th of January.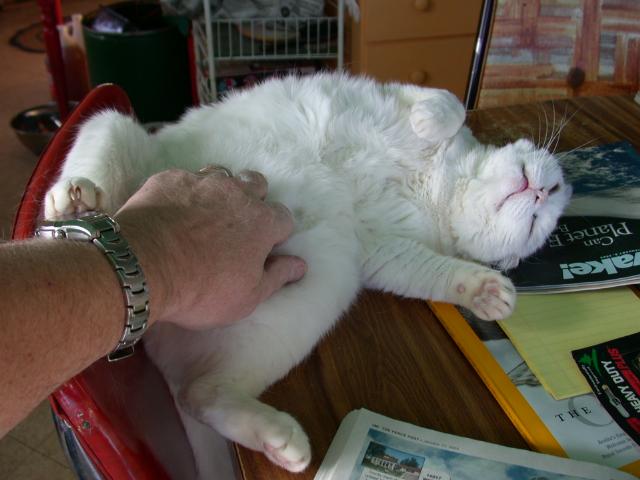 While I was there my mom's old white cat, PK Pretty Kitty, pretty much adopted me, slept with me, clawed me and allowed me to scratch her wherever I wanted. My wife's cats should be so accommodating.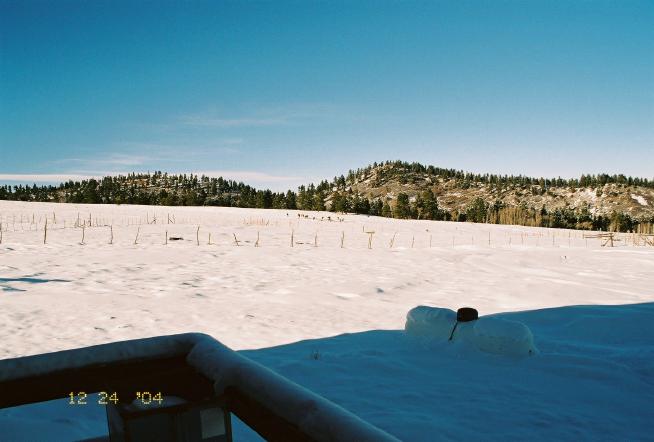 This is a picture from my mom's house looking out onto the flat where the elk are feeding on hay my uncle Paul drags out there nearly everyday on his snowmobile.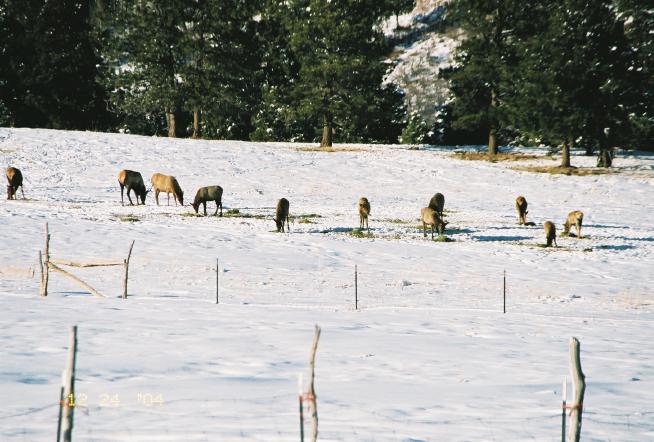 Zoomed in on the same herd feeding.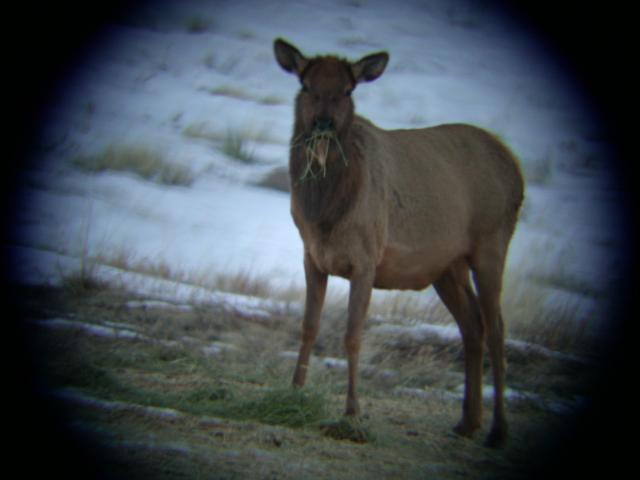 I took this picture of the elk feeding with my telescope, I had to use some pretty severe focal reducers to lessen the magnification of the telescope. The telescope is effectively a 2,540 mm telephoto lens. The focal reducers knock it back to about 840 mm. The previous picture of the herd was taken with a 300 mm telephoto lens. Without the focal reducers, I could fill the frame with the eye of the beast, they are brown!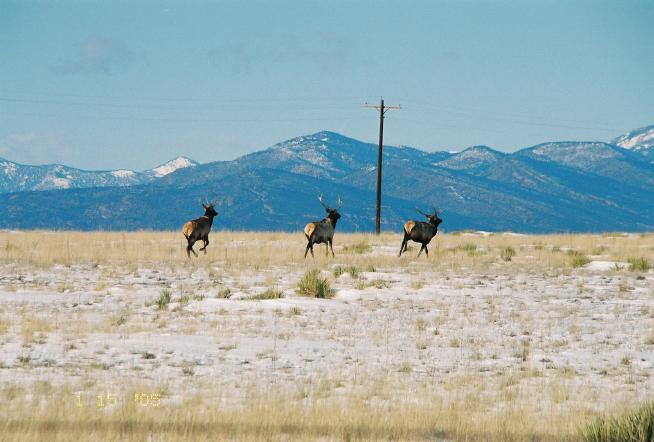 Returning from town we would on occasion would see other herds of elk, this time we caught three big bulls running away from us..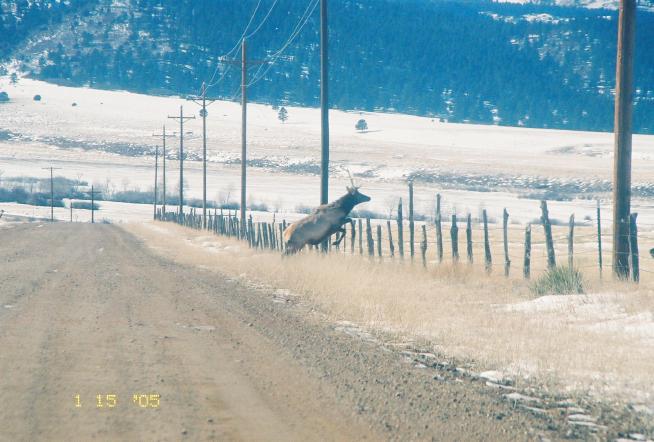 Here I was able to image one of these beasts jumping a rancher's barbed wire fence. If you can't tell from the picture, he is a big animal, probably the size of a regular bull cow - though not as fat! He cleared the fence in a dead run as did the other two.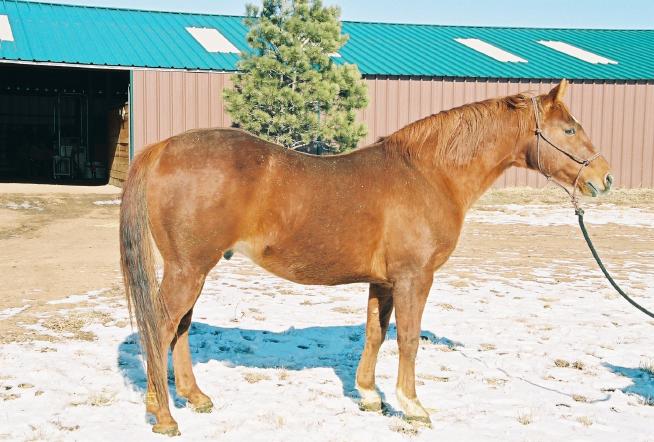 My mother's investment portfolio includes this well bred horse lovingly referred to as Peppy. Peppy came from the famous King ranch out of Texas and bears one of their brands, he is boarded at the Avery ranch which is a few miles from my mom's.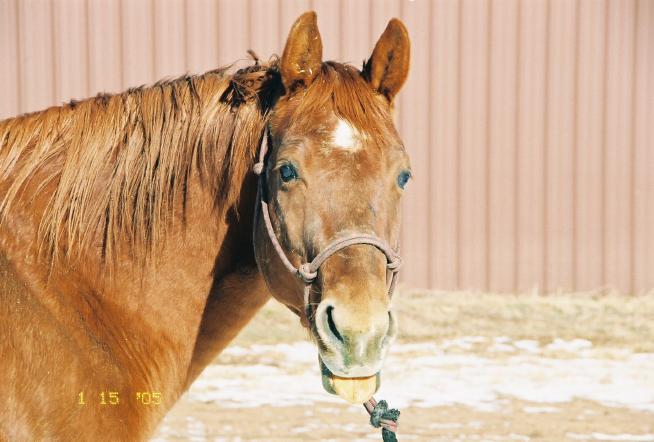 Just because Peppy cost an arm and a leg, there is no rule that says he can't be silly!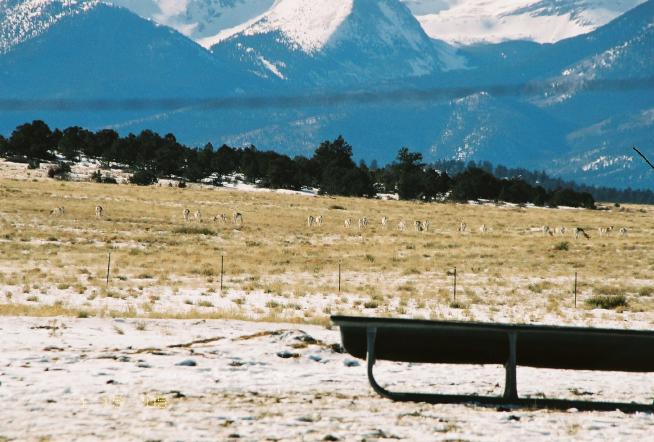 While at the Avery ranch we were treated to a herd of antelope.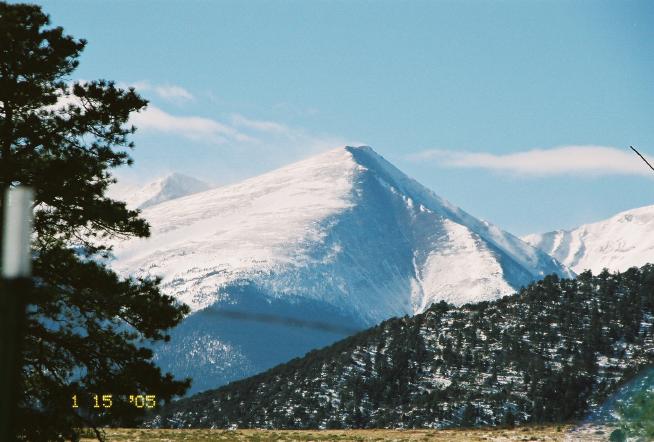 Here is another view of Gibbs peak from the Avery ranch.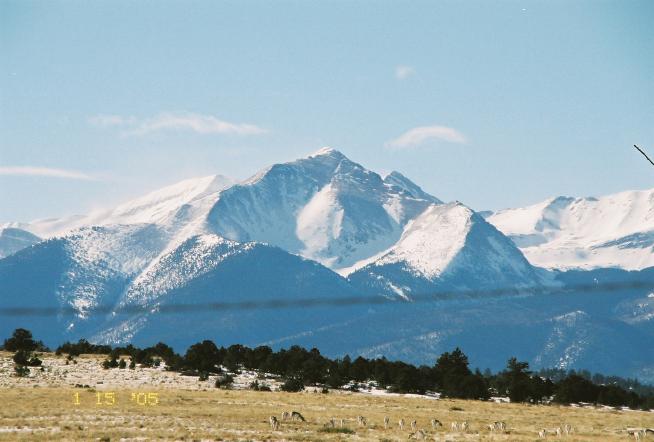 Here is another view of Spread Eagle peak and the antelope from the Avery ranch. The Lake of the Cloud's is behind the right ridge of the main mountain, there is another peak behind this ridge, and the lakes sit between the ridge and the other rear peak. I have spent many hours at the Lake of the Cloud's fishing. These three lakes are only accessible by foot or horse now. We used to ride our dirt bikes up there. Seven and a half miles from the ranch and it would take at least an hour to ride up there.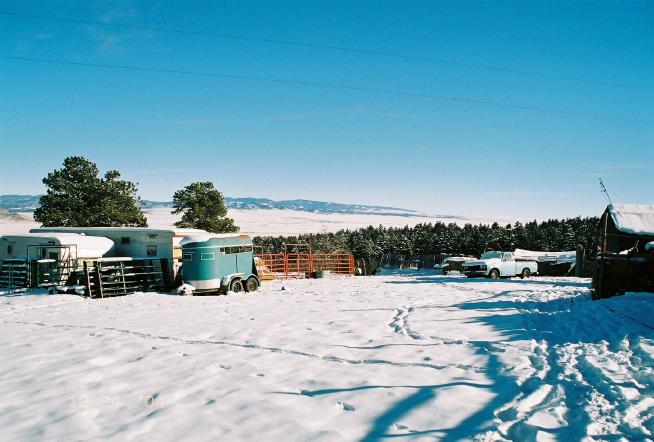 This view shows the lower corrals before the big storm there is about a foot of snow on the ground already.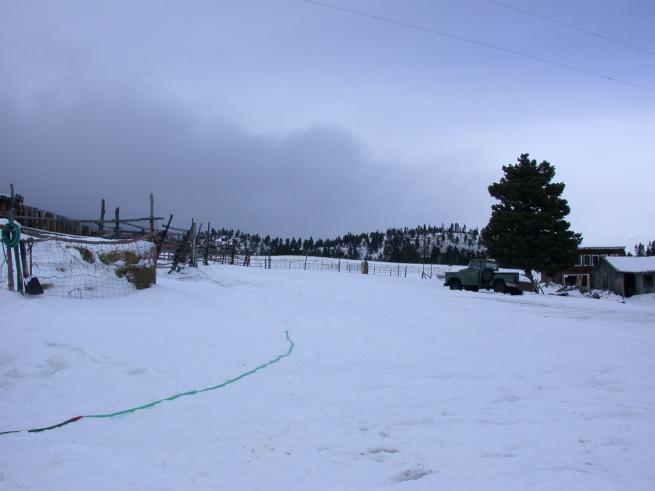 This view shows the storm coming, note the NEW water hose and the snow covered pile of hay.

This view is looking at the ranch house from the corrals.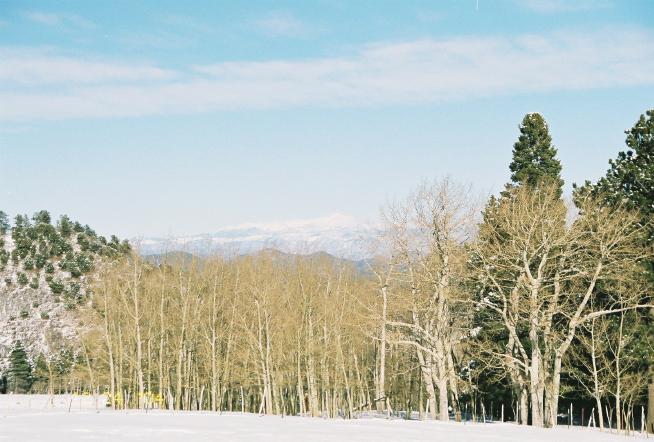 Looking to the distant Northeast is a snow covered mountain which is none other than Pike's Peak that sits just West of Colorado Springs. Just to the right, obscured by the aspen trees is Cheyenne Mountain, where NORAD is located inside the mountain. With my telescope you can see it's radar dishes and antennae. The straight line distance is about 80 miles away.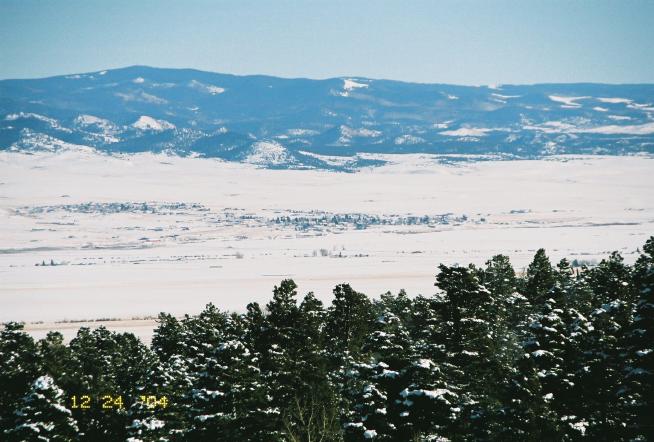 This is a picture of the towns Silvercliffe on the left and Westcliffe on the right. Westcliffe is the county seat and where I went to school, this is about eight to ten miles away as the crow flies.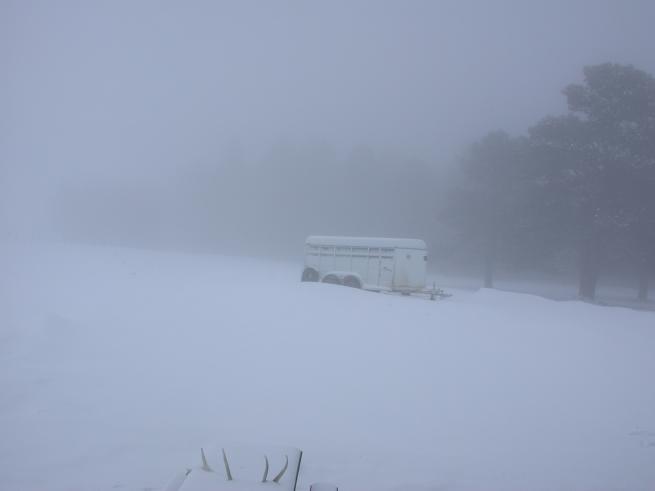 After being on the ranch for a week or so we were "blessed" with a small snow storm which left us with about twenty inches of snow throughout it's course.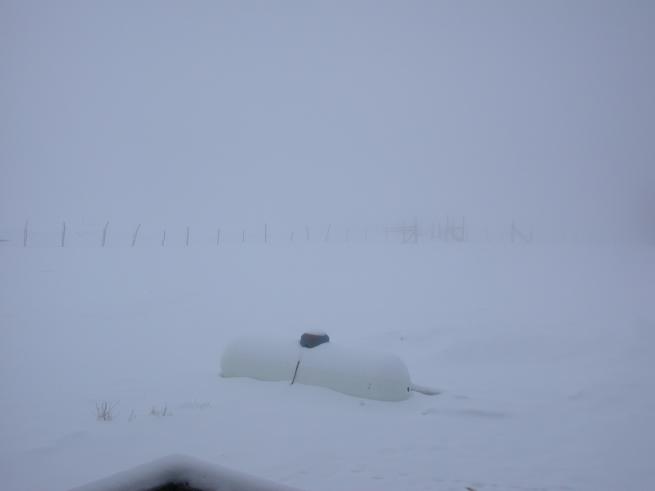 Remember the picture of the elk eating out on the flat? Same view during the start of the storm.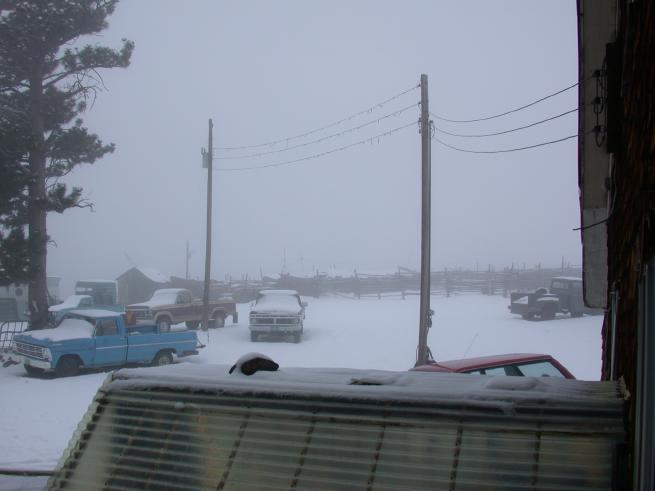 The storm is just starting to come in and snow is starting to fall.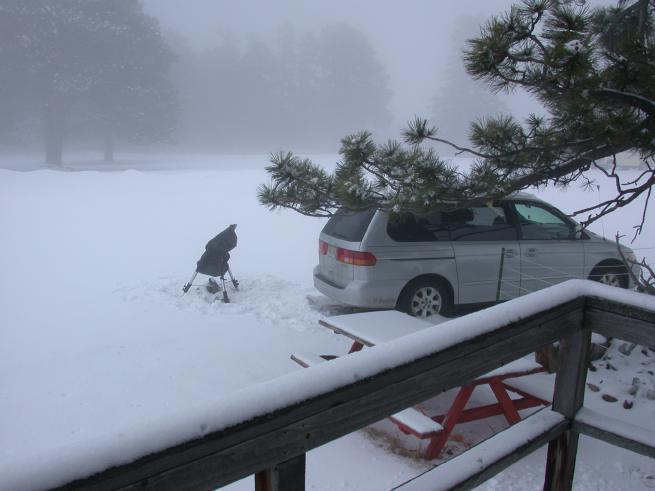 The Verde Mont Observatory is getting snowed upon.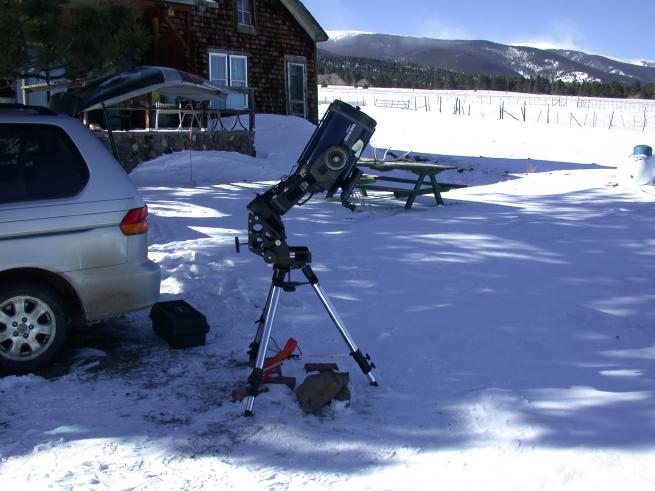 The Verde Mont Observatory about three weeks after the storm, I had to shovel and sweep the snow from around the legs of the tripod. After being there for over four weeks I was plagued by poor weather including clouds, wind and freezing temperatures night after night. I sustained a devastating failure with my lap top computer requiring it to be sent back to Toshiba for replacement of the hard drive and the liquid crystal display. I had a clutch gasket decide to crumple up in the arm of the telescope and render it immobile until the next day. All in all I managed one or two nights of decent viewing but imaging was prevented by winds and high clouds. Someday, I WILL get some images from there!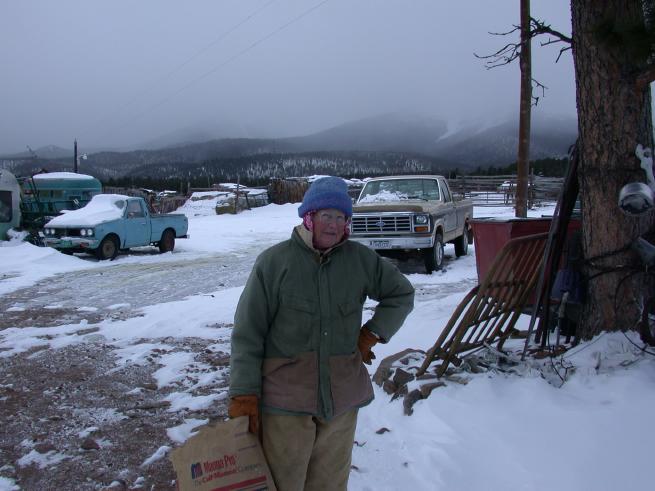 Mom coming in from feeding the chickens and rabbits before the storm settled in. Notice the ice sheet behind her. After the first small snow storm it decided to RAIN in January in the Rockies! I can never remember it ever raining in the winter! It sure made for treacherous walking as most of the snow was sitting on these ice sheets, I fell several times while doing chore as did mom once when she was hanging her laundry up to dry (freeze).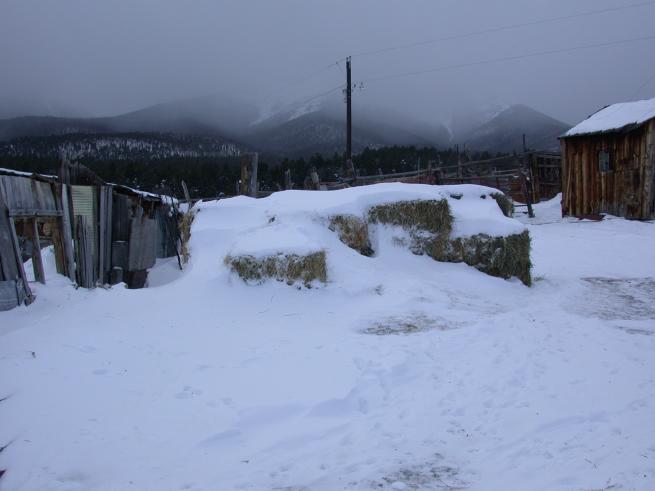 This is one of the hay stacks after a small storm came in and covered it, this was the morning before the twenty inches of snow fell.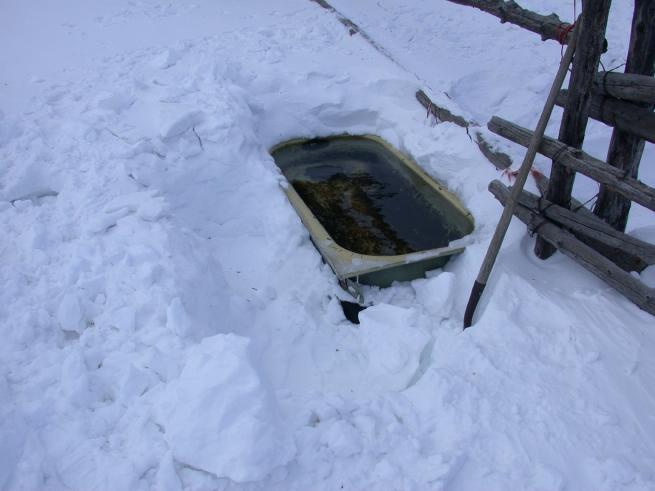 This is one of the water tanks after the twenty inches of snow fell. Now twenty inches takes you up to just about the lip of the tank. Compound the snow with howling near hurricane force winds and you get to experience some pretty significant snow drifts. At this point I have spent an hour digging this out. The tank was completely covered over with a snow drift, I removed nearly two feet of snow before I was able to feel the tank. Then I had to dig a trench around it so I would have somewhere to stand while digging the snow and ice out of the tank. My mom dug a three foot wide trench on the other side of the fence so Smokey, the old stud that this water is for, can at least get to it. He was standing there on a drift about a foot and a half higher than the the top of the tank, if you think he could kneel down and drink you must be crazy! So my mom dug him the access trench. We did this drill one more time before I went and found another water tank that I could move around away from this damn snow drift that would refill in every night when the wind would blow more snow.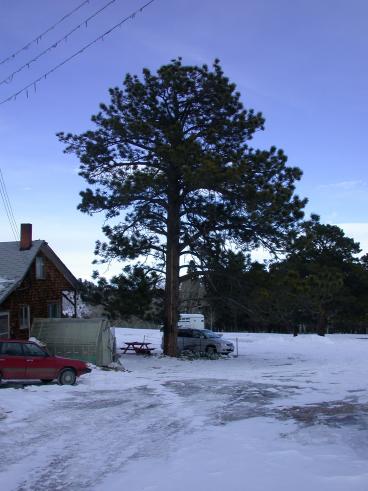 This tree has been struck by lightening and has a very prominent yellow stripe running all the way up it's side It is a miracle it is still standing, it has taken a great deal of wind over the course of the years.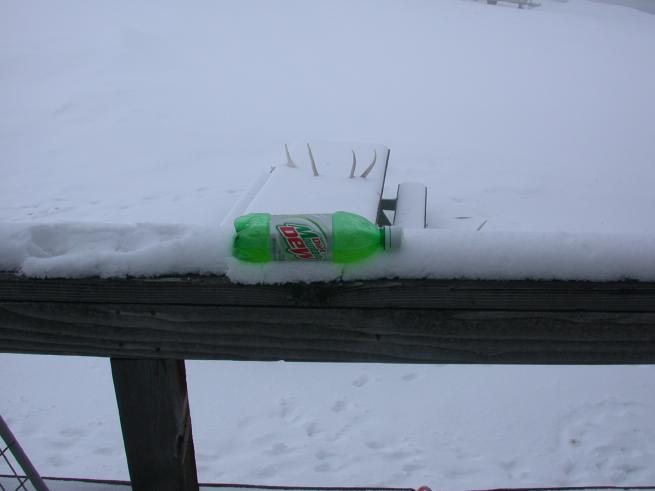 A quick way to keep your drink cool while you do chores! The chore would take me about an hour if I did not have to run the hoses and fill the water tanks. When they needed water it would take another hour and a half to fill the tanks and drain the hoses so they don't freeze up.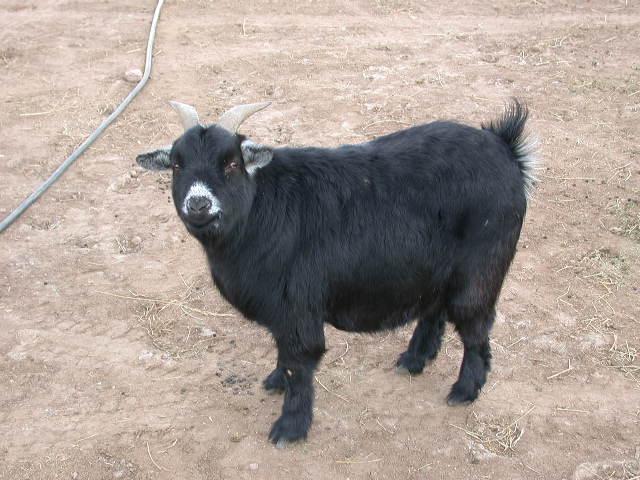 I always tease my wife Karen she is a goat, it is a long story and this one is too long already. I took this picture and sent it to Karen asking if it were any of her relatives. She did not reply kindly.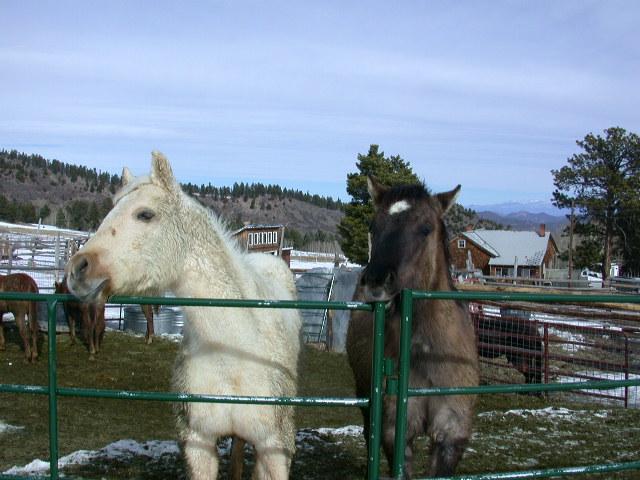 These two little fillies, Quiz on the left and Belinda on the right are always into mischief. Belinda likes to attempt to eat anything, like paint from the corral panel. Quiz was very friendly and always came to visit me when I fed them. It looks like they are standing on dry ground doesn't it? They are actually standing on a snow drift about two feet high that has become covered with hay and manure. We had to constantly add corral panels so they would not go visit the neighboring stud.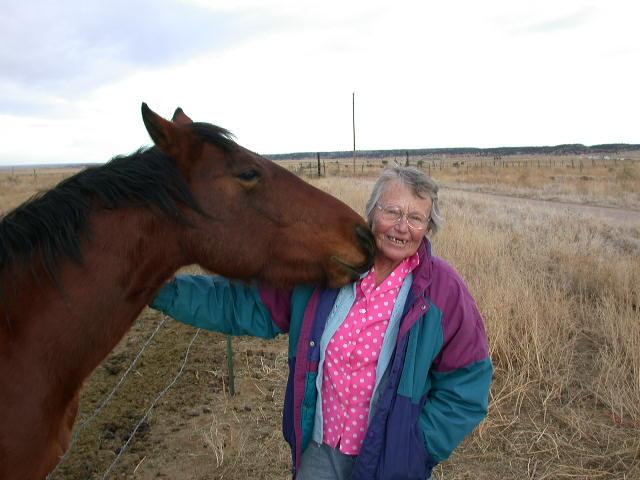 This is my mom the afternoon after her first chemo treatment. We stopped at her friend Janice's ranch to visit and see the horses and their nice big barn. This horse is trying to whisper to my mom to put her teeth back in before I snap off a picture, guess I was too quick. Janice's ranch is down closer to Pueblo and several thousand feet lower in altitude, not much snow on the ground at all if any.
The last day I was out there my uncle Paul, who only lives about two hundred yards from my mom, took me out on a snowmobile ride. We rode older snowmobiles but Paul keeps them in tip-top shape. It had been about twenty five years since I rode a snowmobile, but it is like riding a bike, you never forget. We rode all over the mountains for about two hours. We went way up on the national forest and on trails I had not been on since I was a kid. It was great fun and I thoroughly enjoyed the ride. When we move out there when I retire we will have to have a matching set of snowmobiles for Karen and I.
The trip back home was long and boring even though I tested the upper portion of the van's speedometer for long periods at a time. My only bad weather was coming back through West Virginia and the Appalachian mountains. The Interstate was nearly snow packed over the mountains and I had to keep the speed under fifty. the last day I drove for from six fifteen until twelve twenty without stopping until I pulled into our driveway in Chesapeake, boy did I have to pee!
My mom seemed to take the first chemo treatment very well, she was a little tired, but not too bad and her spirits were good. She is not your average seventy one year old woman. Up until this bout with breast cancer she could outwork folks half her age. I know she has my respect and admiration for what she does up there on the ranch. It is her spirit and drive that will turn the corner on this minor setback. After all, she needs to stick around so we can see Peppy's offspring mature and make good on her investment!
---