Chuck's 2010 Ramblings...
Current 2013 2012 2011 2010 2009 2008 2007 2006 2005 2004 2003 2002 2001 2000
Colo Vacation 11 Colo Adventure 04/05 Our Cruise 03 Myrtle Beach 02 Egypt 02
01:01:11 0001 Failed to execute CGI : Win32 Error Code = 259

12-27-10
WOW it has been less than ten days and I am updating the ramblings! Must have been something earth shattering and crazy happening in the Jagow domain. Well yes and no. On the "no" side of the coin I wanted to get one more update in before the end of the year. On the other side of the coin a couple of significant things other than Christmas occurred. The first happened to Cheryl our daughter. She has been dating/cohabiting with Chris since early last year of which they have a new child Casey together, so he figured it was time to make things a little more permanent so he proposed to the Dork on Christmas Eve and gave her an appropriate bauble to place upon her appropriate digit. The second significant occurrence was our Christmas storm. The last time the greater Tidewater area received a storm within a couple of days of Christmas was in 1881. And in my 23 years of living in Chesapeake, this is the largest dumping of snow I have seen here in one storm. I understand in the early eighties there was a BIG storm that dumped a couple of feet and shut EVERYTHING down for DAYS. But this one may be close to that one.
We started the weekend off by having a Christmas Eve dinner over at Karen's brother David and his wife Laurie's house. They had a feast ham and all the fixings, Karen and I were late because she had to work up until after 6:00 PM. But after we arrived and downed some of the food the fun began. We all brought one gift, with in a certain dollar range up to $20 I think. Then we put numbers into a hat and each person drew a number. As each person drew they had the choice of either picking a wrapped gift or STEALING a gift from someone else who had previously gone. The rule was that a gift could only be stolen TWICE. And the person who just lost a gift would then go next, either pick a new gift or steal a gift (but they can't steal their old gift back). It was great fun, the most coveted gift seemed to be a wine and cheese basket, and the least was two skeins of yarn. I ended up with a nice metric set of Allen wrenches and Karen snagged a gift card from somebody eventually. The Wine and Cheese basket ended up somewhere within the "Twins" and who knows who got stuck with the yarn. All in all it was a howling success.
It was later that night after everyone went home for the evening when Christopher dropped to bended knee and threw away his life as he knew it when he asked for Cheryl's hand in marriage. I am so glad she said yes, there is no damn way we are re-arranging the house again for her to move back in...
The next day found my arse cleaning, and getting the house ready for Christmas dinner. I had to clean all of my accumulated junk off of my table in the "computer" room so we could swing the table around make a long set of two tables for the dinner. Then I had to get the chairs out of the shed and clean them off so people could sit on them and not get dirty, I suggested to just tell everyone to wear old clothes and then the chairs could get cleaned that way. That idea was not very well received by What's Her Name. Karen cooked three seven and a half pound turkey breasts and Cheryl cooked a big ham over at her pad. Everyone started showing up about 3:00 in the afternoon but the birds were not done until about 4:30 or so. We cooked 10 lbs. of mashed potatoes and 2 quarts of gravy. Karen convinced my Texan cousin Robert who now lives near Denver to giver her his PRIZE winning recipe for Pecan Pie, which Karen made one for desert. One bite of that pie and you will know why Robert won prizes with that pie. Cousin Robert is a hoot, he helped us clean out the ranch when we had to take care of things when mom died last spring. We are forever grateful to him. After eating until we thought we were going to pop, eventually everyone straggled on home. Karen and I looked at the mess and said - we will deal with it in the morning. By the time we went to bed it had started snow just a bit.
By morning we had nearly 1" of snow. By 11:40 Am it was up to 2" and by evening around 6:30 it was 4". It snowed all night and all day the next day. I watched it snow at a rate of 2" per hour for a while, eventually it began to taper off and we ended up with just a touch over twelve inches when it was all said and done on Sunday night. It looks like it may have dusted another half inch overnight Sunday night but the settling of the snow makes it hard to measure at this point. The dogs loved to play in the snow, well I should say three of the four dogs liked to play in it. The two Rottweilers and the not FAT Chihuahua like jumping and playing. I did take a bunch of pictures of them playing so I hope you enjoy them as much as I do.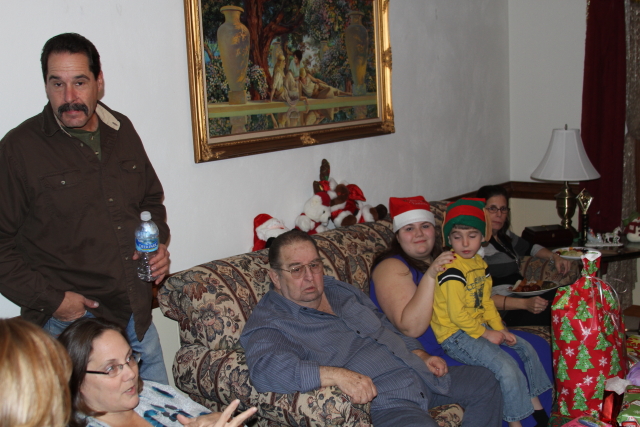 Christmas Eve, waiting for Secret Santa gift exchange.
---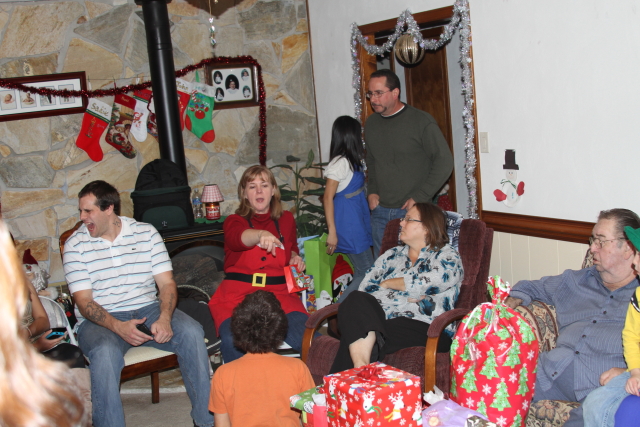 Laurie opening her gift.
---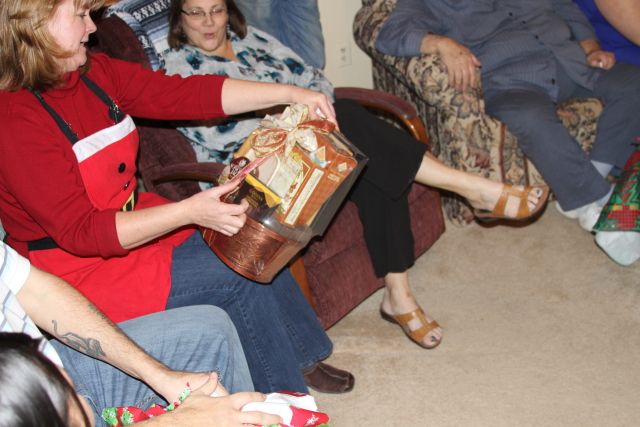 The most coveted gift, the wine and cheese basket.
---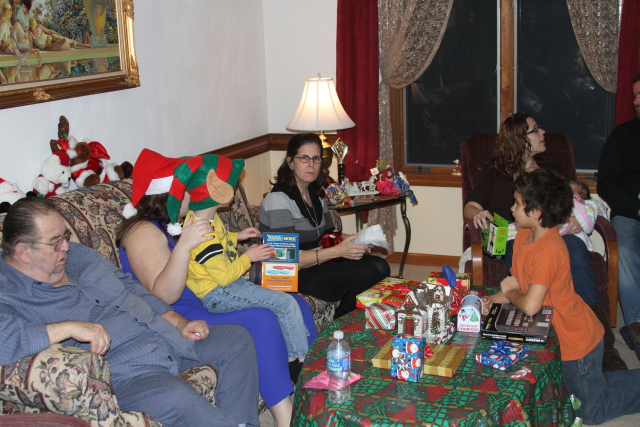 Karen not real happy with hers.
---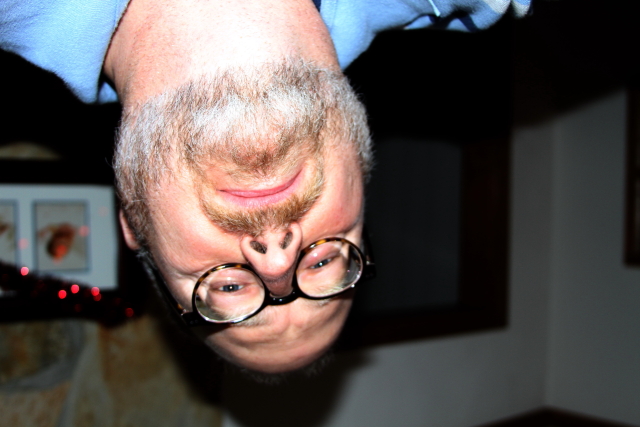 I'm just upside down with my gift.
---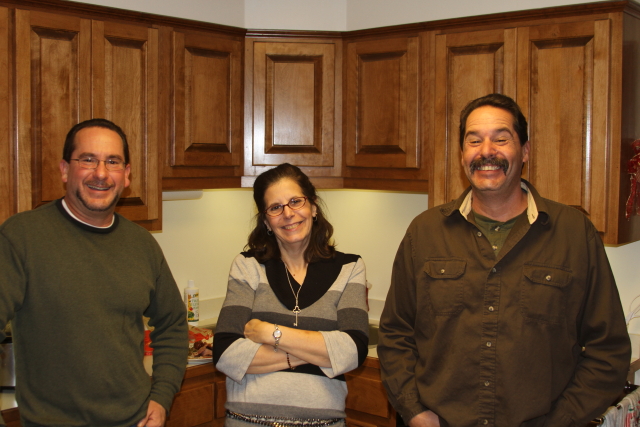 The Wells kids, David - Karen - Brian.
---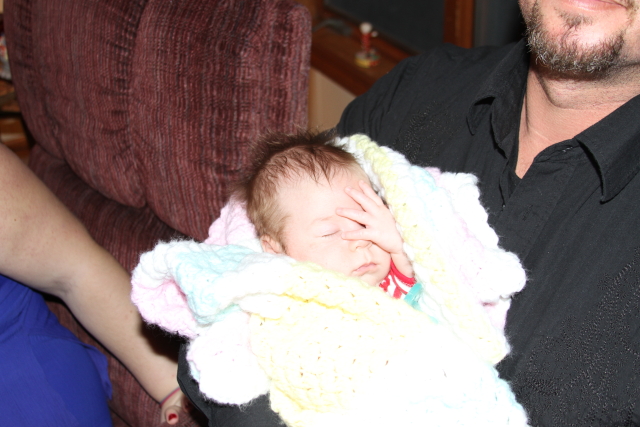 The youngest of the clan, Casey.
---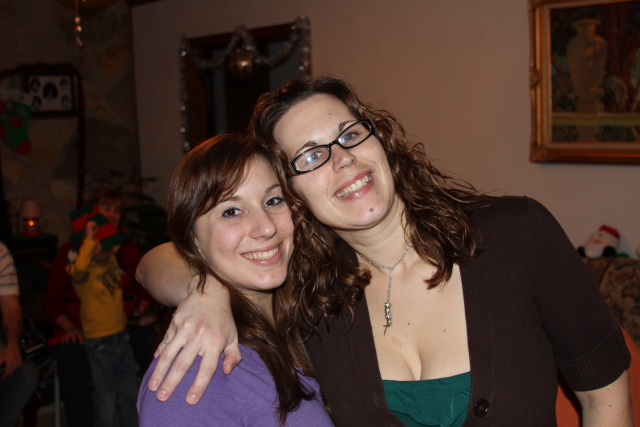 Sarah & Cheryl.
---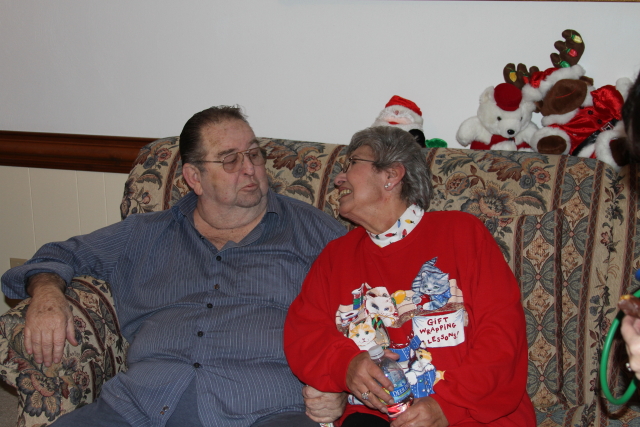 Frank & Carol.
---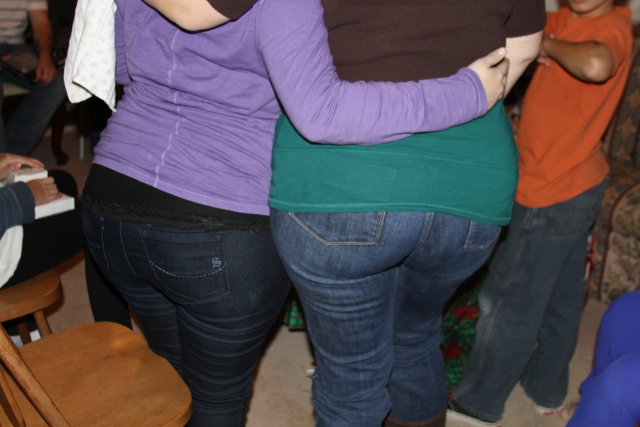 Somebody's butts.
---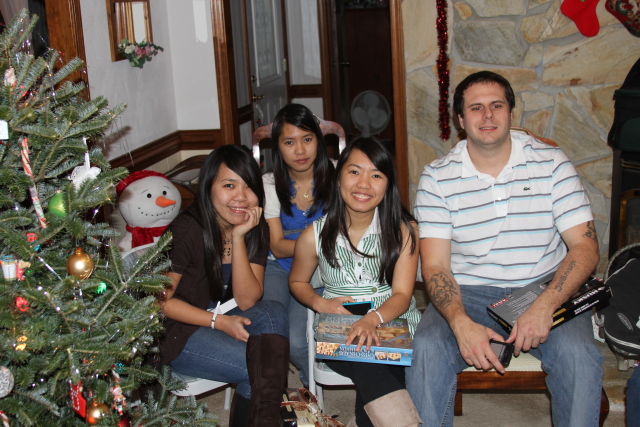 Michael's "Harem".
---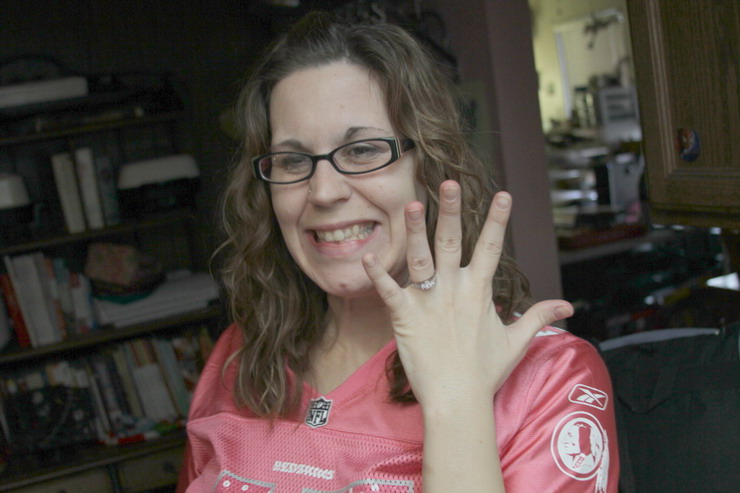 Somebody is engaged!
---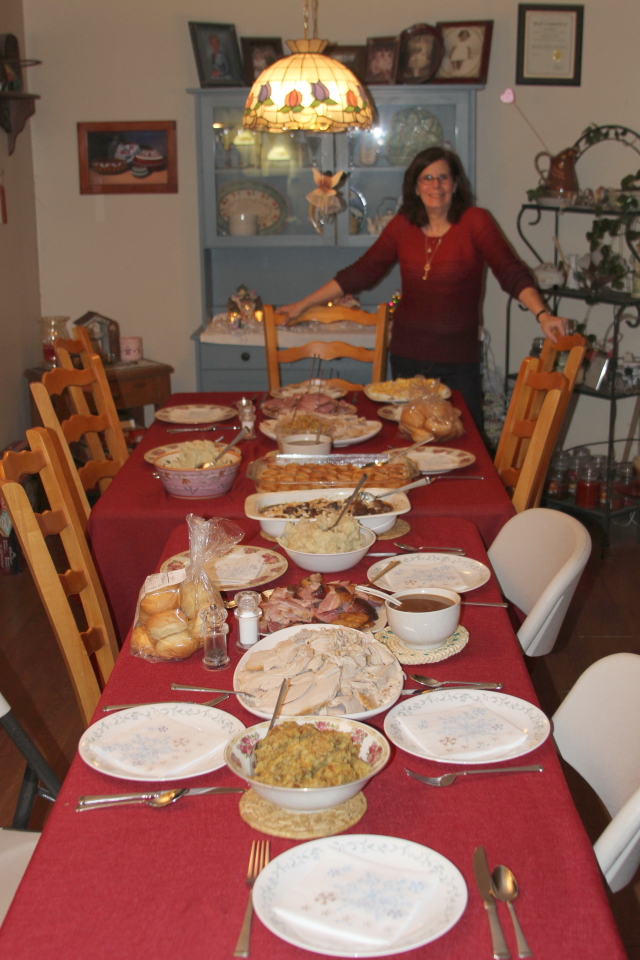 Karen's Christmas Feast!
---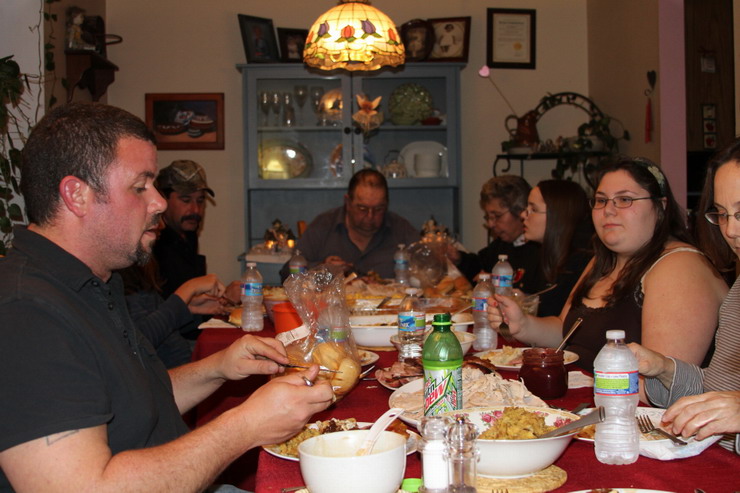 The feasting has begun...
---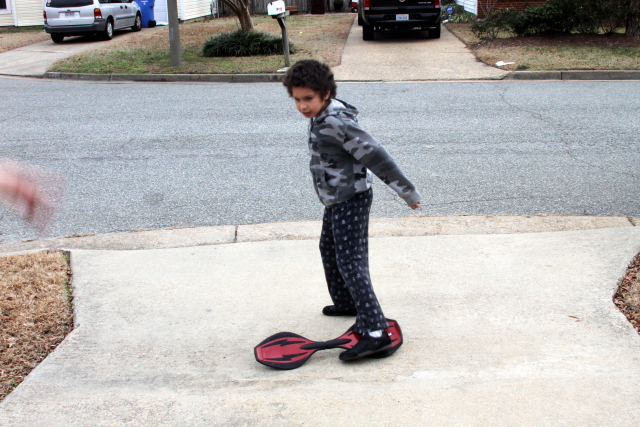 Cameron trying learning to ride the RipStick. This thing must have been designed by
orthopedic doctors badly in need of new patients is all I can say.
---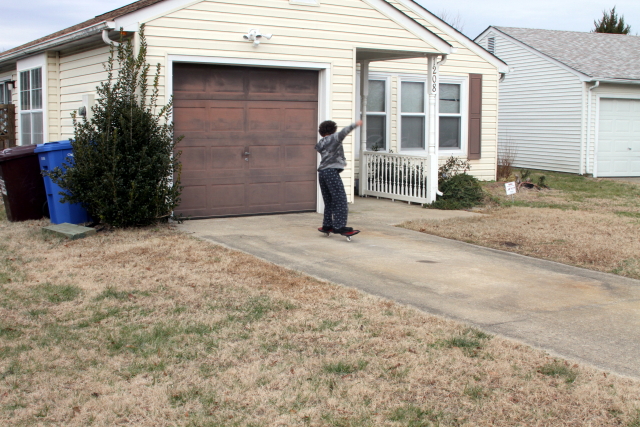 Ratbert is getting the hang of the RipStick now. I sure hope Cameron's
medical insurance is paid and his co-pays are low.
---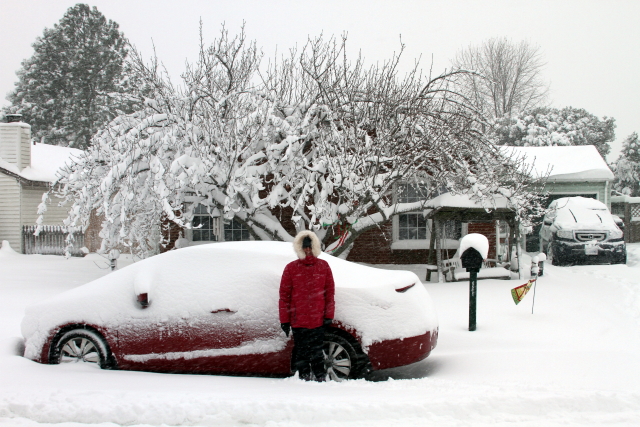 Karen next to her red rocket.
---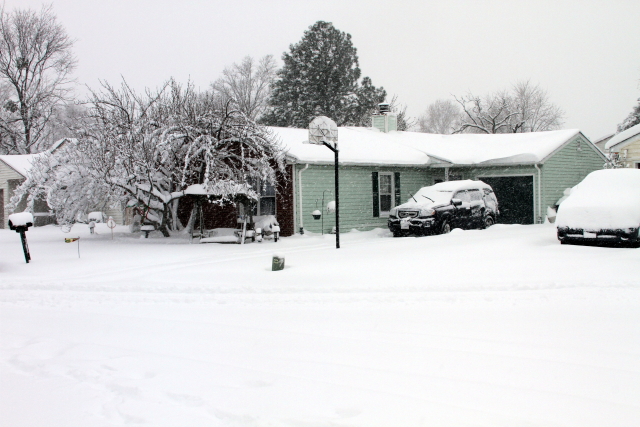 Our house.
---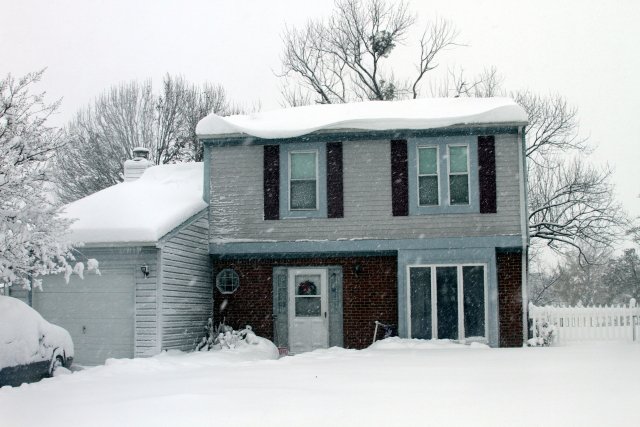 Our neighbor Rich & Emma's house.
---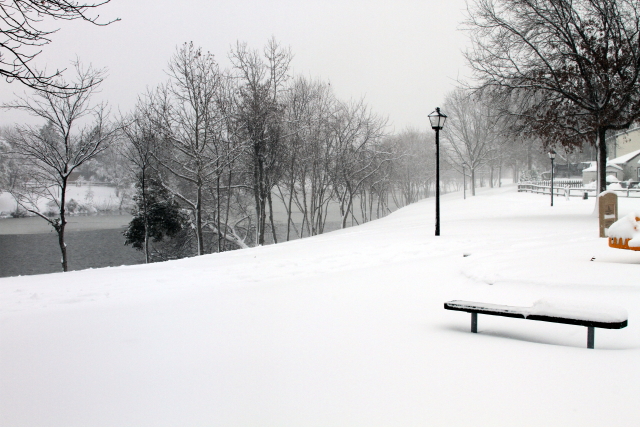 Lake View 1.
---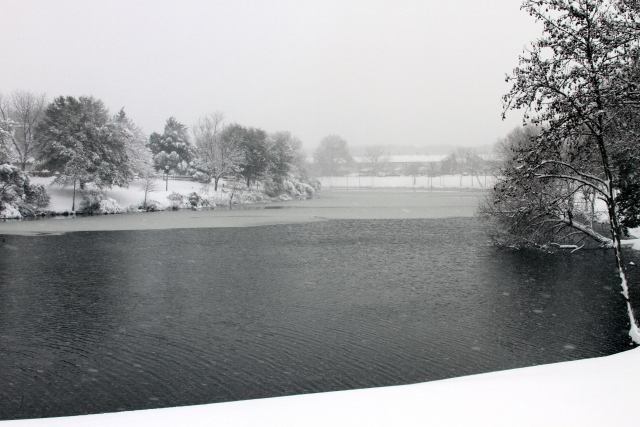 Lake View 2, notice ice starting to form.
---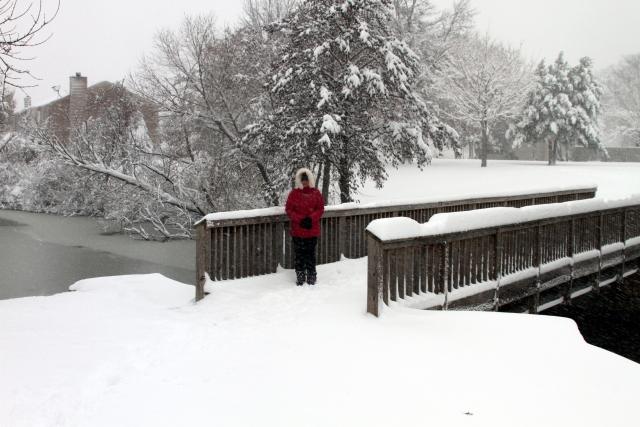 A bridge bunny!
---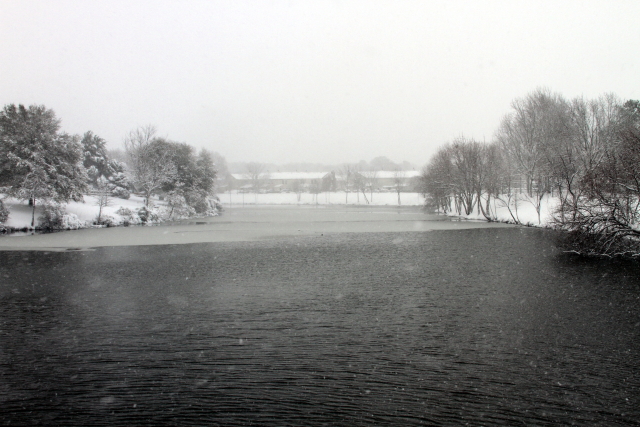 Lake View 3.
---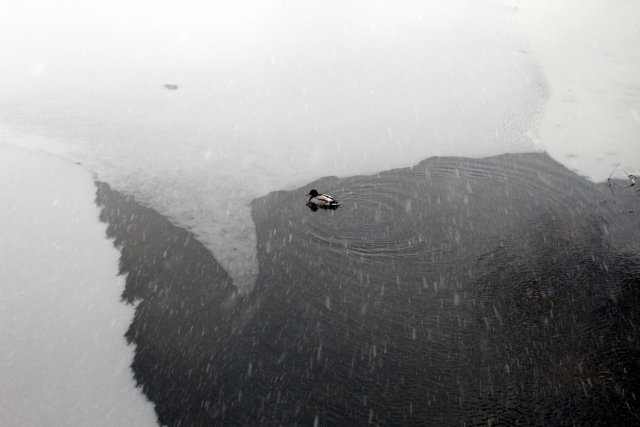 Poor Cold Duck.
---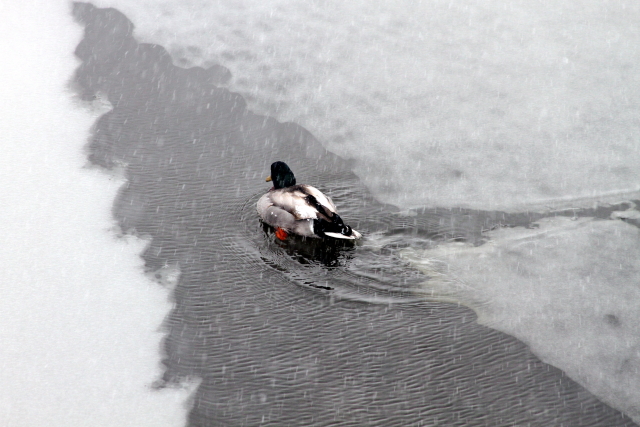 Looking for something to eat.
---
Lake View 4.
---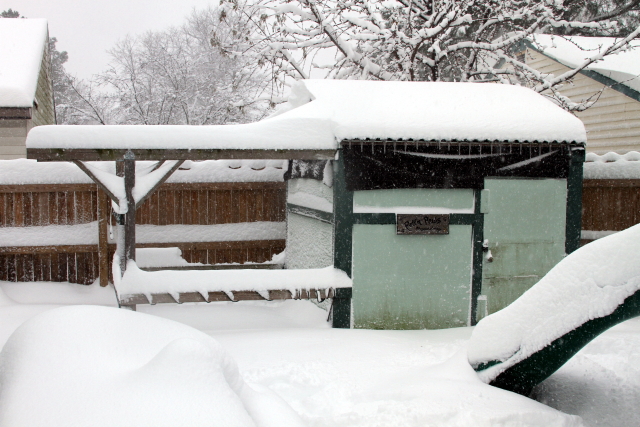 The Rott'n Paws Observatory - closed at the moment.
---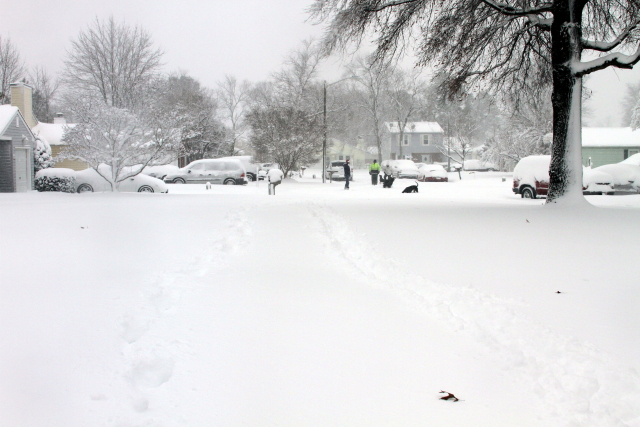 Saddleback Court.
---
My Little Snow Goat!
---
The dog run, note - no dogs here.
---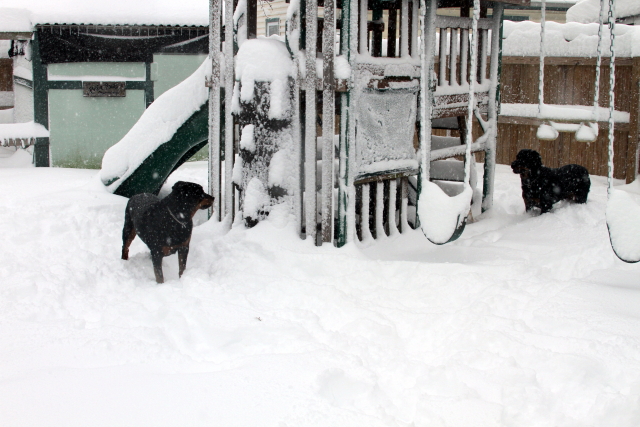 The Rottweilers are playing keep-away from one another.
---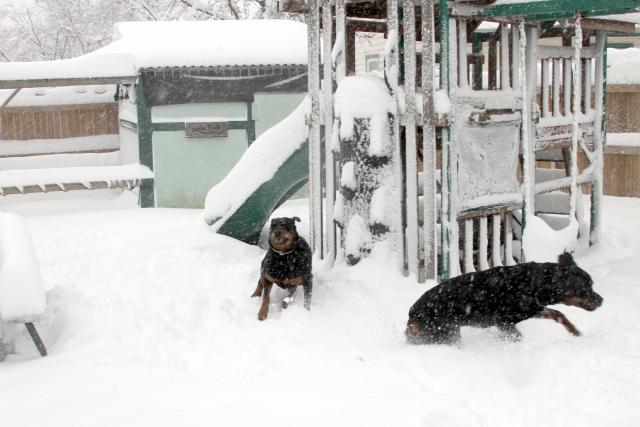 They chase each other like mad!
---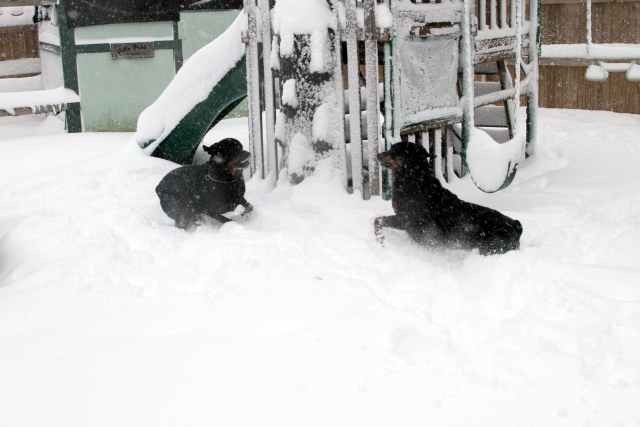 Until they finally race together!
---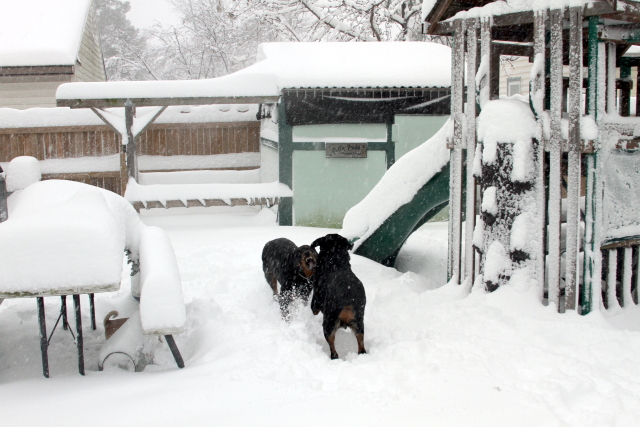 Then they have to act like they fight for a while.
---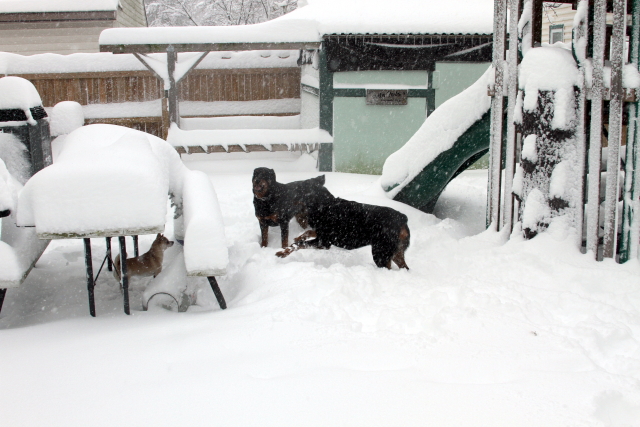 Until little miss loud mouth breaks them up from under the table.
---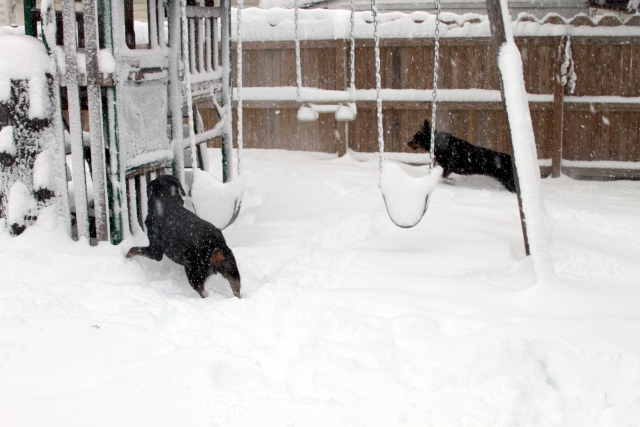 Who listens to a Chihuahua anyway?
---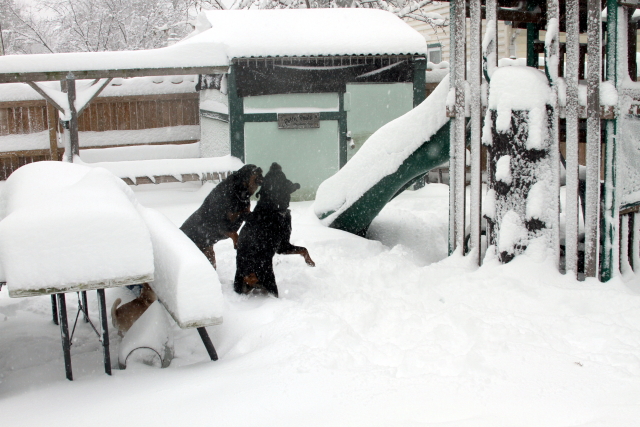 Not us!
---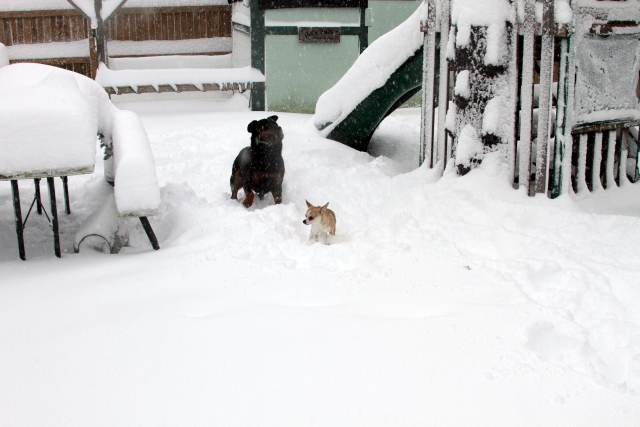 Come back here you little rat!
---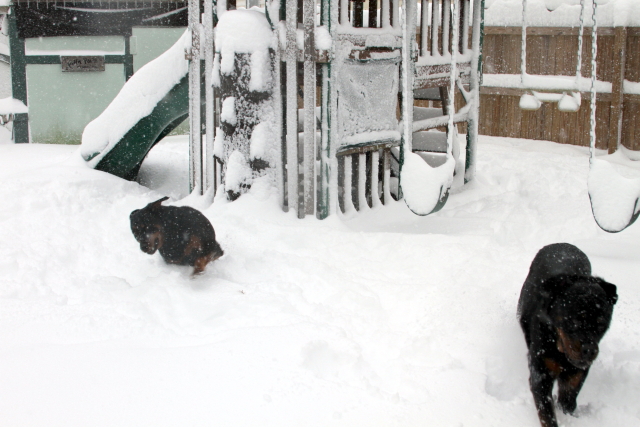 Where did that little yappin mutt go?
---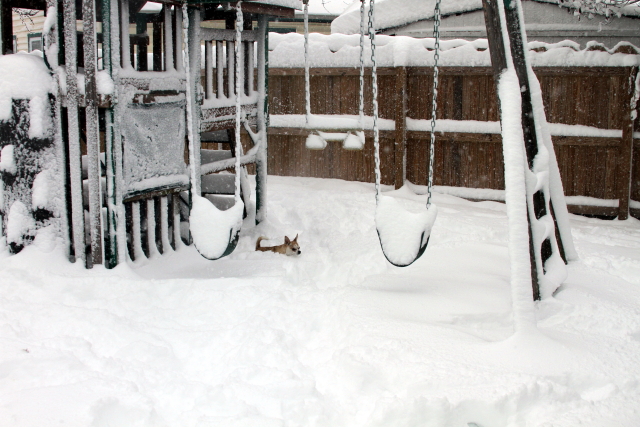 HAHHAAH fooled those big dummies.
---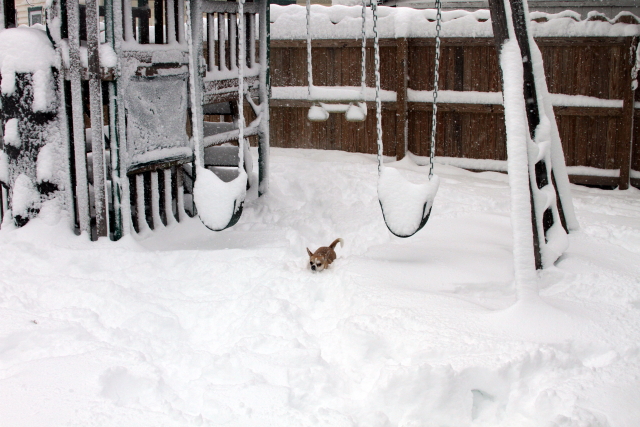 Wow this white stuff is deep and cold. But I can hide in their tracks.
---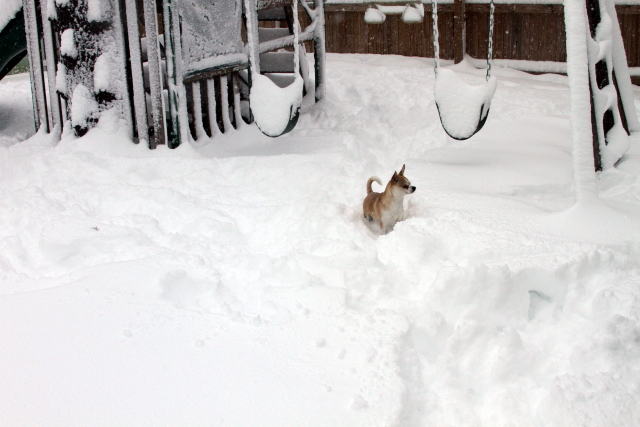 Where did they go?
---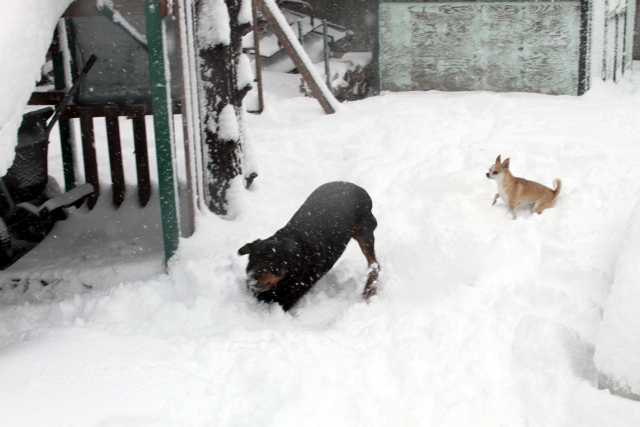 Hey stupid I'm behind you!
---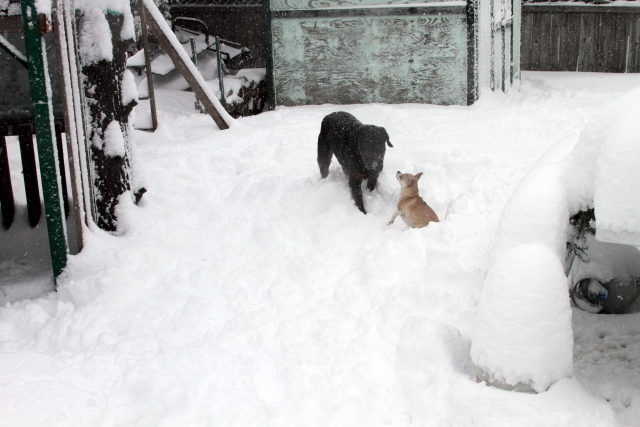 Oh HELL where did you come from? I give up!!
---
Well I guess that will have to do it until I get around to starting an update for next year.
---
12-17-10
When we came home from vacation from Colorado it was time for our annual BBAA club's summer picnic at the Northwest River Park. This year Georgie June handled the entire thing setting up reservations and buying the hamburgers and hotdogs. All I had to do was eventually stroke her a check from the club's checkbook, and help cleanup afterwards. The picnic is always great fun, and it serves as our July meeting as well. Once the feeding and the quick club business has been done the "real" business starts. The annual water fight. This isn't your average little-kids water fight, where else do fifty-somethings get super-soakers and water balloons and go on the hunt for HOURS in the hot sun. The rules are simple, no water shenanigans near any solar telescopes that may be set up or in or under the shelter. Wander out of the shelter in a "threatening" manner i.e. holding a balloon, holding a water delivery device (squirt gun, cup, bucket, ice cold bottle of water with the top off) and you are fair game. I get soaked EVERY year, I always bring a full set of DRY clothes to change into when the fun and games have run their course, and this year was no exception.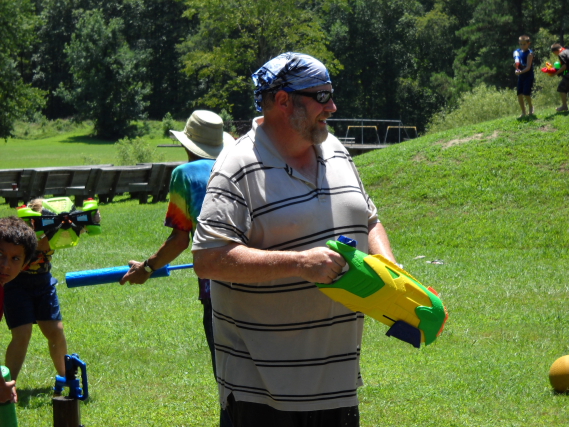 The annual BBAA picnic always turns into a water fight.
---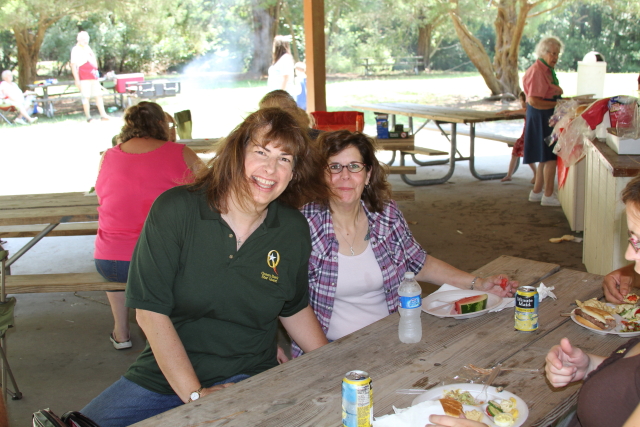 Michelle and Karen at the BBAA picnic.
---
Cameron turned nine years old this year during his birthday. Cheryl threw his birthday party outside of their house so all of the neighbor kids could come and have fun. At first I thought, outside at the end of August? This is going to be a sweat-ex and be miserable. Lo and behold the day was beautiful! It was in the low 90s with acceptable levels of humidity. We set up a couple of our folding tables on the grass and covered them and brought a bunch of chairs outside so all of the kids could sit for cake and the opening of the presents. Once the cake and ice cream was dispatched and the presents were opened then Michael and Chris hung up the Piņata. It seemed like every darn kid took about four whacks at that Piņata before it finally split open and ponied up the goods all over the ground. As the candy was being picked up the next attraction was being readied, the Slip & Slide. The kids really enjoyed running and sliding down the length of the thing, many tried doing it standing up, most ended up falling on their bottoms pretty hard, good thing it was set up on the grass! During the end of the merriment Cheryl made the mistake of crushing her water bottle on Chris, getting him rather wet and cold. A threat of payback was issued, a little verbal escalation ensued and it wasn't long before The Dork probably thought Chris went to clean something up or put something away. Wrong, he was filling a 5-gallon bucket with cold, ice water. Which he then snuck out of the back gate of their place and traveled the long way behind the various town homes to arrive quietly and directly behind Cheryl where he proceeded to deliver the entire contents of the bucket of water on target. It was awesome!
Frank & Carol waiting.
---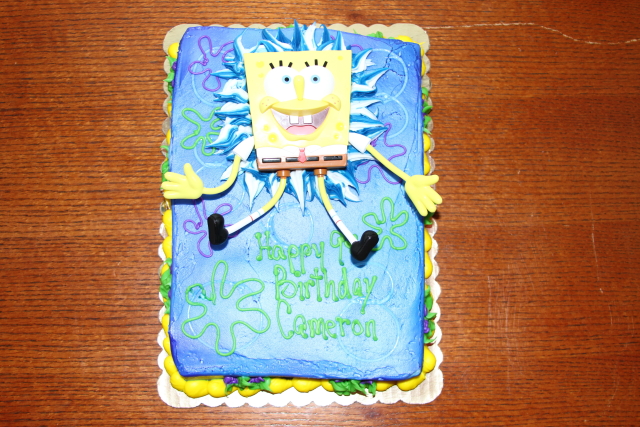 Cameron's Sponge Bob-Square Pants Birthday cake.
---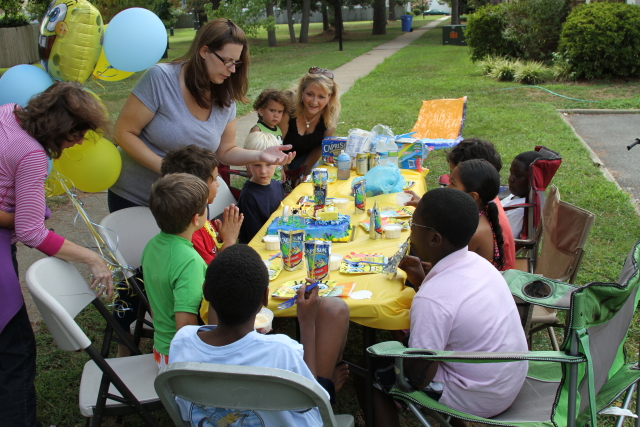 Come on mom let's open presents and eat some CAKE!
---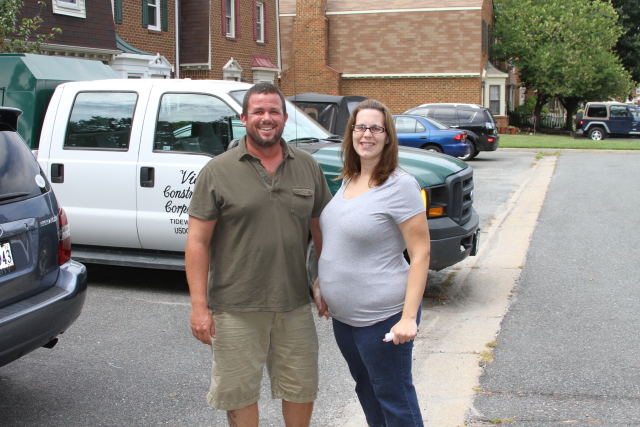 Chris, Cheryl and the BUN.
---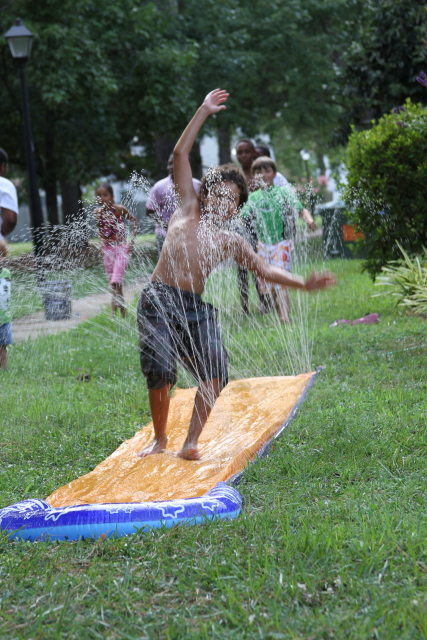 This is how you Slip & Slide!
---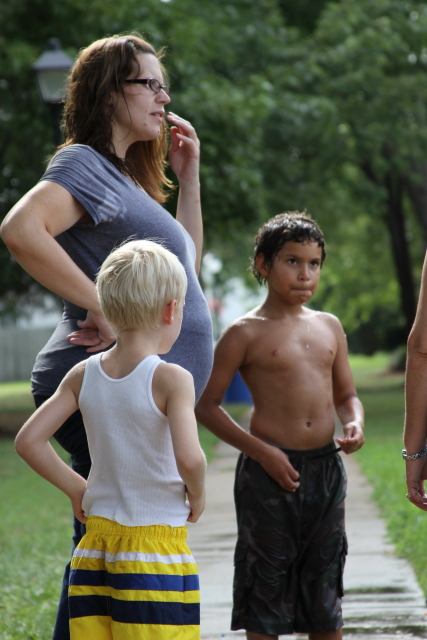 Waiting for another turn at the Slip & Slide.
---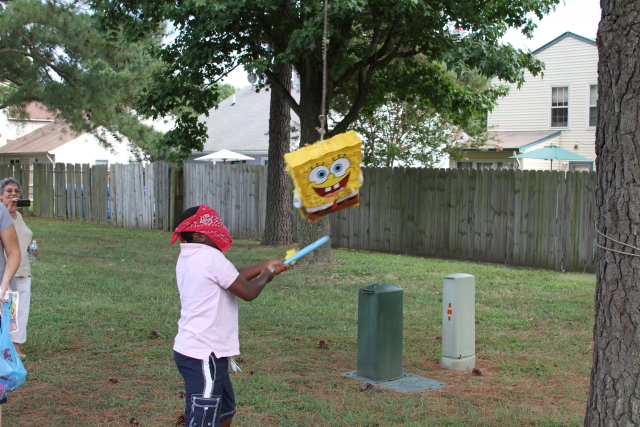 Piņata time!
---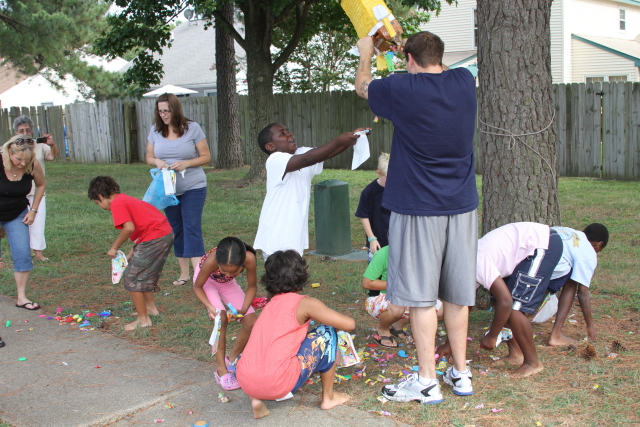 Somebody FINALLY whacked it hard enough to split it open!
---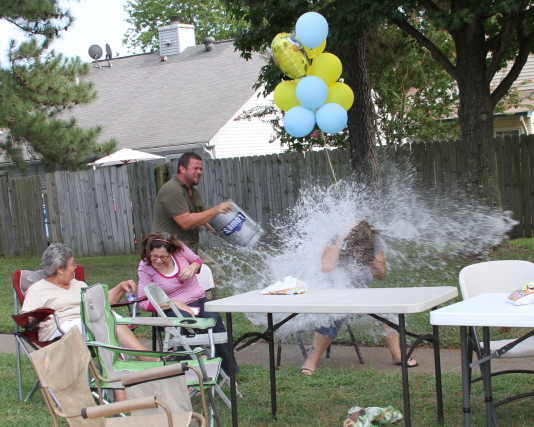 The best part of the whole party, the Dork got nailed by Chris!
---
Made it through Hurricane Earl OK, he passed safely off the coast by about 190 miles or so. We had been having very good weather all week thanks to a significant high pressure bubble that had stalled out over the entire Eastern seaboard, which was quite unusual. If that high pressure system had not been parked there, Earl probably would have slammed full force into Cape Hateras NC and then wrecked havoc up here as a category two storm and we would have been the next national disaster as this place is not prepared for such an event. Our weather station recorded one weather gust of 21 mph and we received only about an inch of rain from the storm. It was in and out and we were having blue skies by late Friday evening. Now Cape Hateras took some hurricane force winds, some roads washed out and some wind damage, but hey that's what you get living out there.
We had been having some issues with our water heater, it needed the circuit breaker on itself reset several times over the course of the last few months, then this week while Karen and I are making preparations for a potential Earl hit, it decides to get worse. One morning no hot water at all. Starting to need a reset after every significant draw of hot water, so on Wednesday before the storm hit we went to Home Depot and bought a repair kit for water heaters. The kit included two heating elements and two thermostats. I went and found my trusty short hose and hooked it up to the water heater, turned off the inlet valve shut off the power to the water heater opened the vent valve and a couple of hot water faucets laid the hose out into the backyard and then opened the drain valve. At first nothing came out of the hose, it was probably plugged as it had been sitting in the backyard for quite sometime so I went ahead and opened the inlet valve (closed the vent valve first) to the water heater to get some pressure and sure enough out comes a bunch of debris from the hose when the hose is flowing well I shut the inlet valve and reopened the vent valves. The hose was still draining so Karen and I went for a quick bite to eat. When we returned there was no more water coming out of the hose so I figured the tank was empty. I proceeded to remove the upper heating element, as soon as it came loose I heard a somewhat significant rush of air, I thought was odd but didn't think too much of at the time. The element was a bit dirty but not corroded. I laid down on the floor and began unscrewing the lower element. When the threads broke free on it I was engulfed in scalding hot water pouring out of an enormous hole. Karen quickly dumped the dog's water bucket and handed it to me to catch the water, when that filled she handed me a small trash can, and we cycled between the the dog bucket and the trash can for about three minutes dumping hot water out the back door. When i got up off the floor looking like a scalded lobster, the importance of the rushing air I heard when I removed the upper element became clear. The water tank had only drained down so far and had become air locked. Much like when you stick your finger over the end of a straw in your drink and then lift it up, the liquid stays in the straw until you allow the air in from the top. That also told me that my vent valve must not be working right. Asson as we managed to get all of the loose water cleaned up off the floor I screwed the new heating elements into the water tank. We opened the inlet valve so as to check the integrity of of the new seals and much to my chagrin we found that the lower heating element leaked. And it was actually leaking from the electrical connections on the OUTSIDE of the tank, the seal around the tank was bone dry. We can't have that so out it must come. We hook the hose back up and let the tank drain again, this time after it has drained for twenty minutes I go ahead and remove the upper heating element and lo and behold more water comes out of the drain hose! After the flow of water stopped I tepidly removed the lower element again, this time no flood. I found my trusty electrical meter and measured the resistance of the new heating elements and the old ones and came to the conclusion that the old ones were OK. We just cleaned them off the best we could and reinstalled them. So that means the problem must be within the two thermostat units. By now it was nearly 10:00 PM so we just reconnected everything and put all of the tools and things away. I'll deal with replacing the thermostats later.
Karen threw a baby shower at our house in September for the Dork. I am pretty sure a baby shower is an excuse for women to just get around and eat cake, and be goofy for an afternoon. Anyway you look at it, The Dork snagged some needed items for which she was very grateful for.
The Dork's baby shower cake.
---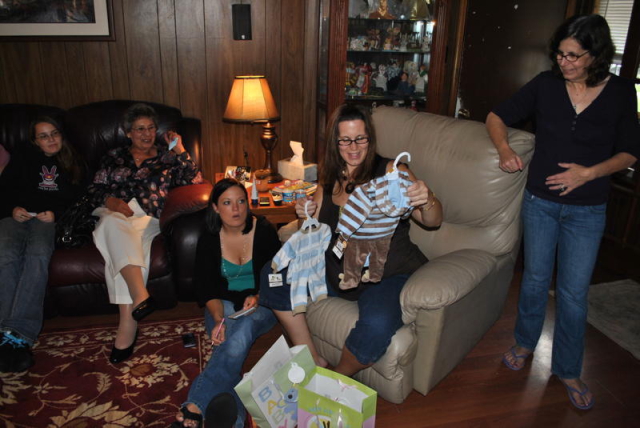 Baby shower gifts.
---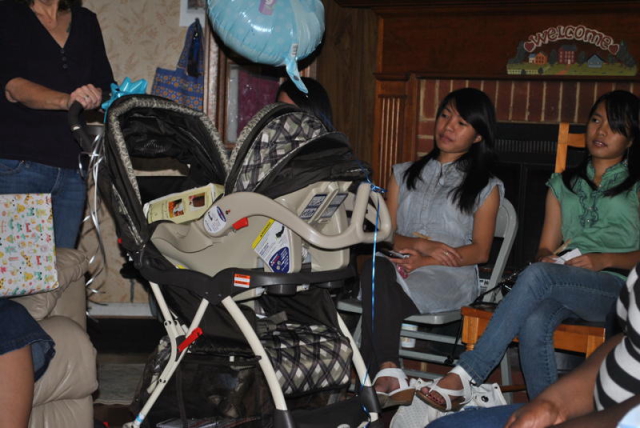 We gave her a stroller & car seat combo.
---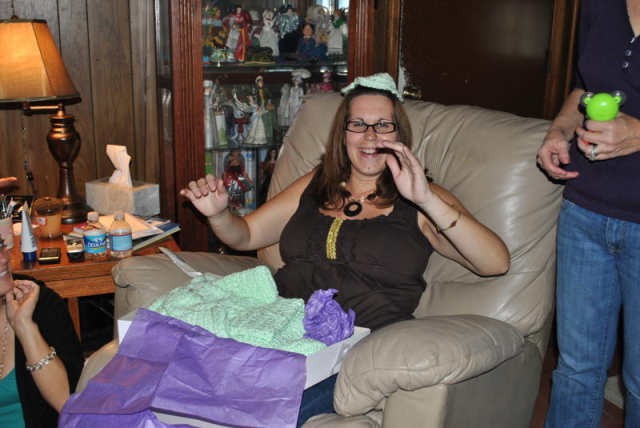 Baby shower hi-jinx.
---
The day finally came for our much anticipated Disneyland vacation. Karen was like a giddy little nine year old, we flew uneventfully - for once - into San Diego and acquired our rental car. I drove around San Diego a little bit showing Karen our old Navy Housing unit which had been converted to high end luxury condominiums now, she was amazed at what they had done. I showed her how they had changed the Naval Training Center and then we started our trek up to Anaheim so we could get checked into our hotel to begin our Disney adventure. It took us about two hours to drive from San Diego to Anaheim on a Sunday afternoon, we only encountered mild traffic congestion in a couple of places. We did however go the wrong way on the exit when we got off the I5 in Anaheim, but our trusty iPad showed us the right way. We finally found our hotel and checked into our room on the tenth floor. We had a very nice view of the roof of the other part of the hotel and a big parking lot. Hey we were staying for free so what they heck.
We woke up early and ate breakfast in the restaurant attached to the Sheraton and we paid over $25 for the breakfast, hoo-baby we were going to have to find somewhere else cheaper! Then we drove over and parked just outside of the Grand Californian Hotel where Karen's cousin Pam and her husband Mike were staying. We walked across the street and met Pam out front of the hotel and went inside. Their hotel is humongous, I could write a whole paragraph on just it, but I won't just visit this link and you will know all there is to know about it. We spent the whole day with Pammie and Mike they graciously acted as our tour guides for the parks. Showing us the best rides, that Karen would ride, and HOW to get on them without waiting forever. We ended the evening dining at the rainforest cafe. On the way back to our hotel that evening Karen and I spied a Denny's only a couple blocks from our hotel. That Denny's is where we had breakfast the next several days, thank God and my wallet! The next two days were spent visiting every nook and cranny of Disneyland. That should actually read, every single shop inside Disneyland. Now Karen did not buy something from every shop, but I know she wanted to. One day for lunch we had reservations at the Blue Bijou Restaurant inside the Pirates of the Caribbean ride. Sitting inside watching the riders in the "boats" go by was nice, however the food was mediocre at best and the price was astronomical, nearly $80 for lunch. Each evening we spent watching the World of Color light show from the observation balcony at Pam & Mike's hotel. The World of Color consisted of water jets being jetted into the air with colored lights underneath choreographed to music. It was very impressive and entertaining to watch. Karen and I enjoyed our Disney vacation, but I think Karen enjoyed it the most as Disneyland holds a special place in her heart. We figured our trip to Anaheim in late September would be pleasant weather, but just our luck Southern California was experiencing a record breaking heat wave. The three days we were there it broke triple digits every day in the park, can you believe that? And back home torrential rains were dropping over ten inches of rain in Chesapeake that week!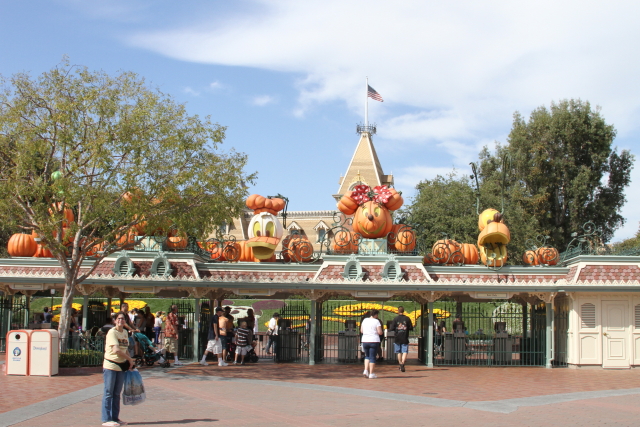 Karen so exited she is about to pee! The entrance to Disneyland!
---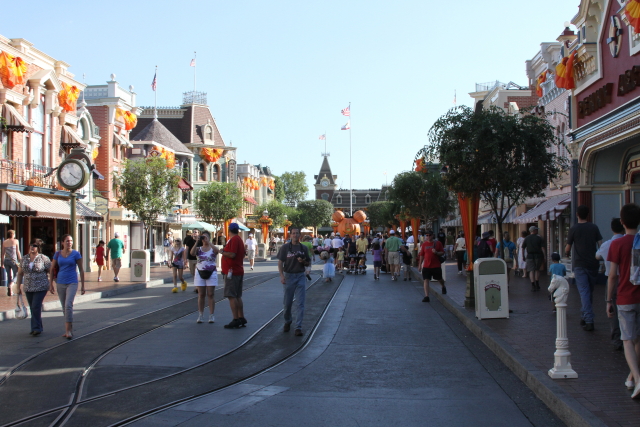 Main street Disneyland.
---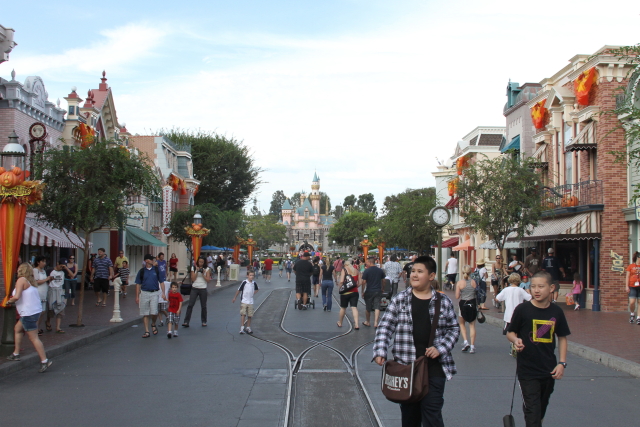 Main street Disneyland, still.
---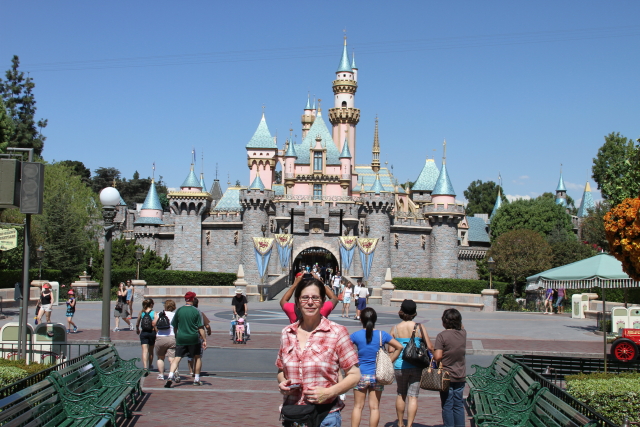 Karen in front of the magical Kingdom.
---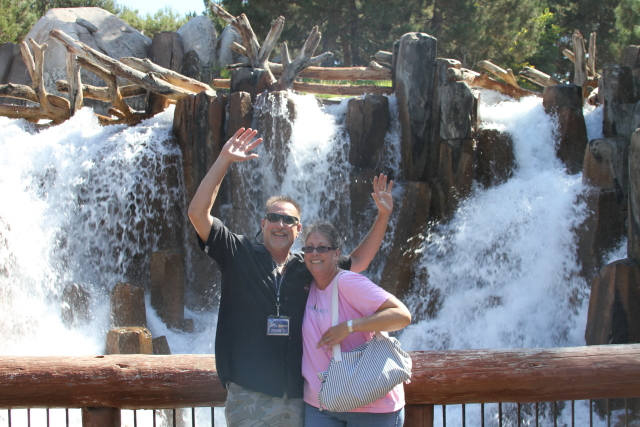 Mike and Pam our chaperons/tour guides for Disneyland.
---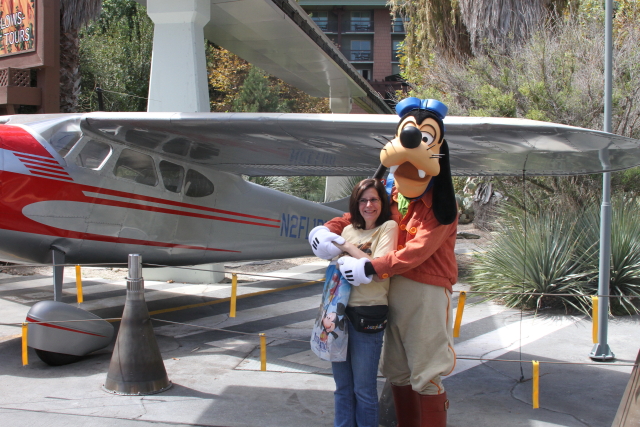 Goofy is getting just a little too "goofy" with my girl!
---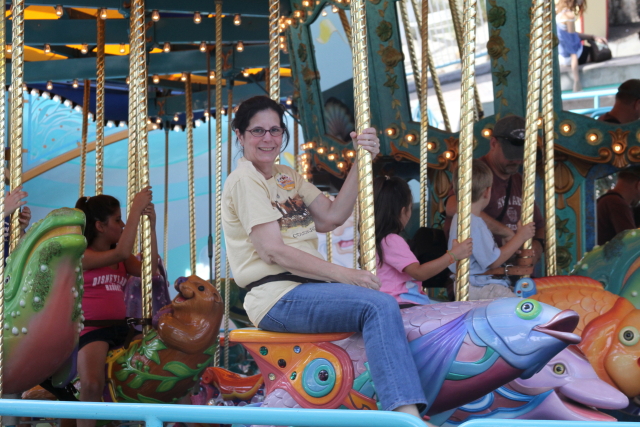 Karen riding the exciting merry-go-round fish, note the seat belt.
---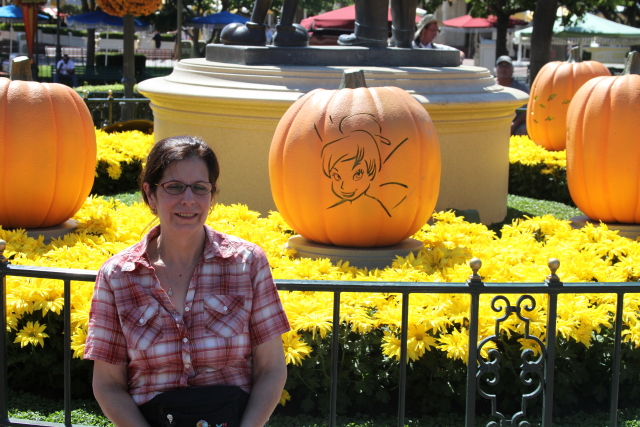 Karen & Tinkerbell.
---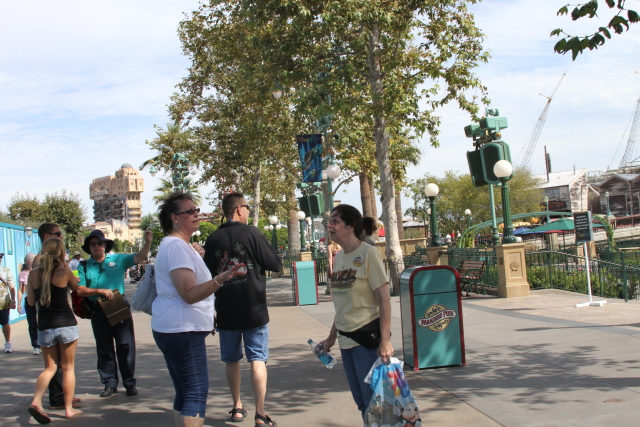 Cousin Pammie, her husband Mike and What's Her Name.
---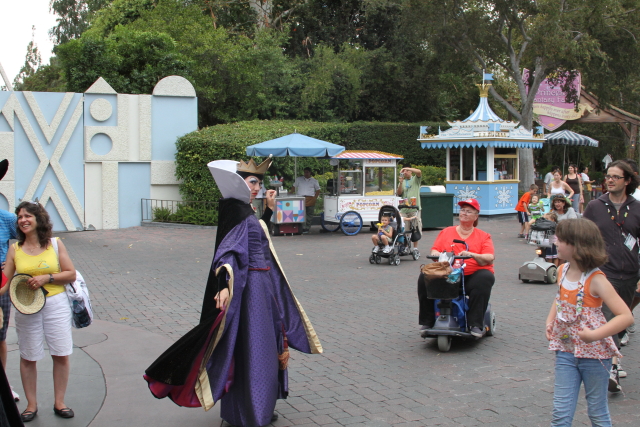 I asked Snow White's evil witch to take a picture with my bride and she hastily said
she was going on break and blew right past me. As she literally brushed by I said
"even an evil witch would turn for a picture". I was ready with my Canon 7d digital
camera and I caught her response to my passing quip.
---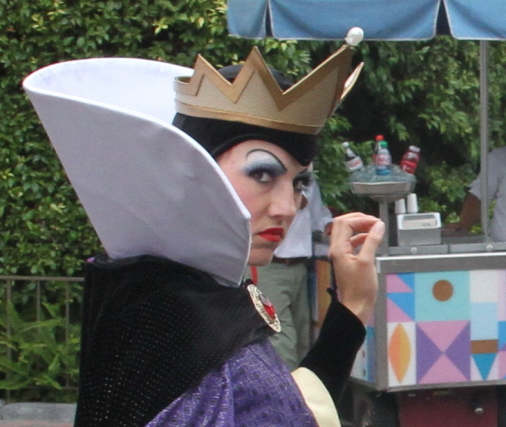 This is a close up of her facial expression in the above image. If this
girl was really an evil witch I would have been turned to STONE!
---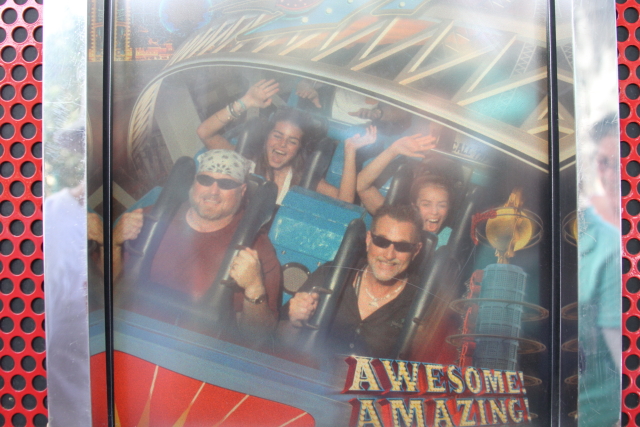 Mike and I on the only fun ride I got to ride!
---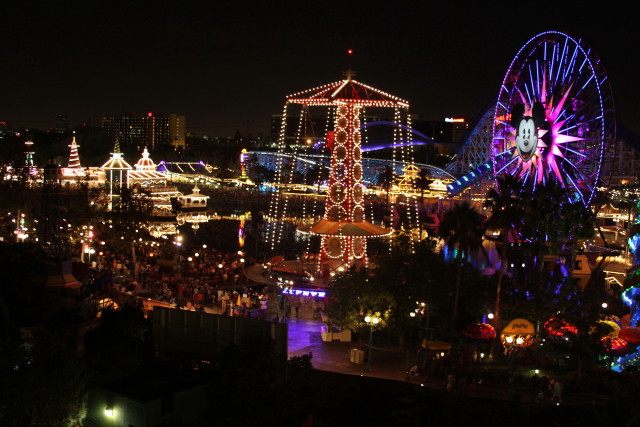 The World of Color from Pam & Mike's hotel.
---
We pulled out of Anaheim on Thursday morning and headed back to San Diego. The drive back to San Diego was as clean as the drive up, we caught a lot more traffic congestion and I convinced Karen we "needed" to stop in Oceanside so we could visit OPT the premier telescope store on the West coast. She was pretty impressed by the number of scopes in side and all I bought was a power adapter for my Canon camera! We arrived in San Diego and went directly to the Brown Bag Deli on Rosecrans and had a sandwich, and she agreed it was just like they used to be over thirty years ago. Then we drove out onto Point Loma and the National Cemetery before we eventually checked into our hotel room. We had intended on going to a bunch of other places but it was getting late in the afternoon and we both kind of just felt like relaxing so we just veggied out in front of the TV. That night we ate GOOD Mexican food. The next day we ate breakfast in the hotel and then toured Old Town in San Diego. From old Town we wandered out to Sunset Cliffs Blvd. and took some pictures and gawked at the houses and the ocean. We finished our San Diego adventure dining at Pinnacle Peak steakhouse out in Santee.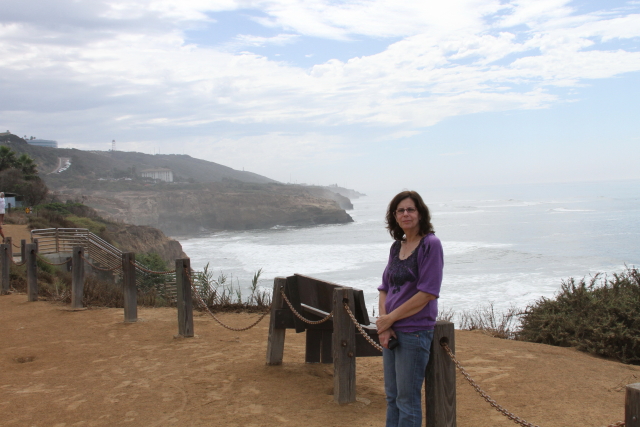 Karen at Sunset Cliff's Blvd in San Diego.
---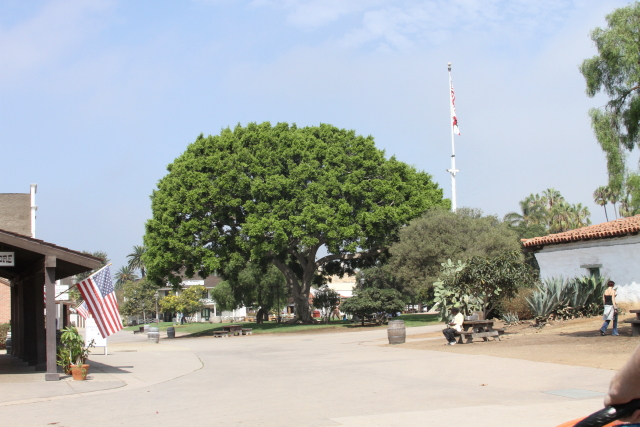 Old Town San Diego.
---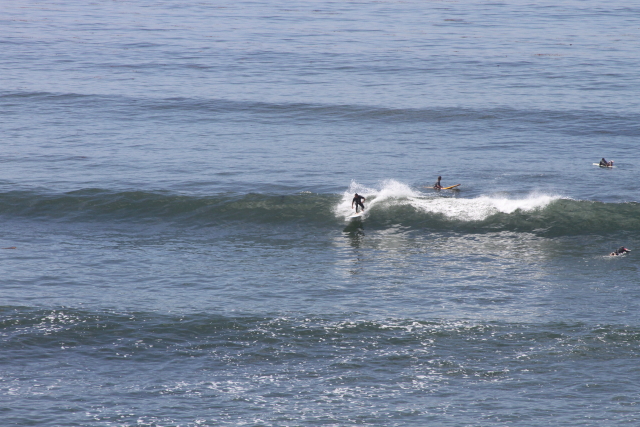 Pacific Surfers in San Diego.
---
While going through Security at the San Diego airport the TSA agent told Karen she could not carry one of her fancy Disney snow globes on the plane as it was a banned item and that she would have to either leave it or have it shipped home. So Karen took the snow globe and went to the counter directed by the TSA agent to have the snow globe shipped and found out it would cost nearly twice what she paid for the snow globe to have it shipped. Karen thought that was ridiculous so she just shoved the globe in her bag and went through a different TSA line. They scanned her bag and let her through! Imagine that, one TSA scanner likes it and one doesn't. End result the globe made it home OK. The rest of the flight was uneventful and our puppies were glad to see us when we got home!
Cameron and I went to the bi-annual East Coast Star Party down in Coin Jock North Carolina with the explicit order to the Dork to NOT have the baby during the weekend. However, Cheryl having gotten to the point that enough was enough with this pregnancy thing, decided to start the party Sunday Morning about 2:00 AM while I am imaging the Andromeda galaxy and Ratbert is snoozing in the trailer. I explain to my bride on the cell phone that we are literally locked in the campground until they unlock the gate sometime after 6:00 AM. So I go ahead and put away the telescope gear and get to bed about three AM. Cammie and I get up and get packed up and leave the campground by 7:30. We are home, showered and unhooked from the camper and on our way up to the hospital after snagging a breakfast at McDonalds. We met the whole cast up there, Chris, Karen, Nana, Papa, Michael and the still pregnant Dork. The baby didn't make his grand appearance until sometime after 3:00 PM Halloween afternoon.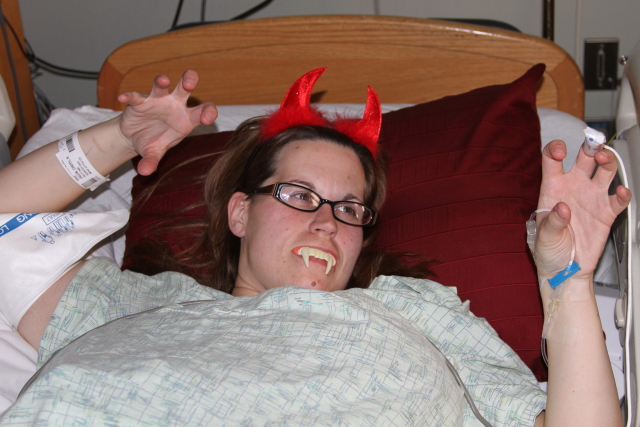 The Dork celebrating Halloween in the maternity ward.
---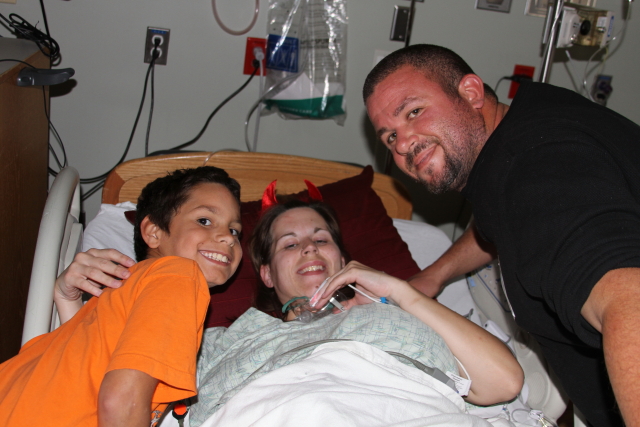 Ahhhh, the Epidural has kicked in.
---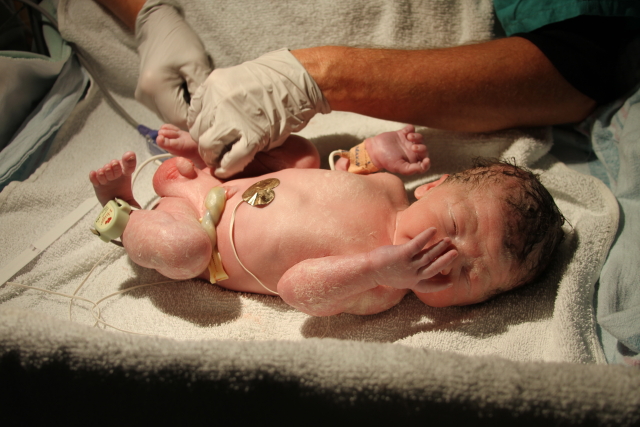 Casey Christopher Jagow 10-31-10 6lbs. 1oz. 19 inches.
---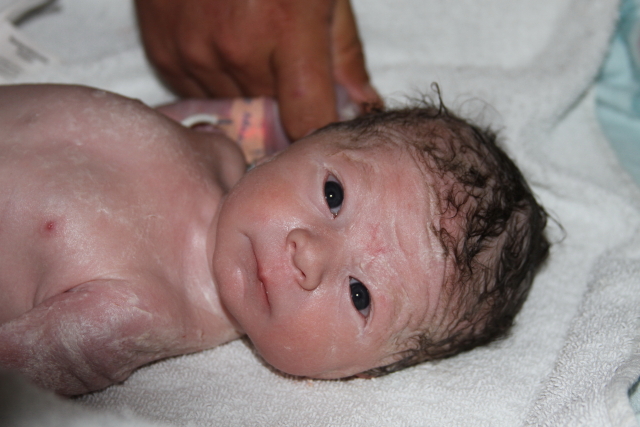 Hello Grampa!
---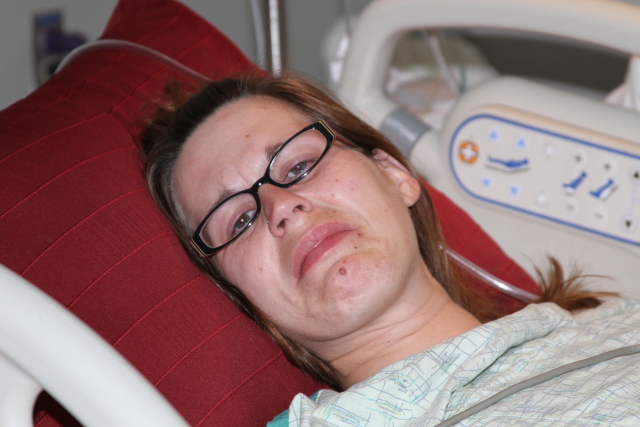 I have two boys now?
---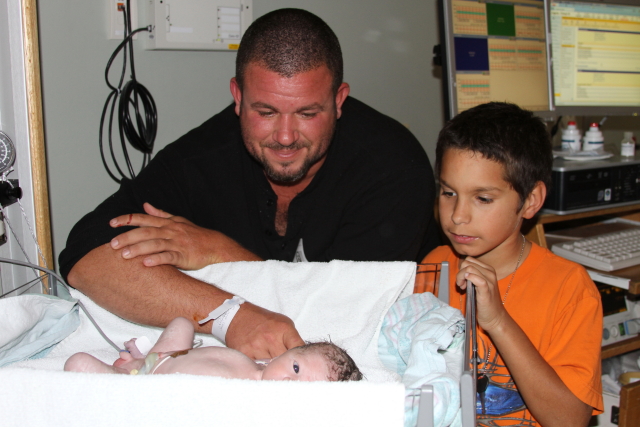 The three boys.
---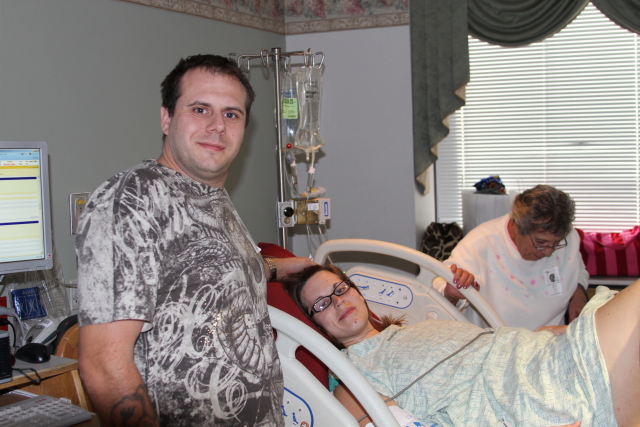 Michael, Cheryl and Nana.
---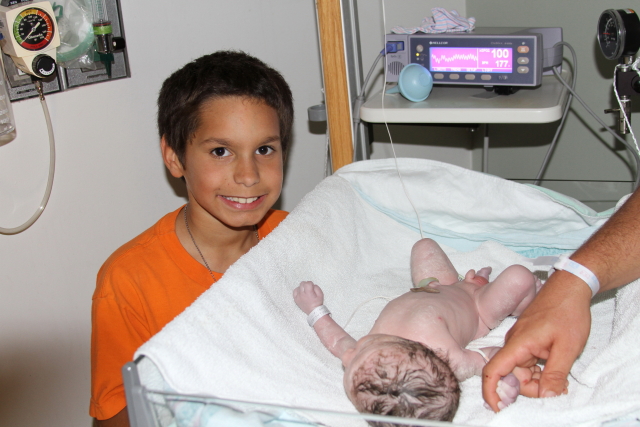 Cameron and Casey.
---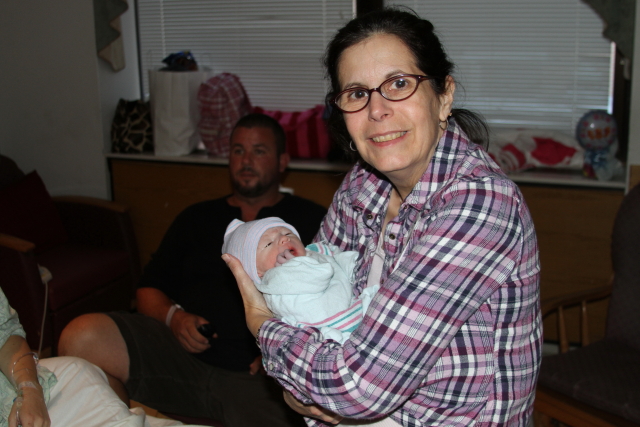 Karen and Casey.
---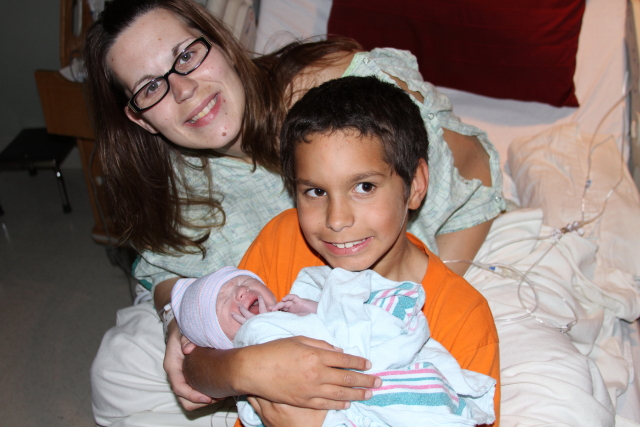 Cheryl, Cameron and Casey.
---
Later that night Cammie dressed up as Jake from the movie went trick or treating with Michael and his girlfriend while Karen and I passed candy out in front of our house. I had the twelve inch telescope set up so folks could see Jupiter after they snagged their candy, I had as many adults look through the telescope as kids this year.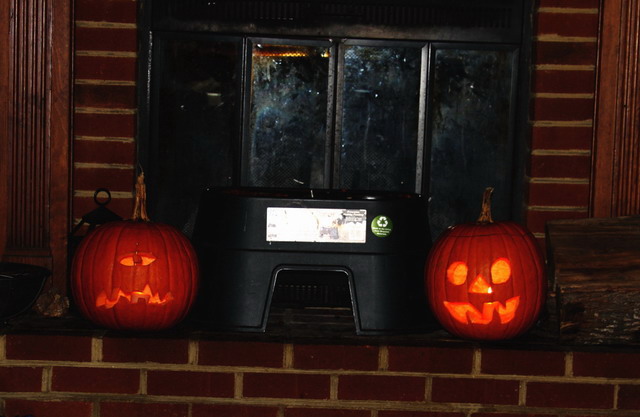 Chuck's Jack O'Lantern on the left and Karen's is on the right.
---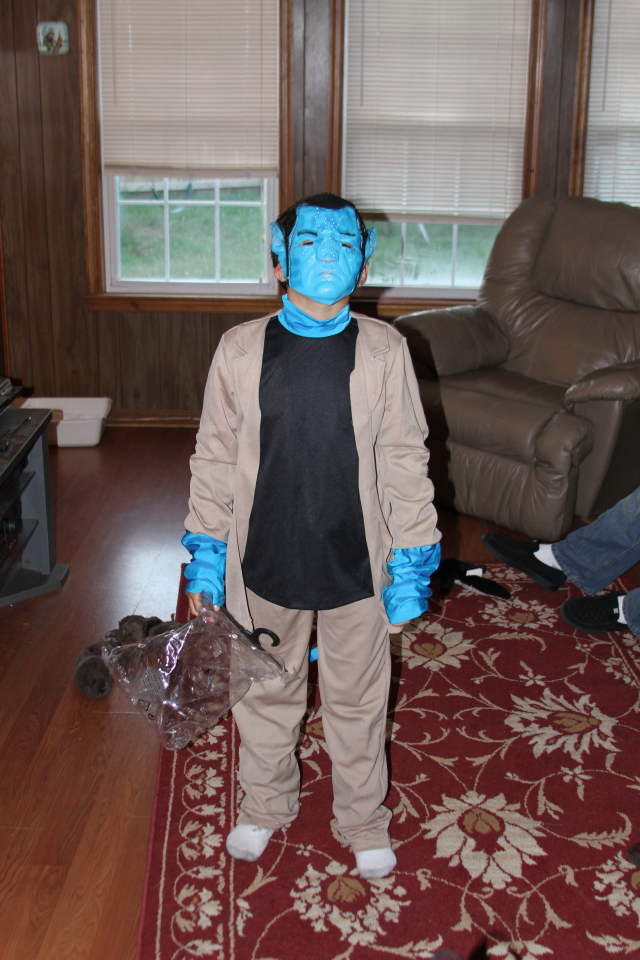 Cameron dressed up as Jake from the movie Avatar for Halloween.
---
In August I was fiddling around with my Canon 7d digital SLR camera and took an interesting image of the moon. I call it my "Man in the Moon" image. It was taken with a 300mm lens at f5.6 with an exposure of 1.3 seconds at ASA 800. Pretty neat don't you think?
---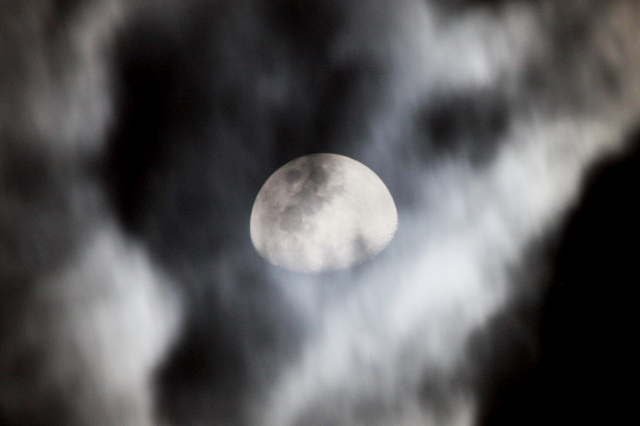 I took this image of the Man in the Moon with my DSLR camera.
---
Now we are getting ready for Christmas and hopefully I will update the ramblings one more time before the end of the year. Here are some more images that I have from the last couple of months for you to enjoy.
Karen, Max the mutt and Michael our son.
---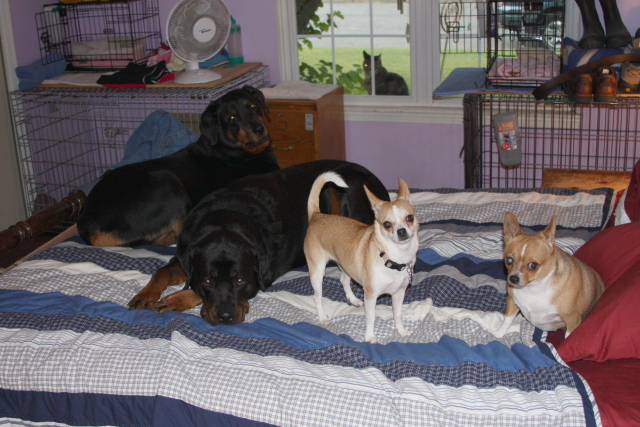 Ninya, Bronco, Ellie, Tinka nd Scout in the window.
---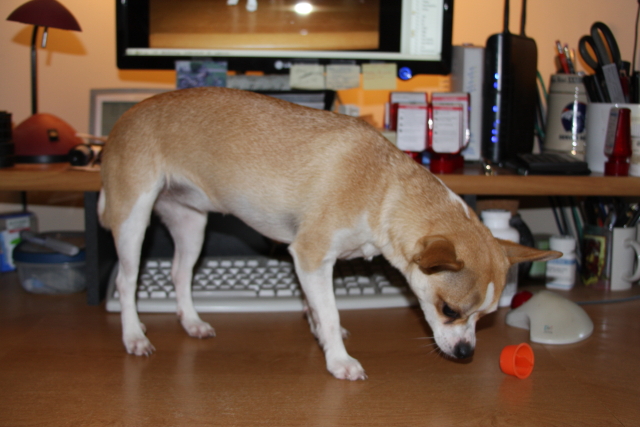 Ellie rooting around on my desk.
---
Gee, I hope that update enough considering the time span between the last time I updated the Ramblings! I guess I know what my New Years resolution will be...
---
07-27-10
The year is over half over and I must update the Ramblings, as quite a bit has transpired. I had planned on an update several times previously but events prevented my execution. The first of which was our trip to Colorado to take care of my mother's affairs after her death. Karen and I were not able to get out to Colorado until June 2nd. We decided to drive out and drag our little Casita trailer with us. We also invited our grandson Cameron to join us, and to make the trip even more merry we took Ninya our female Rottweiler and our youngest Chihuahua Ellie with us! If you scroll down to the last Ramblings update there is a picture of the truck and camper. So a very careful packing up was in order because we had to take clothes, dog food and dog toys, TELESCOPE STUFF, and some guns to play with on the ranch! And we had to leave some room to bring back who knows what from the Ranch. We left Bronco our male Rottweiler and fat Chihuahua Tinkerbell under the watchful care of our daughter unit Cheryl in her two bedroom townhouse. Bronco is afraid of climbing stairs, so when we left he was pretty much restricted to the living room and kitchen, Tinkerbell - well I don't think that much mass could get up a set of stairs... We left her with about forty pounds of dog food a cage for Tink and some dog toys. Ninya and Ellie were very good on the trip, as was Cameron, he never once complained about anything. The dogs would wait until Ratbert was asleep then Ellie would use him as a perch to look out the window and Ninya would just lean all over him. The drive to Colorado was three long days. Pulling the trailer we had to keep the speed under 65 mph to avoid a potential tire blowout on the trailer. We left on a Wednesday and pulled into my sister's yard in Erie Colorado late Friday evening just after the sun went down about 8:00 PM. We stayed with my sister until Sunday before we drove to the Ranch. I didn't want to drag the trailer through Denver traffic on a weekday. All during the drive out I had been telling Cameron about the mountains, and he thought I was pulling his leg. During the time we were at my sister's house the Front Range was obscured in clouds so he didn't get to see them. We drove up highway 96 to Westcliffe, and there is an area where you have been driving through the foot hills, Colorado foot hills that is, mountains to Virginians and West Virginians, for about twenty miles until you come up over a big rise and the Sangre De Christo mountains just "POP" up in front of you. It is a spectacular event, it makes me catch my breath for a second each time I see it and I have seen it a Gazillion times. Cameron was nearly speechless, why are they white on top? Snow. Why aren't there trees on top? Timberline, trees don't grow after about 13,000 feet. So now Cameron has been indoctrinated into the realm of what a real mountain is. We continued on into the little burgs of Silvercliff and Westcliffe where I showed him my old school (K-12) and we checked into the hotel before heading on up to the Ranch. The drive out to the Ranch was slow as the turn off road from highway 69 is all gravel for the last 4 1/2 miles up to the Ranch, and the road is in a horrible washboard condition, rattling and shaking everything in the trailer and us! We took it rather slow but finally pulled into the yard and spent most of the afternoon figuring out where to place the trailer and then trying to level it. After e were done with the trailer we put the fuses in the well's pump circuit and turned the well on, I went into the kitchen and turned on the faucet and waited for the water to flow. I knew there would be air in the lines for a while but after about five minutes we were eventually greeted with a slow stream of water, it was good and cold but not much pressure. Not good I said, this pump used to deliver around 200 gpm. Time to investigate, I went out to the well house and everything seemed in order there, next I went to the cellar. Holy crap! Hurry and shut the well off! The cellar had about four feet of water in it and rising quick! Damn, we must have busted pipes in the cellar. So I called my sister in Erie and gave her the bad news that we would probably need a plumber and a sump pump. They didn't have a pump on the dairy, so we would have to rent one. Rhonda and Gary were leaving Monday to come up to the Ranch.
Monday Karen and I had an errand to do ourselves, we had to go to Canon City and retrieve Mom from the funeral home, her ashes that is, we also needed to go by her nursing home and collect her belongings. So we went back to town and had some of the best Mexican food we have had in years and had a good nights rest even though I was worried about the broken pipes. Monday came and we headed to Canon to run our errands at the nursing home and the funeral home. Now keep in mind that this is now June 7th and mom died on May 19th. The funeral home did not have mom ready for us to pick up. They were ready for us to pay the remaining balance on the cremation, but her ashes were not ready yet. And more importantly the death certificates were not ready yet either. Without those, Rhonda, who is the executor of mom's Will, would be unable to do anything toward finalizing her estate. So we started tracking down what must be done to get the death certificates finalized. It all revolved around some semi-retired doctor who worked part time at the nursing home "getting-around" to doing them. It took several phone calls before the nursing home was able to get through to him and after listening to him give the staff the run around on the phone, I took the phone and I explained to him that my mother had been dead now for over two and a half weeks and that I had traveled all the way from Virginia to take care of the estate and that I was leaving at weeks end and that I must have the death certificates as soon as possible. The old coot finally capitulated and said he would have them that day. Well that actually ended up being the next day. So Cameron and I had to drive back down to Canon City again on Tuesday to get the death certificates, and amazingly, mom's ashes were finally available. By the time I got back to the Ranch on Tuesday the water had receded in the cellar and we would not need a sump pump and that the plumber would be there on Wednesday to work on the broken pipes.
So Rhonda, Gary, Karen and cousin Robert from Texas started cleaning the house. Now let me tell you a little about the house. It is an 1800 square foot two story structure of wood. Not wood by today's measure but by planks from the turn of the LAST century. There is a little confusion and contention about the origin of the house. I CLEARLY remember grandma Helen telling me the story that the house was BOUGHT in Victor Colorado and that it was a Defunct Wells Fargo stage coach/Pony Express station and that great grandpa Brandon bought it and they MOVED it from Victor Colorado down the old PHANTOM TERRACE road through Canon City up grape creek road to the property. My sister says it was built from lumber from the Brandon Sawmill. I contend that the Brandon Sawmill was not in operation at that time so how could they have produced the lumber? At any point, the damn house is old as hell, at least a hundred years old. It was originally located at the head of the flat (the flat is a big open grassy park which is about 50 acres behind the current Ranch) right below the trees. The house spent the first winter there before great grandma Brandon said No, move it down East of there about a quarter mile where it spent another winter. The next spring great grandma Brandon said move it just a little bit back West about 400 yards. It spent one maybe two winters there before she said she wanted it moved again. Great grandpa Brandon was an accommodating soul, but moving an entire house three times in nearly as many years was a little much and he finally put his foot down and said no. The end result was that the big house sits on piles of stones, instead of a real foundation. So when the wind really, really blows hard, you just wonder if it is going to tumble down off of those stones. Later in the week we were joined by Rhonda's youngest daughter Sarah, and her boyfriend Jason, to help in the cleaning. And cleaning we did. We removed so much "stuff" from that house that we filled three 8 foot wide by 24 foot long dumpsters. Between my mom and grandmother's "saving" things they had saved dishes that were cracked, thousands of clean Styrofoam meat trays, a 3' cube box of men's ties, 12-14 fruit boxes filled with jeans in various states of repair, old pots and pans, plastic bags by the thousands, a full bottle of NOVOCAIN ????, teeth, horse magazines, and horse pictures. We spent days going through pictures as she had pictures stashed everywhere. And she would have boxes of pictures with some family pictures mixed with horse pictures and nothing labeled. So every envelope of pictures had to be opened and glanced through - tens of thousands of envelopes, NO EXAGGERATION. She kept every piece of correspondence she ever received. I brought back four enormous boxes of land records with us, just in case. It will take me months to go through them. She had FOUR sewing machines, several were brand new in boxes. Sewing materials that were all in a sad state as the mice had gotten to it. Speaking of freaking mice, there were white rice piles all over the house in corners, in drawers in shelves. They must have found bags of the rice and hidden it all over the house in the two years mom was in the nursing home. The mice had infested one cabinet so badly we just threw the whole cabinet away. We need to have some full time cats up there. We worked for a week solid cleaning the place out and on Friday we had a small get together for mom's closest friends. Gary cooked hamburgers and hot dogs on his grill and we had a ton of soda and beer. I had a slide show of about sixty pictures of mom running on my iPad out to a large screen TV with some Elvis music (her favorite artist) and about thirty or so people showed up, many that Rhonda and I had not seen in twenty or so years. All in all it was a very nice day.
The nights were starting to drop into the LOW thirties and because my mom was a cheapster she leased her propane tank. So that meant when she went to the nursing home they came and plucked the tank and its contents and left the ranch house with no propane heat. Rhonda and I looked at each other on that cold Saturday morning and said we know how to solve that problem. So Gary and I removed the stove pipe to the wood stove and checked for obstructions, Gary climbed up on the roof and we checked the chimney to make sure no woodland creatures had decided to take up residency there. Then I did my chores, which I had not done in over thirty five years, gathered up some wood and coal from the wood shed, and we started a fire in the kitchen stove (after reassembling the stove pipe of course) and we even cooked breakfast on it! So for the next several days we used the kitchen stove for our heat and for cooking. Karen was amazed at how much heat the darn thing threw out. And she learned why we used coal to keep it going over night. One of the last nights there we had a nice bonfire outside and everyone had smores and marshmallows until I thought they were going to go into a sugar coma. After the cleanup was done and the memorial was over Karen, Cameron and I went to Buckskin Joe which is a local tourist trap about 40 miles away. Buckskin Joe was a mining town that went bust and was abandoned, some fellow bought the whole town back in the Forties and moved the entire town and then restored it as a tourist attraction. They stage old west gun fights, offer real wagon rides and you can stroll throughout the town and go into each building and store and see what it was like over a hundred years ago. It is actually pretty cool. Many Hollywood movies have been filmed there like "Cat Ballou", "True Grit" and "The Duchess and the Dirtwater Fox" just to name a few. We had a good time watching the mock gun fights, I ate a buffalo burger and to cap it all off Grammy and Cammie rode go-carts!
Cameron was a big help cleaning, whenever we had something that was breakable he would take it out and hurl it into the dumpster and watch it go to smithereens! He had his BB gun out there and he had a blast with that, the rules were simple - don't shoot a window, truck or person. He shot a bird and killed it. It was a profound experience for him, he didn't know it would kill the bird, he thought it would just scare the bird. When it sank in that the bird was not going to get up and fly away mad. The tears came and would not stop. But I made him pick the bird up and dispose of it so that Ellie or Ninya would not eat it. We had a serious talk about killing animals and that you just don't do it for the heck of it. And he understood the gravity of the situation and I am pretty sure that is the end of Cameron's bloodlust. he continued the next day to massacre bottles and cups paper targets though.
The dogs loved the freedom of being on the Ranch, especially Ellie. You would look out on the flat and see this little curl of a tail sneaking out through the grass, you couldn't see her, just the top of her curled tail about a hundred yards out. I would yell out "Ellie, what the hell are you doing out there?" She would jump up to see where it was coming from and see me and then she would just come running as fast as she could like death was chasing her! It was the funniest thing, I never new a Chihuahua could run that fast! Sometimes you could tell where she was because Ninya would be following her out in the grass, and they would both come running. When we were all done out there we were quite happy with the results, we all now have a fairly clean ranch house with four bedrooms we can stay in. Neither of us, Rhonda or I, will have to drag our trailers up there or have to stay in a hotel when we visit the Ranch ever again. We left the Ranch a few days early so we could get back home and have a day of rest before we had to go back to work. The trip back was pretty uneventful, just boring - especially Kansas...
Upon returning from Colorado I was home for about two weeks before I started off on another adventure to West Virginia with Cameron. We left on Tuesday July 6th to attend the Green Bank Star Quest star party held at the National Radio Astronomy Observatory in Green Bank WV. We drove for eight hours, it should have been only six but there was horrible traffic around Richmond. We sent the first night up there in the Boyer motel. It was a real sleaze ball place, probably the worst place I have stayed in the US hands down. The first night's observing was pretty good, I managed to get the telescope set up and aligned, but was too tired from the drive to stay up past midnight so we called it a night. Wednesday we became registered and I found a friend from a previous star party Gary S. was handling the parking of RVs. Well Gary hooked us right up and parked us right where I wanted to be parked. Cameron was able to pal around with Gary's grandson and some other kids so he had a good time wandering all over the Green Bank facility, in fact I have included a diagram showing how vast the Green Bank campus is and Cameron had a blast riding his bike all over it. The only problem was the heat, it was in the upper nineties each day and the electrics our RVs were plugged into were not rated for high enough amperages for us to use our A/C units so all of us "smarty-pants" sat there and sweated like dogs. I stayed until Friday, I read the weather reports on the Internet and it looked like one full day of solid rain and maybe, just maybe one night of partial clearing. I decided that enough was enough so Cammie and I packed up and came home. Well, we were the sacrificial cows, because I later learned by email that after it rained that afternoon and early evening it was a gorgeous clear sky with cool temperatures, and Saturday night was a repeat. Oh well, you win some and you lose some. Cammie and I did have a good time while we were up there and we made a bunch of new friends.
While we were in Colorado at my sister's house Karen and I thought we had either left our main shoes at home or in a hotel room so we went in search of a set of replacements. During that search we just so happen to find ourselves at the Triumph motorcycle dealer in Denver and I managed to weasel my way into test ride on a Triumph America motorcycle. Hmmmm, it was really quite sharp and had a great deal of power and torque all in a twin cylinder that was only 865cc and about HALF the cost of a new Harley. Well, we had been toying with selling the 1100 Sportster just to make room in the garage at home. So we thought maybe if we sell one or both of the existing bikes we might be able to swing it. I haven't been riding my bike very much ever since it started leaving me sitting on the side of the road every time I rode it and having to be tow-trucked to a shop. It has hit the magical age of 26 years where Harley does not stock much parts for it anymore, so when you need a part, if HD has it, it comes from the main factory. If they don't have it, you hope some third party source may have it or you start looking for help at a swap meet. Not my idea of maintainable for a bike you want to ride a lot. So when we got home from Colorado I put an ad in the paper for BOTH of our bikes. It took a while and many calls and some strife but the 1100 Sportster was the first to be sold. Karen gave the go ahead to buy a new Triumph, so before she could change her mind we were at the dealer handing him some money. So we are the proud new owners of a 2010 Triumph America. It is blue and white and is really beautiful! And it is really fun to ride, it makes almost as much horsepower/torque as my big Harley (Harley 65, Triumph 60) and the engine is 475cc smaller! The bike weighs about 150lbs less than the big Harley so with all that hp it is quite quick and nimble. When we picked it up, the owner of the store Bryan notice that the stock pipes had a small dent, so he said that the warranty would cover replacement of them. I asked if the warranty replacement would allow the new pipes to be one of the Triumph high performance optional pipe sets or at least a credit towards the hp pipes. He said that he would try to swap the new warranty pipes for the high performance pipes and see if Triumph would go for it. The hp pipes were actually a few dollars cheaper than the stock ones. Then about ten minutes before we were leaving the shop he told me he had some good news and some maybe not so good news. I braced for the worst, he explained that while he was online digging into the new pipe stuff he found that Triumph had just started a new promotional deal to sell 2010 models. He could have given me $500 off the sticker price, that was the semi bad news as we had already done the deal and we would have to tear up everything and start over if I wanted to do that. Or he could give me a store credit of $750 toward accessories for the bike. Hmm, that was a HARD decision - I took the store credit and immediately ordered a tachometer and a sissy bar so Karen wouldn't slide off the back. The big Harley is still for sale, hopefully someone will pony up and buy it. It is really a good bike, I have had it for twenty years and now it is time for someone else to enjoy it. After 32 years of riding Harleys, it is definitely time for a change.
Well not much else has happened that I can think of so I will get on with the slew of pictures for y'all to gander at. I hope you enjoy them.
---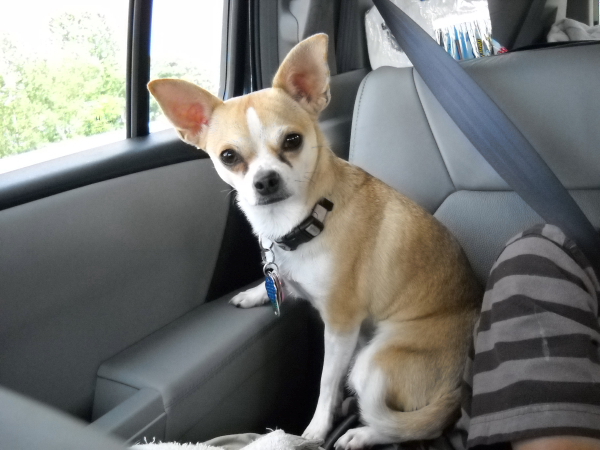 This sure seems like a long drive to the dog park!
---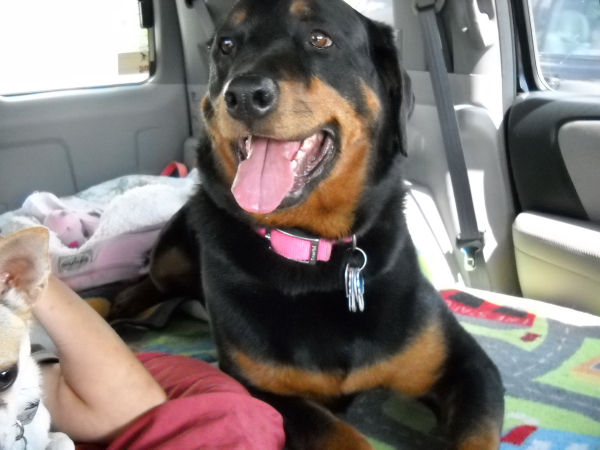 Be quite little dog, just be happy we aren't home in our cages!
---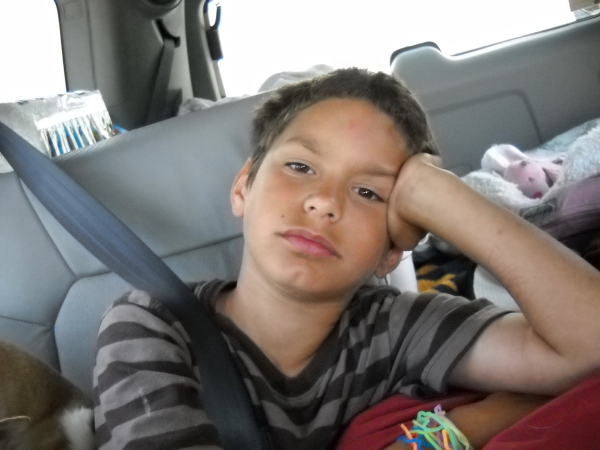 Are we there yet!
---
Sometimes the driving was a bit tedious as well.
---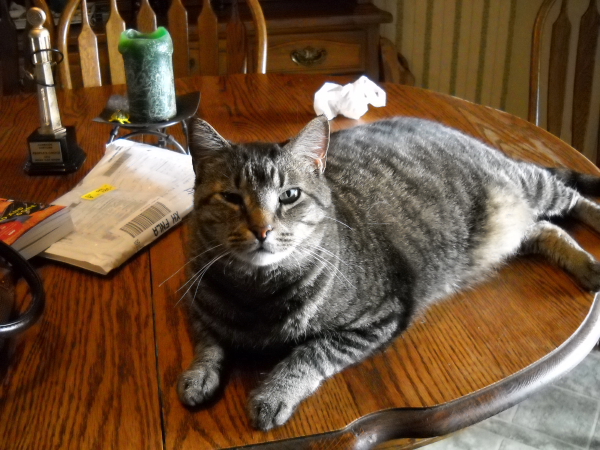 But we finally made it to see Bobby, Rhonda's little kitten.
---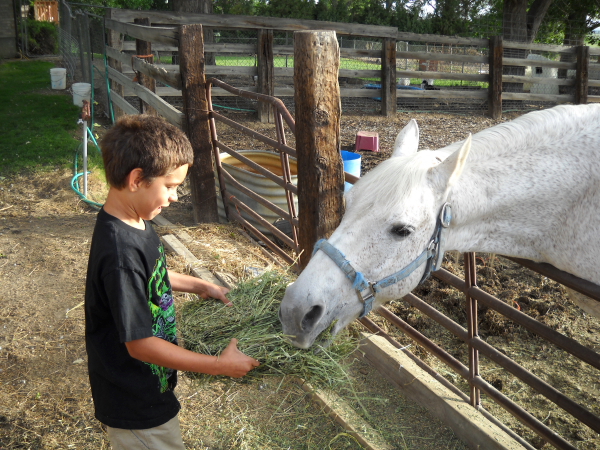 Cameron learns how to feed a horse some Alfalfa.
---
After a couple of days with sister, we are finally up on the Ranch.
---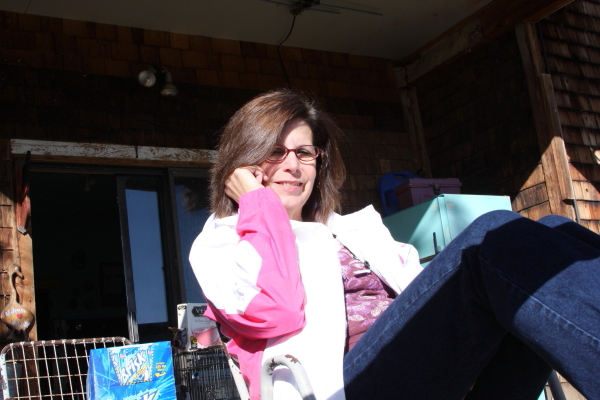 Karen loves sitting on the porch reading.
---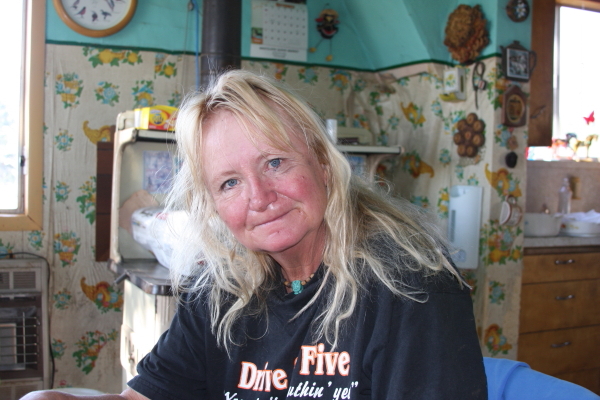 Good Morning Rhonda!
---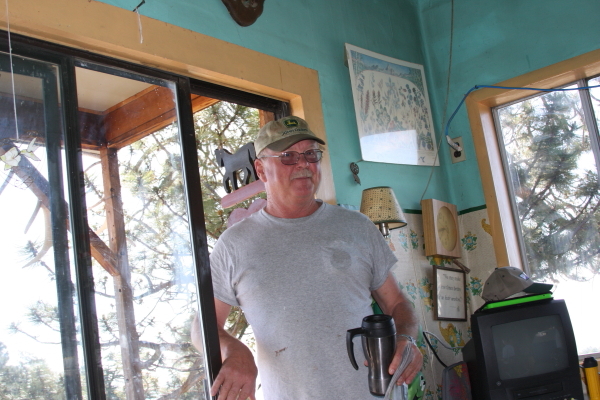 Gary slept like a log, a BEAR could not have awoken him!
---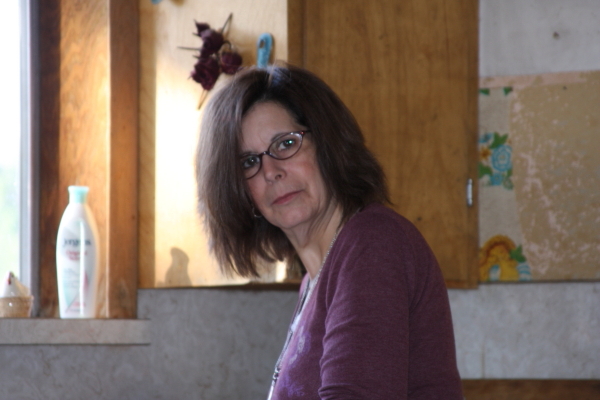 Get that camera out of here!
---
Sarah, all fresh and ready to start cleaning again.
---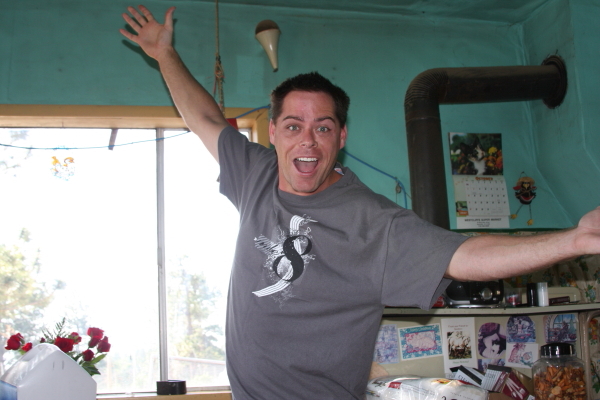 Jason, Sarah's boyfriend was up and ready to go!
---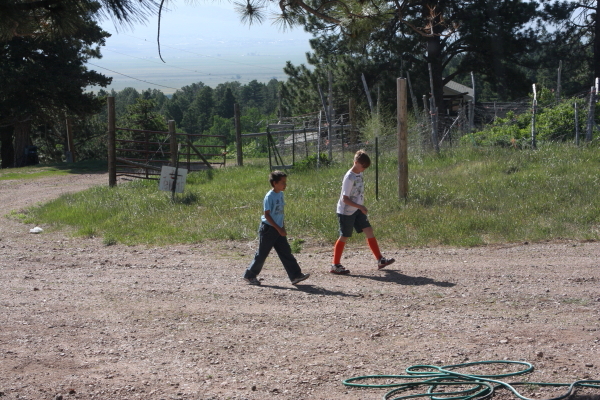 The boys kept busy outside most of the time!
---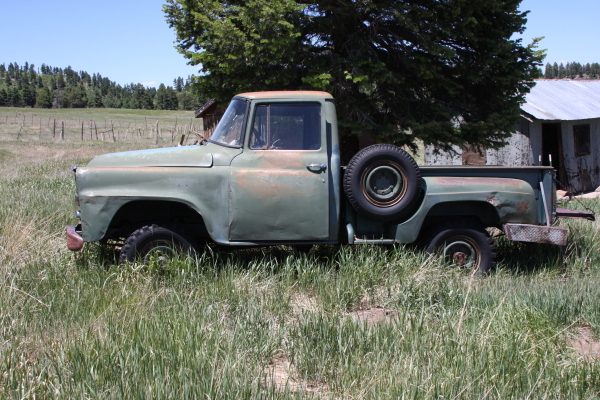 '59 International, I used to drive to the creek to haul water every morning.
---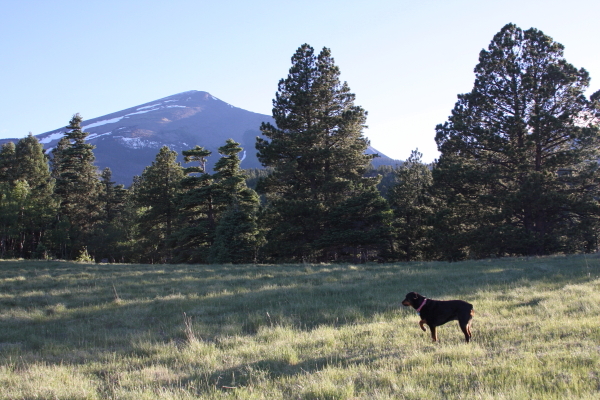 West view from where our retirement home will be built someday.
Ninya must think she is some kind of bird dog all of a sudden.
---
Opposite Eastern view from the same place.
The Ranch is buildings on on the right middle edge.
---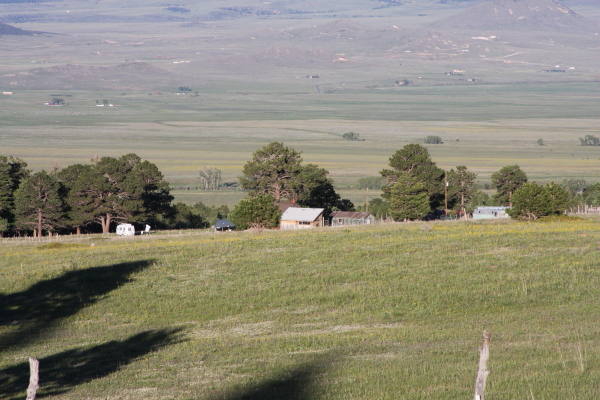 Zoomed in on the Ranch from up at the head of the flat.
---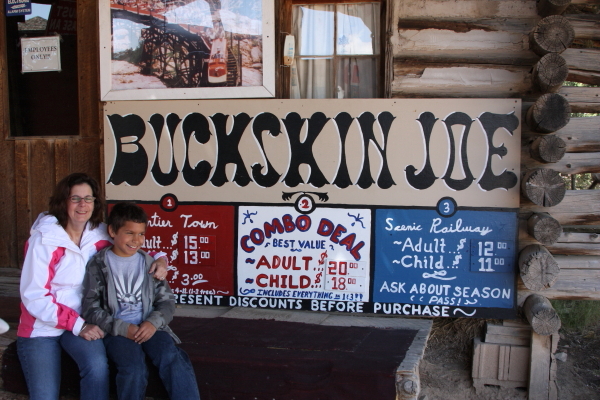 Here we are at Buckskin Joe!
---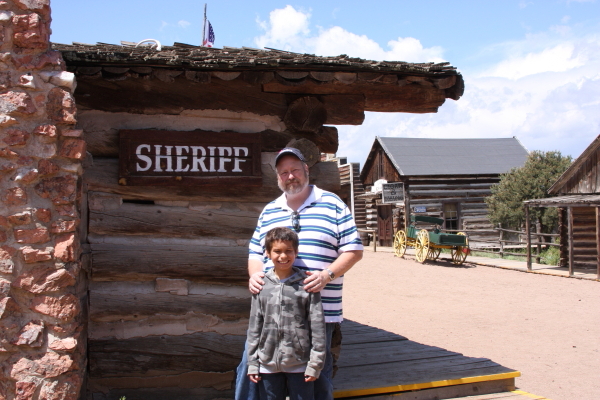 Have you guys been bad?
---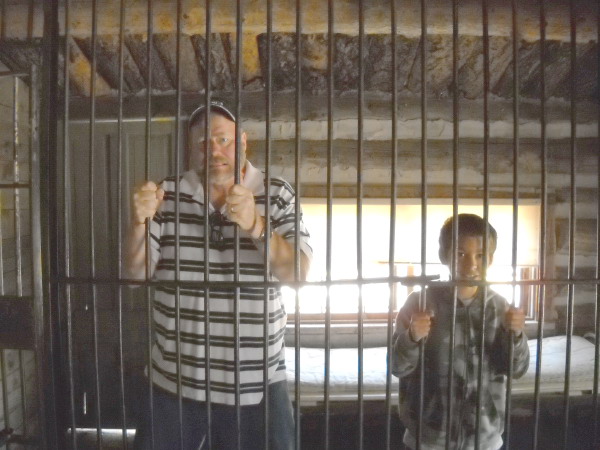 I guess that answers that question!
---
You too!
---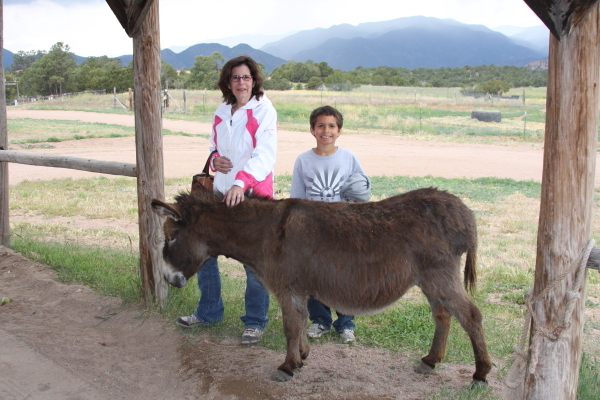 Joe, the mayor of Buckskin Joe.
---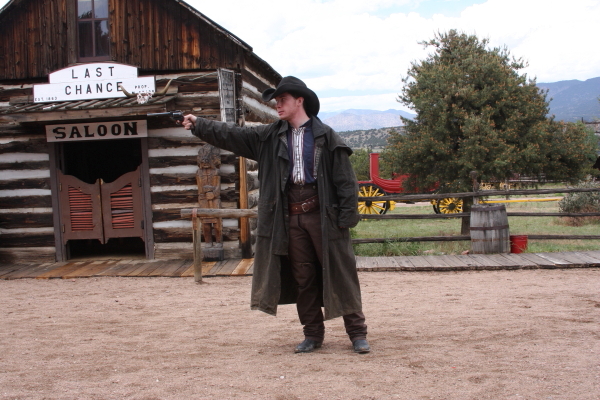 Someone just got shot!
---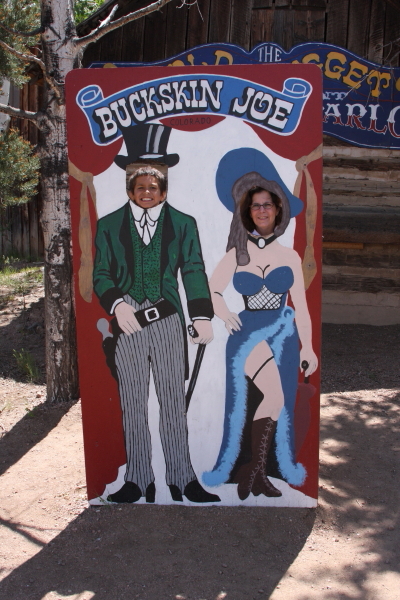 Ratbert and the old Harlet!
---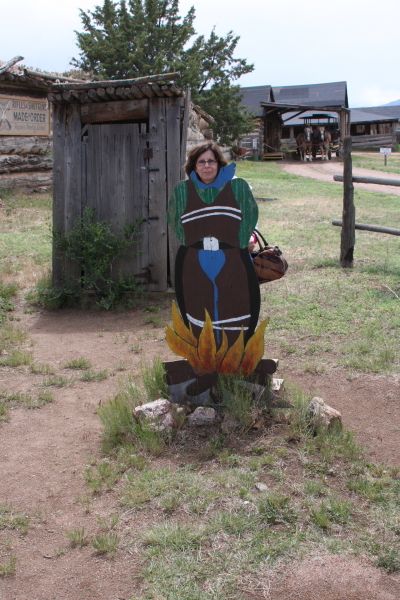 I just KNEW it!
---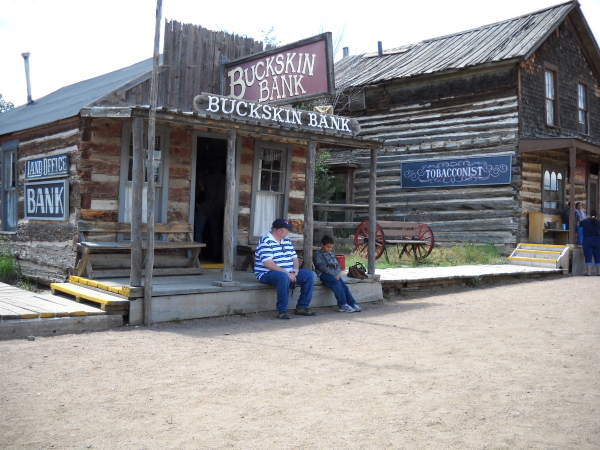 What are these two hooligans waiting for?
---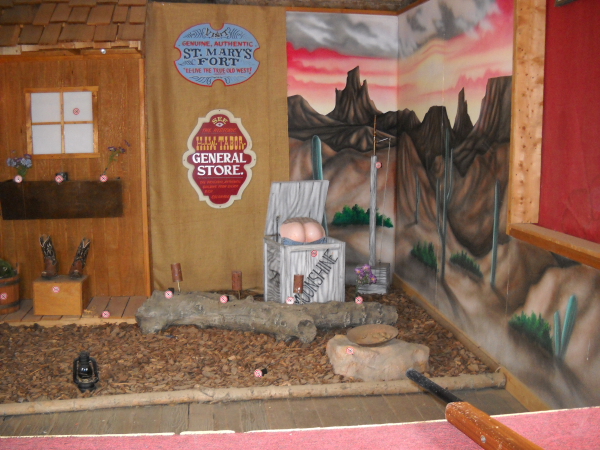 This was a shooting gallery, if you shot the target on the box, the ass would pop!
---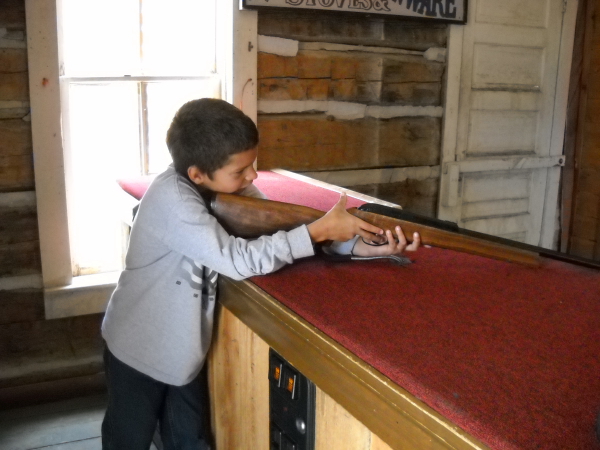 Cameron taking aim, he shot every thing, never missed!
---
Cameron learned to play poker while in Colorado.
---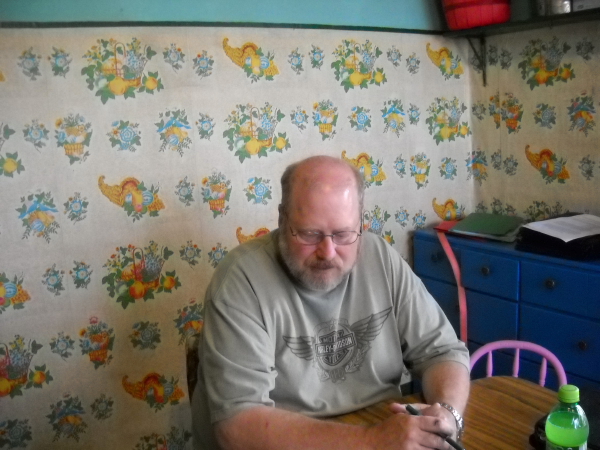 Guess who taught him how to play?
---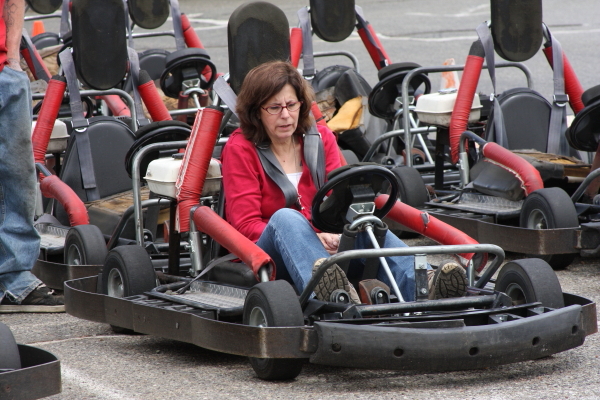 Karen getting ready to go.
---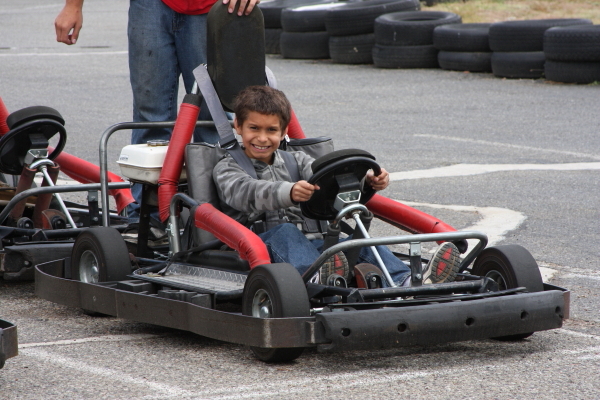 I am ready to go!
---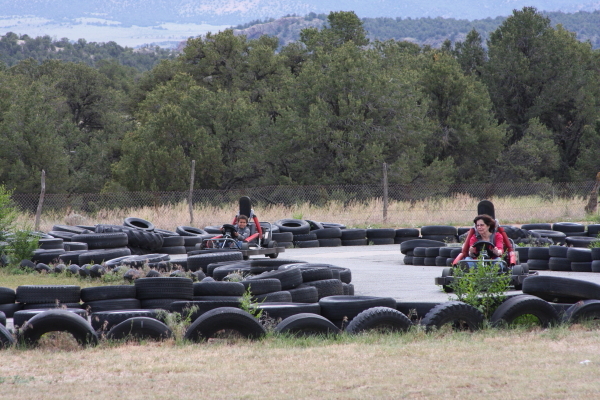 There're off!
---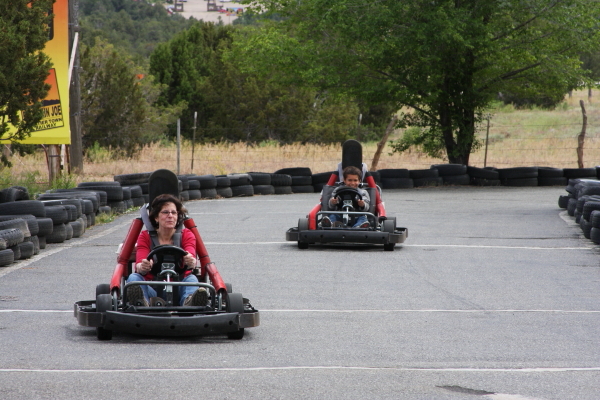 Grammy's in the lead!
---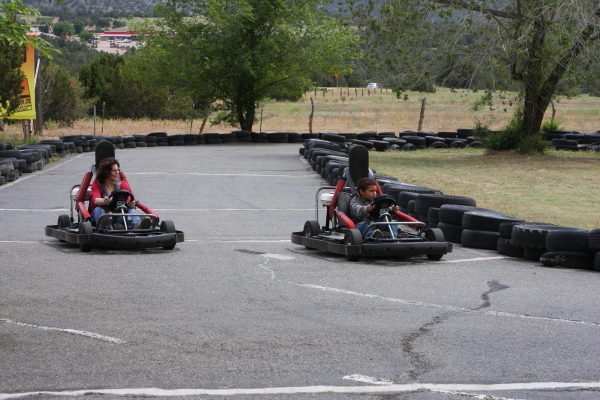 Cammie finally takes her!
---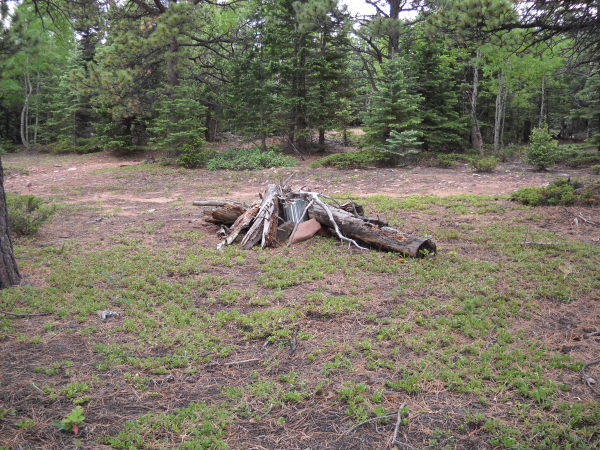 Guess what? A well head on our property covered with a trash can.
---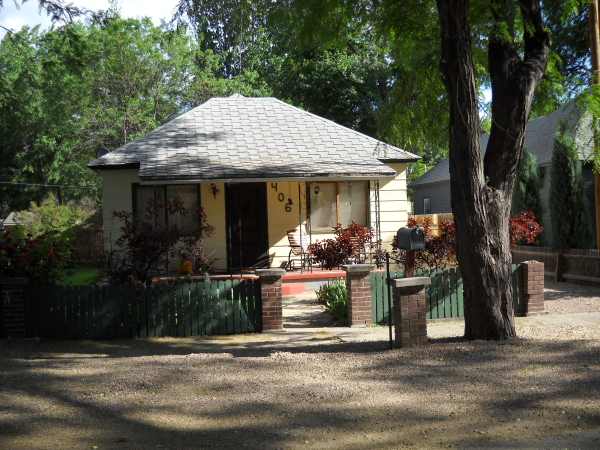 My grandma Jagow's house in Canon. My evil aunt Punky sold it.
---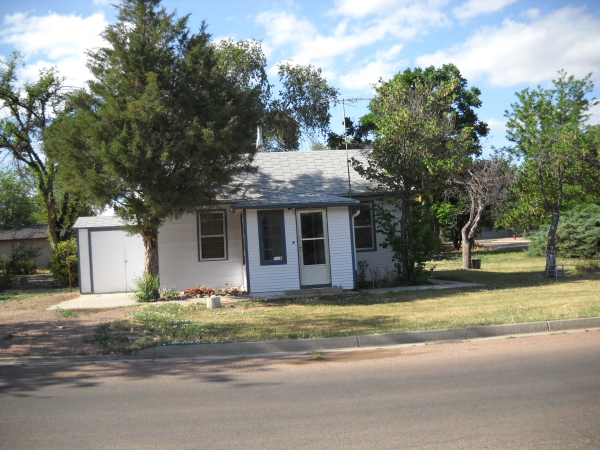 This was our house on Oak street in Canon, it is the first house I remember.
---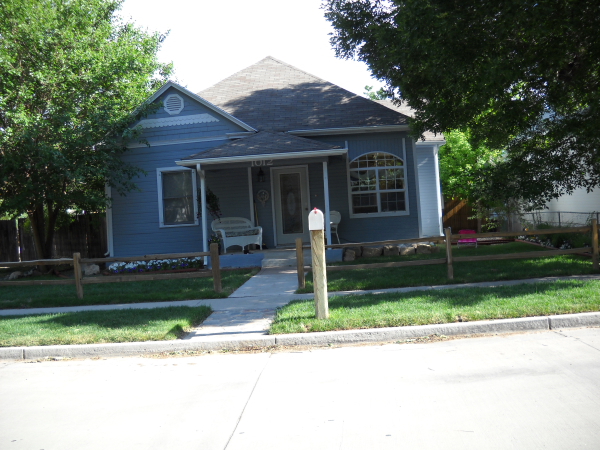 This is the Whipple house, the last house we lived on before moving to the Ranch.
---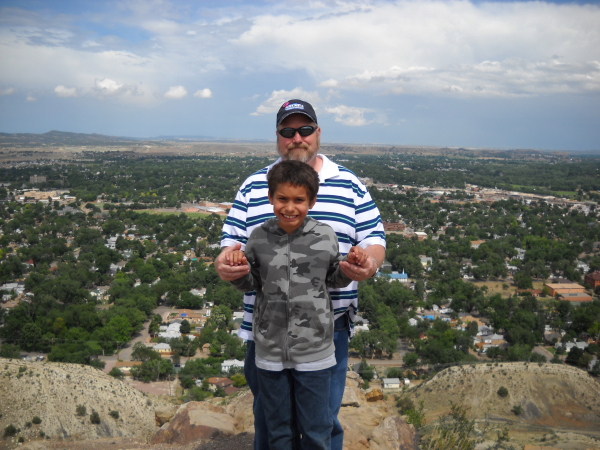 This is Cammie and I on top of Skyline Drive near Canon.
---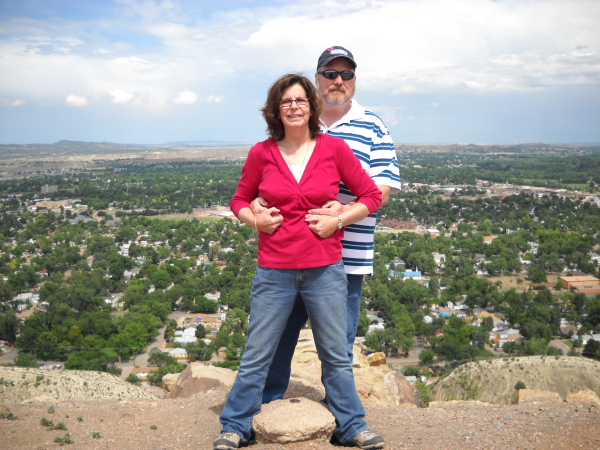 Cameron took this picture of my bride and I on Skyline drive!
---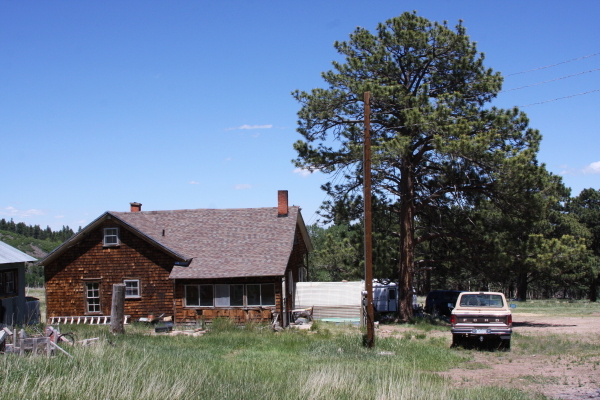 The ranch house with the stripped tree, the stripe is from lightning hits.
---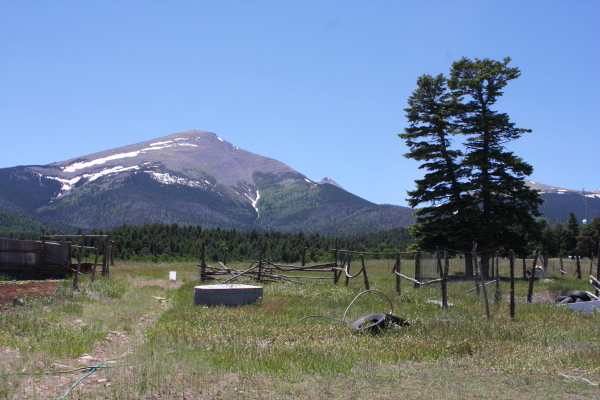 Gibbs Peak, the backyard of my youth.
---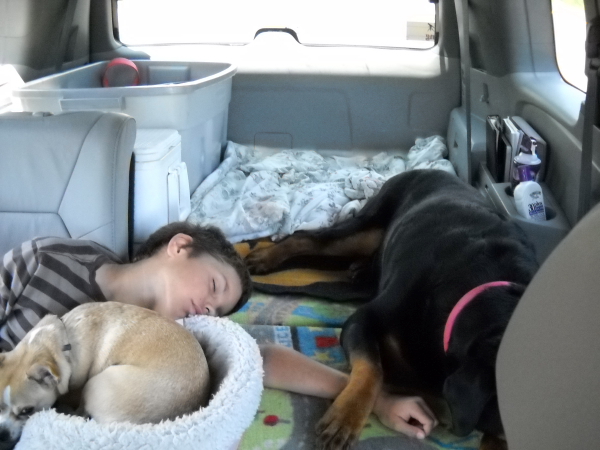 This picture says all that needs to be said about the long trip home.
The next batch of pictures are from our adventure at the Green Bank Starquest star party in Green Bank west Virginia.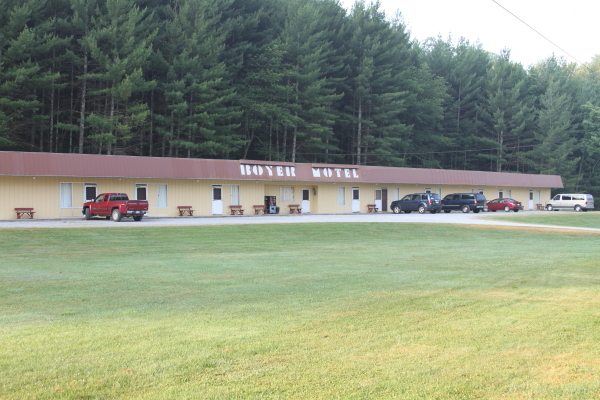 The first night we stayed in the beautiful Boyer Motel.
---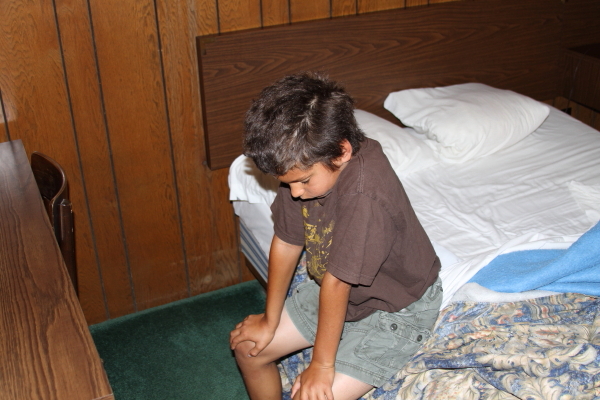 Ratbert had a pretty rough morning getting out of bed!
---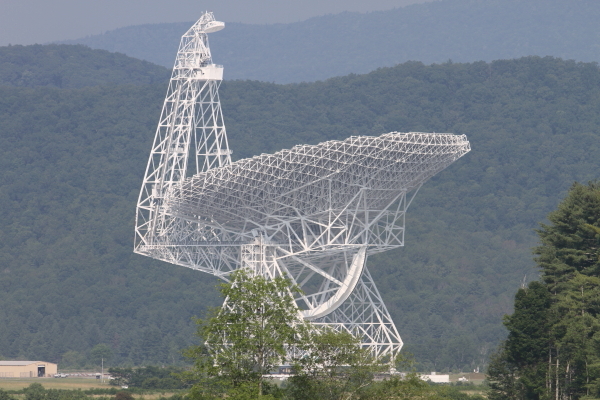 The Green Bank Telescope from about a mile away, the dish is about three football
fields across and is fully steerable in the X/Y axis.
---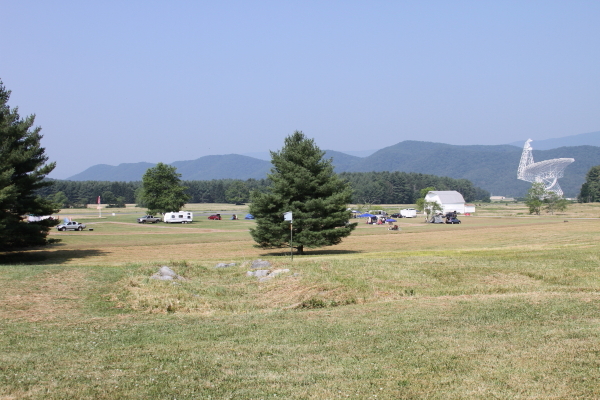 The lower observing field before it filled up.
---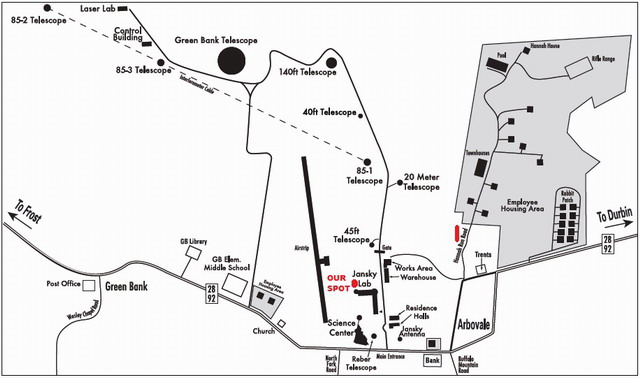 This is the layout of the Green Bank Campus. It is about a mile from the
Jansky Lab to the Green Bank Telescope, just to give you some scale.
---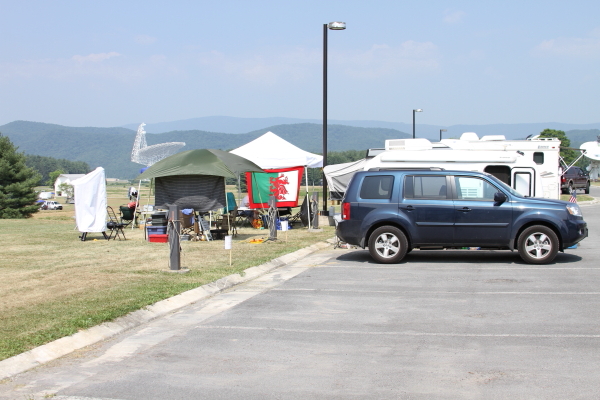 The upper RV area where we were setup.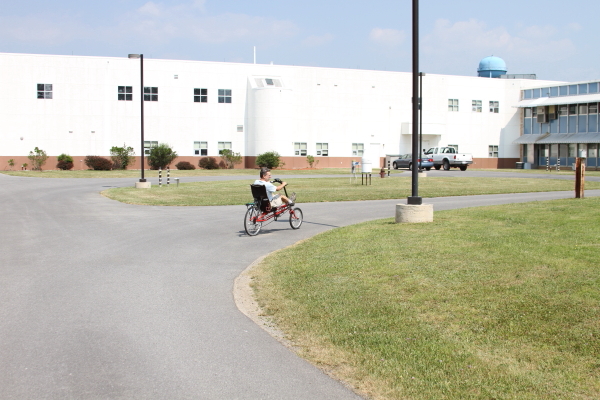 Gary on his cool bike!
---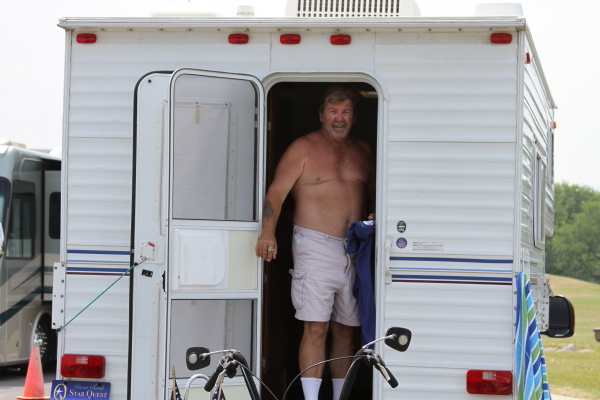 Dale first thing in the morning!
---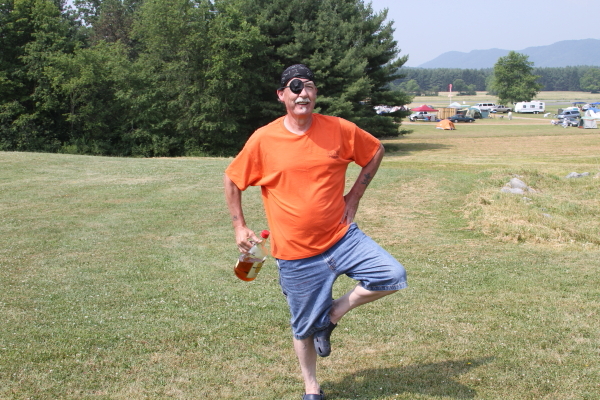 JC with a bottle of Captain Morgans complete with eye patch & bandanna.
The heat makes us do weird things...
---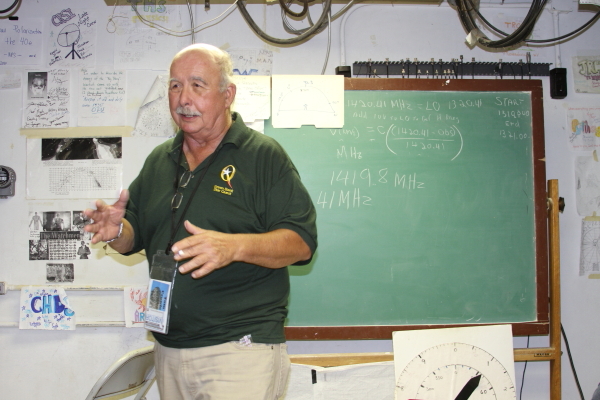 Tom explaining the finer points of radio astronomy.
---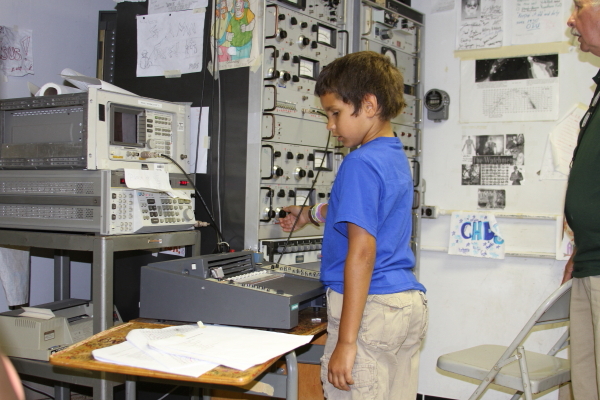 Cameron operating the 40' radio dish.
---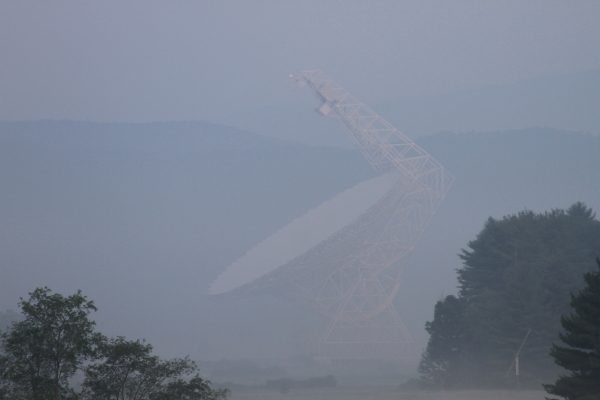 The big dish in the morning fog.
---
The lower observing field after it had filled up a bit.
---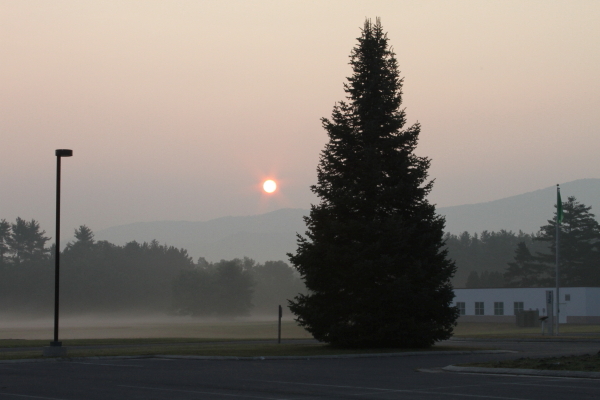 My sunrise picture.
---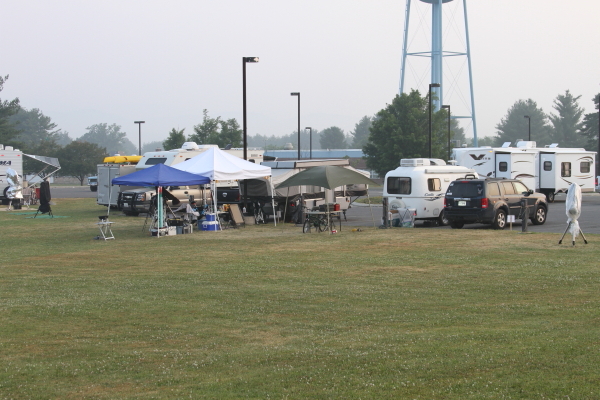 Our little group area.
---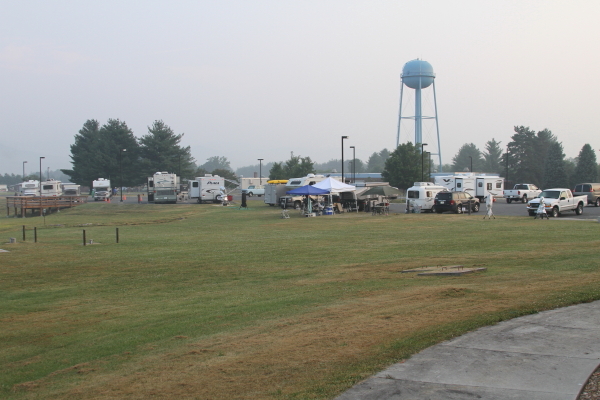 The entire upper RV area.
---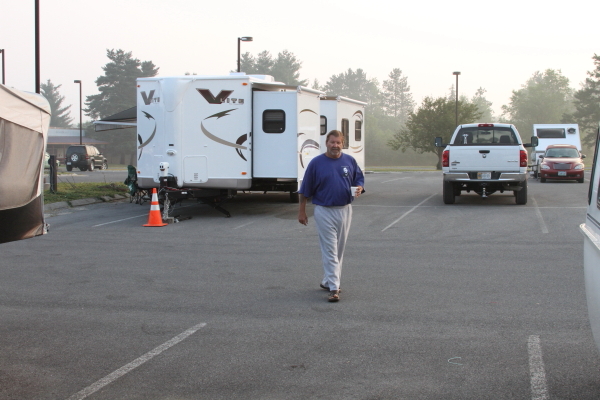 Dale dressed now.
---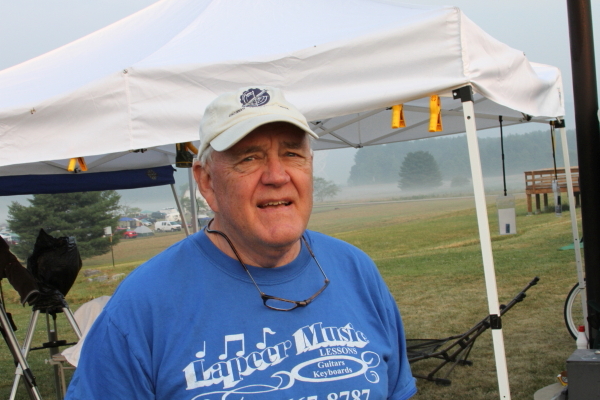 Graham is about tired of all the yanks, but they are tolerable.
---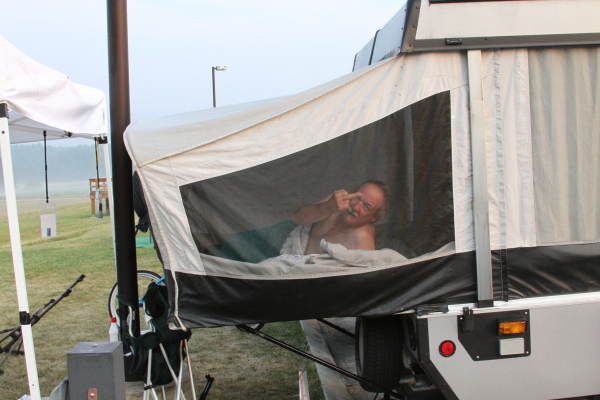 JC didn't seem to want to have his picture taken in the morning.
---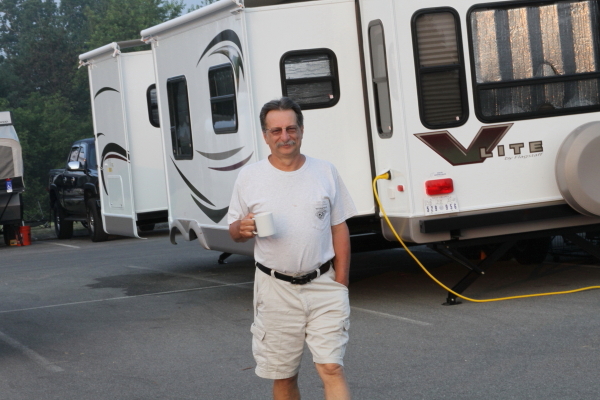 Gary didn't care as long as he had his coffee
---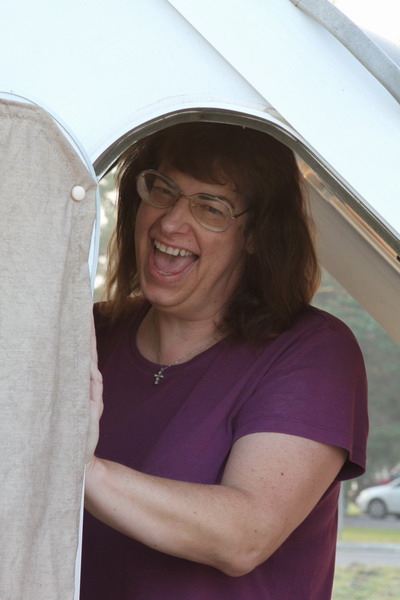 Michelle Finally made it!
These are some shots of the bikes.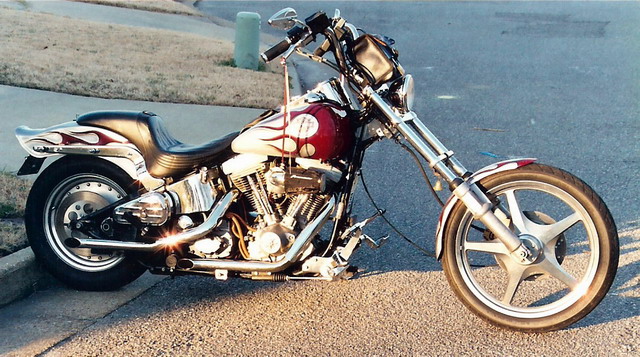 This is my 86 Harley Softail, up for sale if anyone is interested.
---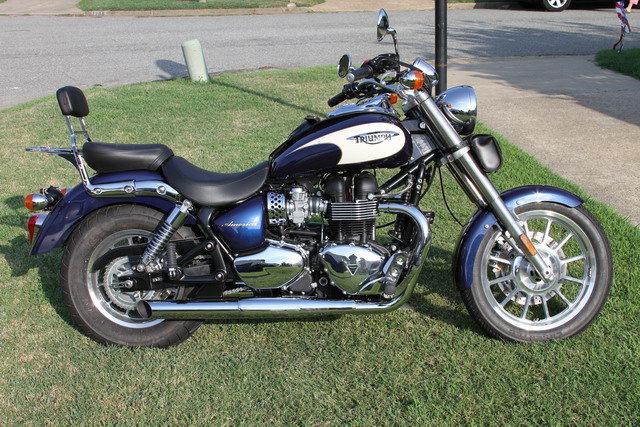 This is the new Triumph America bike.
---
Gee, I hope that was enough pictures for you to look at!
---
05-21-10
It is late May now, I had been working on an update for the Ramblings about a months ago and never finished it so I will just add the new and change the old and be done. The most significant event that has occurred is that my mother died on Wednesday the 19th around 7:23 P.M. EDT, at least that is when the nursing home called me. Our mom was finally at the end of a long road that started in 2003 when she was diagnosed with Breast Cancer. She was the poster child of what NOT to do when a woman suspects that they have cancer. She waited to go see the doctor until her pain was so bad that she could no longer lift a bale of hay. The doctors scolded her until there was no end.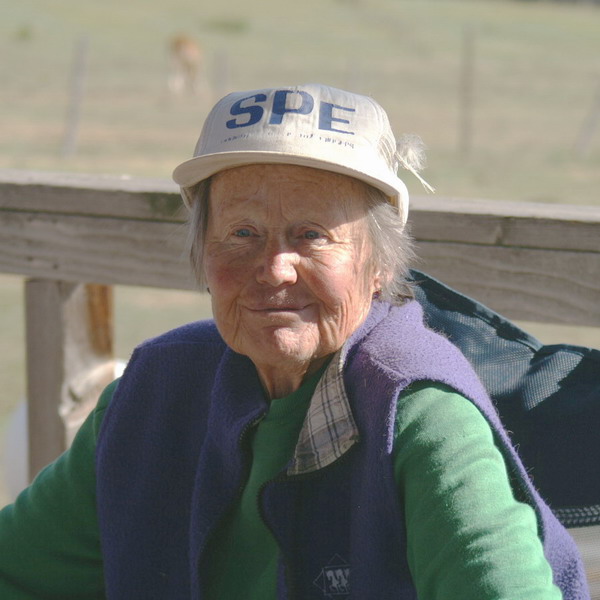 She underwent a single mastectomy in the fall of 2003. After which cousin Tom and my sister Rhonda spent over a month each on the Ranch doing all of the chores. I drove out for the last of December and all of January and then I returned home the first of February. At which time mom started an aggressive Chemo treatment. After six months of being sick and nearly incapacitated she decided enough was enough and refused further treatments. About a year later she started having blackout spells. She would find herself laying in the field with the feed truck at the end of the pasture stalled out against a fence post with the diver side door open. Obviously she would have fallen out of the truck, the truck idled down and stopped against the fence and stalled and then a few hours later Mom would come to. One time she woke up flat on her back with the house filled with smoke, the stuff she was cooking on the hotplate was reduced to a charred rubble. In all of these instances she was very lucky nothing serious happened. These blackouts were diagnosed as a pair of tumors pressing on the occipital lobe of her brain and in August of 2006 they were removed, she spent the remainder of that year recovering with my sister at the dairy North of Denver. She spent the summer of 2007 on the Ranch in Westcliffe and we managed to talk her into spending the winter in Canon City where she tried to wean herself from her ever present oxygen tanks. This proved to be her biggest mistake, as when she moved from Canon back to the Ranch in the spring of 2008 she tried to exist up on the Ranch at 8,400' without her O2. She was on the Ranch for less than a week before she collapsed and had to be rushed to the hospital. Extended oxygen starvation is the best diagnosis that they could come up with as for the cause for the collapse which left her greatly impaired. After her O2 levels were stable, she was medically judged to be in no shape to be left alone, hence her introduction to the elderly care centers in May of 2008. Of all the places on the planet where Mary did NOT want to end up, a nursing home was 150% at the top of the list. Mom lived just at two years in the nursing homes before she died. Her life there was at first pampered by her standards. She refused to watch the TV and talk with anyone. Within a couple of months the big screen TV in the dining room became a favorite and was where she could be found long after meal time was over. The last six months were very rough though, she was often battling a cough and fever while spending most of her time on her bed. So when the time came for Mom to go, it was as much a relief as it was anything else. I think that she is in a better place now with her right arm over Vandy's neck and her left hand is woven into Kilowatt's mane while they stroll on the flat looking for mares, and she is once again happy and not worrying about feeding the horses.
Karen and I are planning a driving trip out to Colorado come the first week in June. If the plan comes together we may take our grandson Ratbert and two dogs, probably Ellie and Bronco. Cheryl will watch Ninya and Chunkarilla, oh I mean Tinkerbell for us. That will give Cameron a nice little vacation and give him a chance to see where I grew up.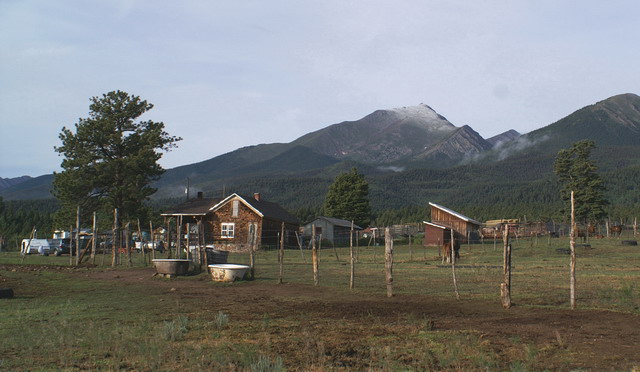 A picture of our ranch house in Colorado in July of 2006!
---
Living IN the CLOUDS was neat in Colorado.
April was a nice month. It is usually supposed to rain a bunch in April but we received less than an inch and a half of rain and nearly all of it came during the last week of the month, so much for May flowers. My trusty weather station's barometer took a final spin toward death in late January / February so I knew I was going to have to do something about it. A new weather station from Davis Instruments was still running over five hundred dollars. A new console, which housed the barometer was over three fifty. So off to hunting on EBay I went. I found a brand new entire system for fifty dollars less than the cost of a new console, and it was new in the box. So I kind of broke it to my bride that I had picked out an early Birthday present. But now we have a barometer that works! I showed her that we were now reporting correct data out to the Weather Underground for the nation to see, Karen was just not impressed. It took me a while to get all of the old data into the new weather console but it is working just peachy now and so far now in May it has rained more than all of April and February combined!
Back when I worked for Sabtech Industries out of Southern California I had been given a tablet PC prototype made by AST corp. that Rahim had acquired through a deal made with his good buddy who was the CEO of AST. The tablet PC was great, it was woefully underpowered and come to light the year that the semiconductor memory plant in Asia ha gone up in flames and had caused the price of memory to skyrocket. Yet this gadget had captured my interest immensely. You could write on the screen with your finger and it would learn your touch and convert your handwritten notes to text. It had a calendar, ran MS Office software had an onscreen keyboard or you could unfold it and have a "chicklet" keyboard that was very effective. There was no need for a mouse, you pointed with your fingers. Its downfall was its slow 386 processor and it did not have enough memory. Alas, after six months of use we had to give them back to AST and I never seen final product. And every tablet PC I could get my hands on, came up short compared to the original AST unit. I never found out what happened to the AST units, I left SABTECH a few months after we gave up tablets back to AST. So when Apple began making noises about their tablet PC the IPAD I started to pay attention a little.
Now I am not an Apple fan by no means. In fact I generally feel that most Appleheads are neo-fascists of a sorts. Mostly because Steve Jobs thumbed his nose at Amiga computers to pursue his Macintosh line, even though "Woz" recommended to Steve in 1983 to buy the Amiga technology outright and scrap the initial Machintosh design and incorporate the Amiga technology and bring the world a color Macintosh instead of the famous black and white one. If they would have done that, the world would have never known the Amiga though, anyway, back to the IPAD. So like I said, I began watching the speculations and the eventual reviews.. The Apple bashers picked the hell out of it, the neo-fascists loved it. Somewhere there had to be someone with an objective opinion. I could not find one. So when they became available, Karen and I acquired one from the local Apple store. A 32 GB Wi-Fi unit.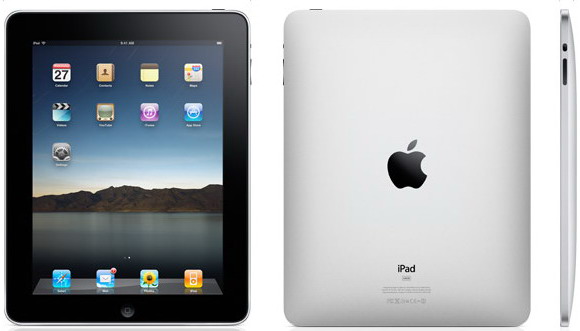 We brought it home and opened the box. We found Five items. A computer cable, an extern AC adapter (that the computer cable would plug into), the IPad, a 3"x4" instruction sheet with three instructions on it and a set of Apple decals. And that was it. The instruction sheet had 3 simple instructions: 1. Download Apple's Itunes onto your Mac or PC, 2. Connect your Ipad to the computer with the supplied cable, 3. Synch your Ipad.
It took about fifteen minutes to accomplish all of that, then the fun began. What the heck do you do with it? The first thing was to register it with our wireless network, that took about two minutes. Next we found out which icon was the web browser, Safari and we quickly learned how to navigate around on the Internet. Setting up a single email account took about five minutes. Setting up a second email account from a completely different set of mail servers was a bit more of a challenge for the little gizmo. I ended up having to enter and erase the accounts several times before I stumbled onto a procedure that worked. Setup one and get it working both incoming and outgoing mail and then shut the unit off and then setup the second account and then shut the unit off and then back on again and then it has worked seamlessly ever since.
Karen quickly downloaded a book or two to read with it. I loaded up all of my CD music files and a bunch of photos of the family, pets and of course astronomy items. I downloaded an amazing astronomy app that you take outside and hold the IPad up toward the sky and it shows you what graphically what the items in the night sky are. You see a star over there and want to know what it is? Just move the IPad over to where it is and point it at the object and the sky will appear on the screen along with name of the object if you select it. SWEET.
What the IPad is NOT is that it is not a laptop, it is not even a tablet PC in the sense of previous tablet PCs. It most certainly in NOT a home computer. What it is is a media computing appliance. I liken it to a very fancy toaster. It can't cook a whole meal, but it can toast bread, English muffins and bagels perfectly. It does have an amazing BATTERY. We went over 10 hours on the charge it had out of the box. On the first real charge we nailed over 12 hours. And we are still running on the third charge right now. Last weekend we downloaded the movie Avatar to it and then through a component cable hooked to our wide screen TV we watched it in hi def on our TV. Our intent is to buy a 3G model this Friday when they come out, that way we can have network connectivity anywhere there is 3G coverage, like at Star Parties - Colorado boonies, etc. And then sell the WiFi unit to someone on EBay probably overseas as they won't get the 3G units for another few weeks.
IPAD UPDATE, the WiFi Ipad has been sold on Ebay and Karen and I each have our very own 3G/WiFi iPads. We also bought a 3G unit for Karen's Parents. They are going nuts with the thing emailing their friends out in Las Vegas, New York and California. Every time we see Carol she has about a dozen iPad questions for me. I used my 3G unit in Coinjock NC while at the East Coast Star Party last weekend and it was a dream come true having Internet access while out in the boonies. I am telling you, it is going to be BIG...
Friday April 23rd was our second annual Mount Trashmore Star Party hosted by the City of Virginia Beach.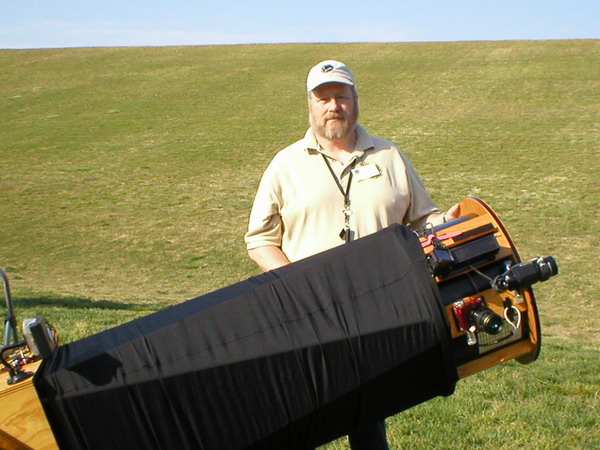 They have been advertising this event for a couple of months. We had people from several astronomy clubs pitch in to help this year as last year we were swamped with over 1200 people. This year proved no different even though it ended up being mostly cloudy. People stood in line to peer through our scopes for a brief view of the Moon, as that was the only object bright enough to punch through the clouds every so often. Every time I looked up to see how long the line was at my scope I could not see where my line ended. I had people waiting to glimpse the Moon all the way up until it was time to pack up my scope. This year our organizer, Chuck Dibbs managed to score us free sandwiches from Chick-Filet, boy did they hit the spot! I sure hope that for our third year we are granted better weather as we all paid our dues this year.
And now for some more pictures of STUFF!
---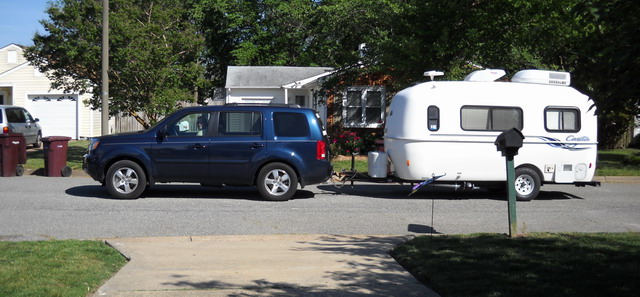 The Camping Rig.
---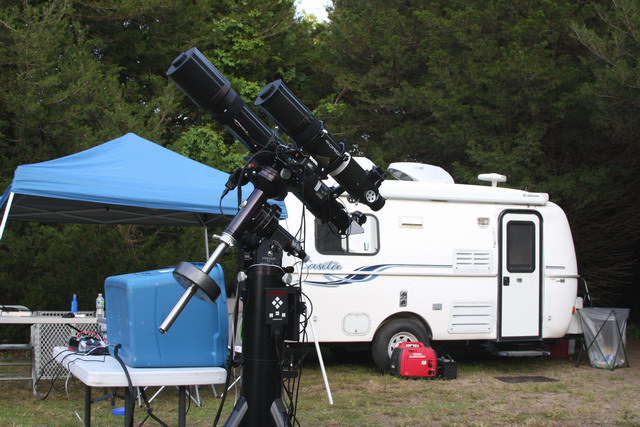 My telescope setup in Coinjock NC at the East Coast Star Party.
---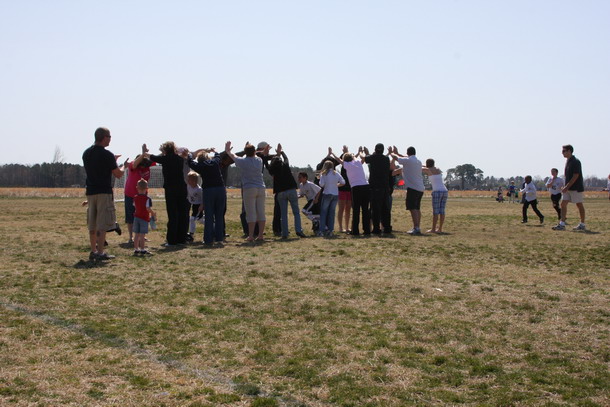 Soccer game over!
---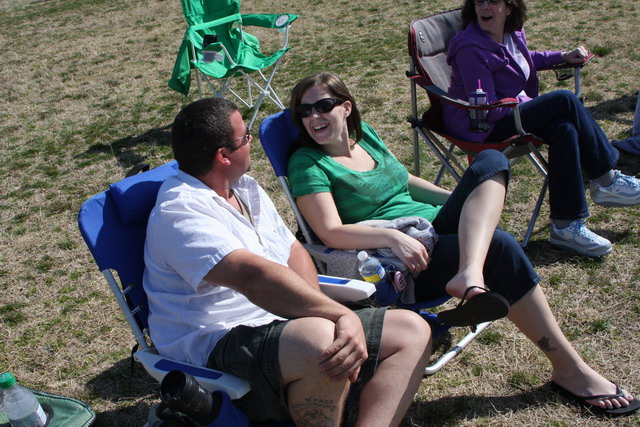 The cheering squad.
---
I still have not put the grass seed down, but the Ramblings are updated! That is a good thing though. So maybe I will get around to that grass seed tomorrow. UPDATE, traded the grass seed for fertilizer and put it down, the lawn is GREEN as hell with the rain we received in early May!
---
03-20-10
March, what a good time to update the Ramblings. So much for that New Years resolution of updating the Ramblings every other week. It just seems I have really good intentions, it is on my "Too Do" list nearly every weekend but, there are only just so many hours on our precious weekends that many things slip. Like this weekend, the big ones are attending Cameron's first soccer game and making sure I put down the grass seed that has been riding around in Karen's vehicles for the last two weeks. Yes, the reference was plural. This story starts with me. Karen and I had stopped at a church right at dusk to watch Cameron's Cub Scout Pinewood Derby car race. It was late dusk when we arrived and there was construction occurring in the church's parking lot, tree removal, and a small black dump truck was parked about fifty feet down the parking lot when we arrived. When the event was over, about two hours later, Karen and I proceeded to leave. When we approached the parking lot, it was nearly completely dark as the lights were extinguished in the construction area which is where we were parked. I got into my Honda Pilot as did Karen and I checked in my mirrors and saw nothing and proceeded to back out and turn when all of a sudden WHAM! CRASH! TINKLE - TINKLE! (sound of rear window completely disintegrating) I had backed into the rear of the small dump truck. The IDIOT owner of the tree removal company parked the BLACK dump truck in the middle of the UNLIT parking lot BETWEEN two rows of parked cars. In making a very long story shorter, I am at fault he is completely NOT at fault even though he showed poor judgment in parking choices. Now steps in the insurance company to fix the damage to my Pilot. After three agonizing weeks of me in crappy rentals they finally have it fixed. I pick the pilot up and drive it for a couple of days. The driver side passenger door doesn't close very well anymore, you have to shut it twice EVERY time now. There is a strange rattle in the back, something is loose and I can't find it even after removing all of my stuff from the vehicle it still rattles. The tail-lights are just not right when I look at them when I open the tailgate. On a long stretch of road on the way to work it seems to have a bit of an odd feeling at just 50+ mph that never was there before. I have put 75K driving this thing back and forth to work so I know how it should feel. It was not right. So now the dogma of what kind of mess I have now sets in. Do I want to fight with the Insurance company and body shop to make them fix it, but how do I quantify the IT other than the door and the tail light issue? The truck is five years old and has over 75 thousand miles on it, just a baby by Honda standards. I tossed and turned on it for a couple of days until last weekend when Karen and I decided to just "look" and see what was available in terms of new Pilots. The "looking" turned into us signing the papers on a new blue 2011 Pilot for me. I had to tell you that story so I could tell you the next story, Kind of like the song "Alice's Restaurant".
All the while we were sitting at Hall Honda waiting and waiting for the paperwork to become ready. Did I mention that car buying is a "sport" to me? I do lots of homework and then work the price down as low as possible, usually significantly BELOW any published invoice. It is fun, and if you stick to your "guns" and don't quaver you can make those folks break, you might have to drive from one dealership to another, but hey we live in a dealership rich environment. Anyway, back to Karen's story we had already won the price negotiation and were working on the financing negotiations. And nearly every time there was a period where we were left alone Karen would get up and stroll over to this sharp looking little bright red Accord coupe and fondle it. Sometimes she would just walk around it, other times she would sit in it, but it was pretty obvious it was stuck in her. She talked about how she wished that the Accords would have been styled like that when we acquired her CRV several years ago. I quickly brought her back to Earth by reminding her that her lease was not to expire for quite some time. She sighed and said she knew that. When we were finally done with our business at Hall that day, Karen probably visited that red Accord two dozen times. So the next day after my doctor's visit I paid another visit to Hall Honda. I first went to the car and wrote down the model number of the car the MSRP and options on the sticker as listed and the prices they were asking and brushed off one salesman and then left to the sanctuary of my car and web equipped cell phone. I quickly determined the invoice on the car and the options and discovered they had the window price set at $1000 below invoice already. Hmmm, they are really trying to get this car off of their inventory sheet. So I went back in and found our salesman and told him I would give him a thousand dollars less than the window price they had listed (that would be about two grand under invoice) and that I would have a vehicle on year three of a four year lease I would be trading in. I told him I didn't want to dicker, if he wanted the deal let's do it, if not I was heading to Priority Honda as they have two identical cars on their lot. He scurried off to his manager and came back in fifteen minutes and said deal. So I had to go steal Karen's car from the parking garage and bring it back for them to appraise. That took about an hour for me to locate her car and bring it back. All the while missy Karen is at work none the wiser. The appraisal was good, the deal was finished in record time compared to how long it took to acquire the Pilot, and I was parking the shiny new red Accord in the MacArthur Center garage. I went into Karen's work and did my best to look all upset and dejected and I told her there was something wrong with our Pilot, it was something she would have to see and hear, I could not explain it to her. So she found someone to cover for her for a few minutes and we went out to the garage. I walked right over to the red car with her customized license plates on it and she still didn't seem to SEE it so I handed he the keys and said " your CRV is no more" at which time she just started crying and said "I can't believe it". So that is how I surprised my bride on Saint Patrick's day.
One nice Saturday afternoon in February Cameron and I did a lock-in at the Virginia Air and Space Center in Hampton in conjunction with his Cub Scout troop. The night would center about building a rocket kit and then flying them the next morning. A hundred and fifty some odd kids building and then flying model rockets, this would be interesting. Cameron was going with Cheryl and her significant squeeze the Monster Truck show during the early afternoon and would meet me at the Virginia Air and Space Center in Hampton at 6:00 PM, which went off without a hitch. We managed to get inside with all of our gear and find a place to bed down, under the wing of a jet, while the kids ran around and explored the science exhibits until the rocket building classes. The rocket building classes were basically just organized chaos, I do believe that if many of the attending fathers & guests had not previously built rockets, only a handful of flyable rockets would have been produced. As it turned out, nearly every rocket was flyable. The rockets were left to dry on the tables overnight. By this time it was almost ten thirty at night, lights out was supposed to be at eleven. The problem with lights out at the Virginia Air and Space Center means they just dim some of the lights and don't de-activate the automated exhibits. So every twenty or so minutes another speech about Amelia Eerhart or Gus Grissom would roll around at full volume. Then the little kids who snuck their portable game machines in and are playing Mario Brothers until after 3:00 AM didn't help in the sleep department. The die-hard Cub Scout "dads" all had blow up air mattresses, not Cam and I, we roughed it and slept on the floor in our sleeping bags. At nearly 52 years old, the hard old floor is not as inviting as it was in my teens. 5:30 AM came quick, that is when my bio-clock said wakie-wakie and I was up and about. No one else was up. I got up, brushed my teeth, changed unders and socks and took my meds and just sat and enjoyed the quiet - except for the Grissom/Earhart lectures still going on every twenty minutes. About 7:00 AM we organized for the breakfast bagel and cream cheese. We also did final assembly on our rockets in preparation for launch. While waiting for every one to get ready, Cameron and I bought some trinkets for his mom and granny in the gift shop. Once the cars were loaded we all trekked to the launch site. The luck of the draw had Cammie launching his rocket in the first go-around. His launch went perfect and recovery was uneventful. Some kids rockets ended up in trees. We left before everyone had launched because I had to be back home for my next scheduled engagement.
Our next scheduled engagement was the musical CATS, being performed at Chrysler Hall in downtown Norfolk that Sunday afternoon at 1:00 PM. So I had to hustle home shower and get cleaned up. Karen's parents were accompanying us so this would really be an adventure. Frank hasn't been OUT anywhere other than to eat or see a doctor in over five years. We "made" him buy new clothes for the event. Karen told him that he simply could not wear sweat pants to Chrysler Hall. It just so happens that there was a gun show at the Scope on the same weekend so parking at the complex was tight to say the least. We managed to find a decent spot so Frank would not have to walk far to the entrance. We arrived a bit too early and had to wait for the venue to open, Frank's first round of grumblings. When we finally made it inside Chrysler Hall we found our general area, but they would not let people into their seats yet, they want the hall to fill first - that equates to them wanting you to purchase and consume refreshments prior to the venue. So I purchased everyone lemonade with vodka, except Karen, she just received lemonade. Frank drained his in about three seconds flat, I told him that the next twenty four dollar round was on him, second round of grumblings. We finally were shown to our seats which read Orch GG 10-14 so we went and sat in what looked like seats G 10-14. Which didn't look like bad seats, about nine physical or so rows back from the stage by my count. We sat there for about ten minutes before another group came up with quizzical looks and asked if we were in the correct seats. We compared tickets, theirs were clearly marked G10-14, so I am now thinking, great we are now in the second set of alphabet seats at least thirty some odd rows back. We ask the usher, much to our surprise, they show us to our seats down just two rows back from the stage, we are in Orchestra row GG. Since there is no real orchestra with this play we are sitting in the orchestra "pit" where actually rows A-E are too close to see, but F & G are the best in the house. What a deal! Once we were finally in our correct seats, the theatre began filling quickly. Pretty soon a man filed past us wearing jeans and a T-shirt, thus began Frank's third round of grumblings about having to have "dressed up". Frank's kicker was about two minutes before the show started, when an elderly fellow passed right in front of us to get to his seats and guess what he was wearing? Sweat pants and an old beat-up shirt. I thought Frank would blow a gasket, it is a good thing the show started as it distracted Frank from making a stink about having to buy a pair of Dockers. In all Frank and Carol said they enjoyed the show a great deal. Karen and her mother are going to see the Wizard of Oz tomorrow at Chrysler Hall, I have found something else to do conveniently.
Practice quick draw defensive shooting. The Dixie Wheel Gunners, a local group who get together at the Norfolk County Rifle & Pistol Range once a month and have a competitive pistol match. It usually consists of four stages. Each stage is a series of one to three target targets that you must draw your weapon from a holster and then fire groups of six rounds at quickly, clear your weapon and then holster it while being timed. Each stage is different, one might require you put six rounds in one target, reload, pick up a brief case in your free hand and then fire six rounds in a second target, set the case down - reload, pick the case back up and fire six final rounds in a third target, set the case down, clear the weapon and holster it. The next stage might just be twelve rounds as fast you can put them on target, reloading between each group of six. It sure separates the men from the boys. I have been to three matches now and I am hooked. It is great fun, I shoot very well at the range under nice static controlled conditions, but at these competitions, I am but a mediocre shot at best compared to the fellows who have been doing it for a while. I shoot a four inch barrel Ruger .357 magnum Gp100 revolver at the competitions.
Now that the Dork has healed from her back surgery and has returned to work she and her son are finally getting set to move out, they are taking up residence with Cheryl's boyfriend. They found a townhouse about a half a mile away as the crow flies, it will be nice to have some peace and quiet around and it will be good for Cheryl and Cameron to finally be getting set up in a place they can call their own and her boyfriend is a hell of a nice guy. I am sure we will miss them, but they will be just a short walk away and we can just POP in on them for a visit!
Cameron's soccer game was good. He played well and enjoyed himself a great deal. He found out that goalie is a little tougher job than just standing there as he played that position for a little while. The coach rotated the players all around and let them play different positions to see where they best fit. It was an enjoyable game that I think Cameron may do well at.
And now it is time for some pictures!
---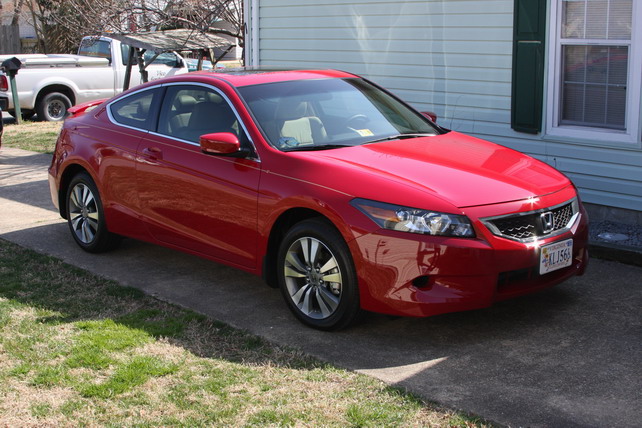 Karen's new shiny red Accord coupe.
---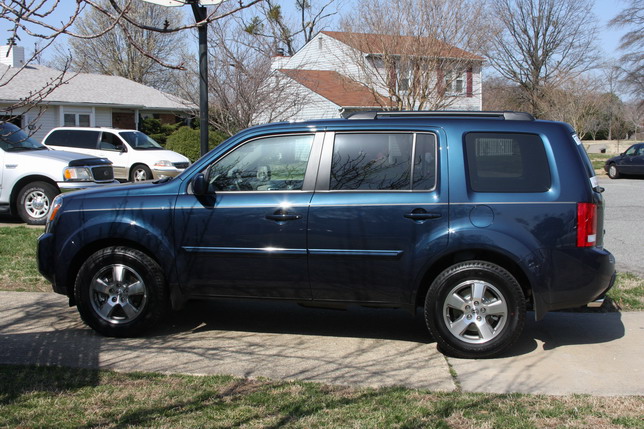 Ho-hum another blue Pilot.
---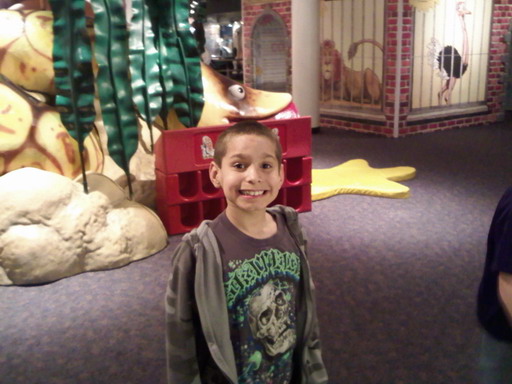 Ratbert at the Virginia Air and Science Center.
---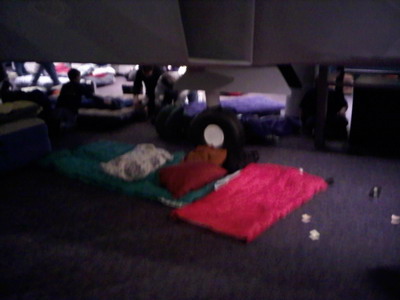 Our sleeping bags at the Virginia Air and Science Center.
---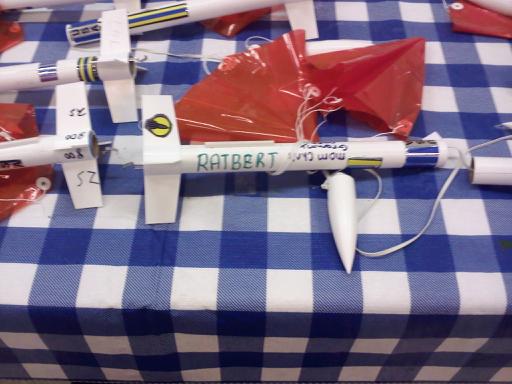 Cameron's finished rocket.
---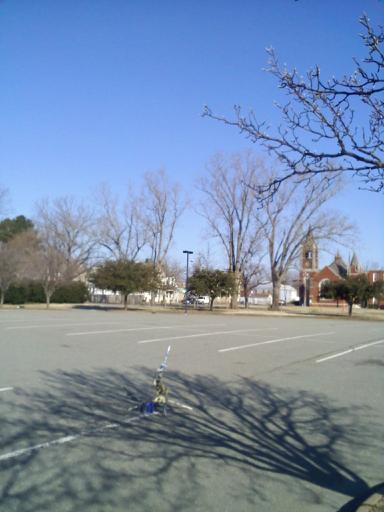 5, 4, 3, 2, 1, 0!
---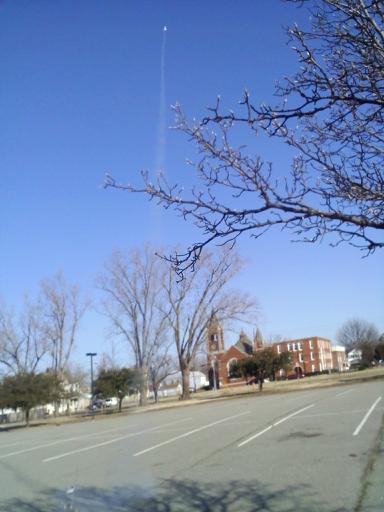 L A U N C H !
---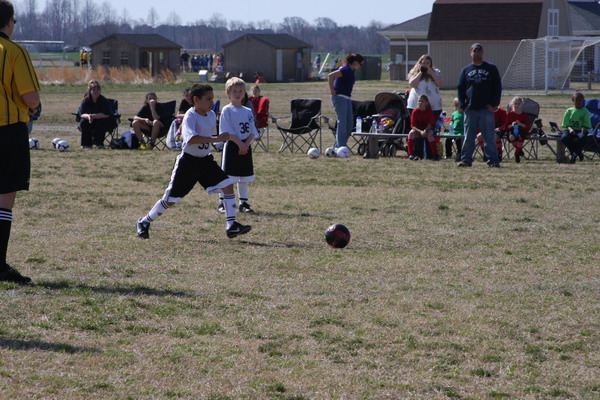 Cammie with the opening kickoff!
---
Cammie really enjoyed his first soccer game.
---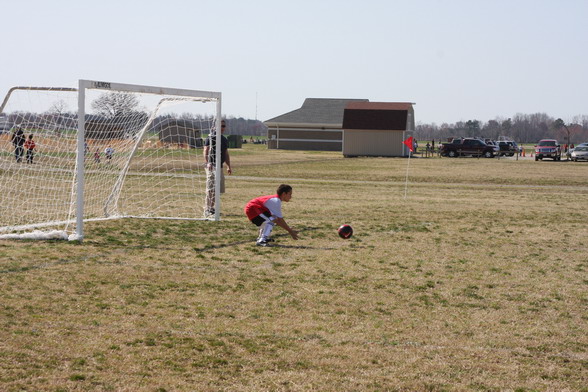 Cammie didn't do as well at Goalie.
---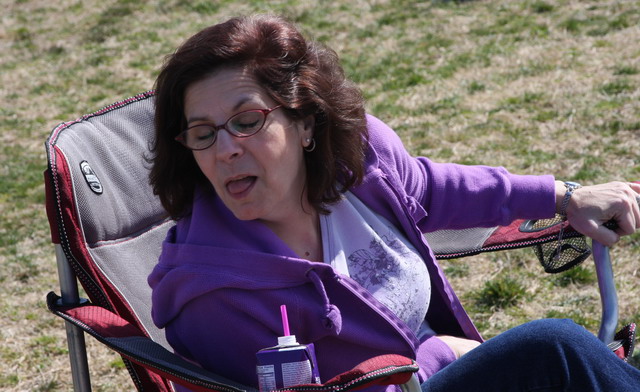 Cammie's own special little cheerleader...
---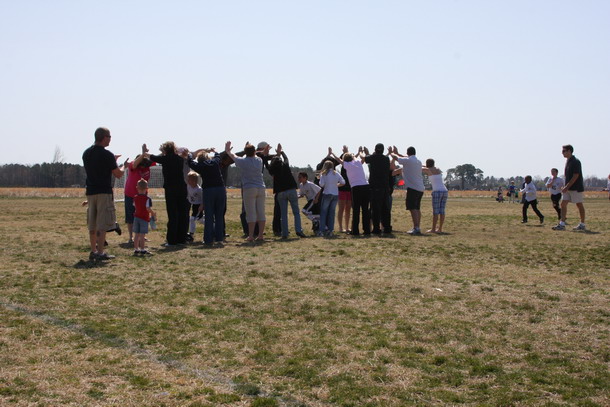 Soccer game over!
---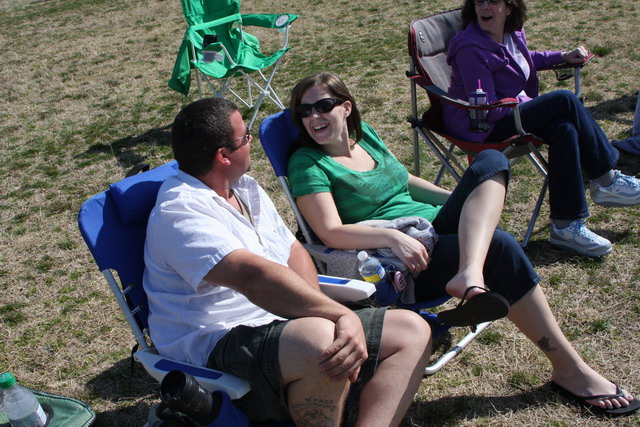 The cheering squad.
---
I still have not put the grass seed down, but the Ramblings are updated! That is a good thing though. So maybe I will get around to that grass seed tomorrow.
---
01-29-10
Since January is just about over I better update the Ramblings for the first of the year. I was updating the page about two weeks ago on a morning I was waiting for a doctors appointment and I had about four or five paragraphs composed when all of a sudden the power went out in the house. And you guessed it, dummy me had not saved ANY of my progress. So about an hour and a half's typing went down the proverbial tubes. Anyway I guess that serves me right for waiting so long between updates. So I will start this update off like I usually do around this time frame with a picture to annoy my bride about our wedding day which occurred some 32 odd (and I mean ODD) years ago.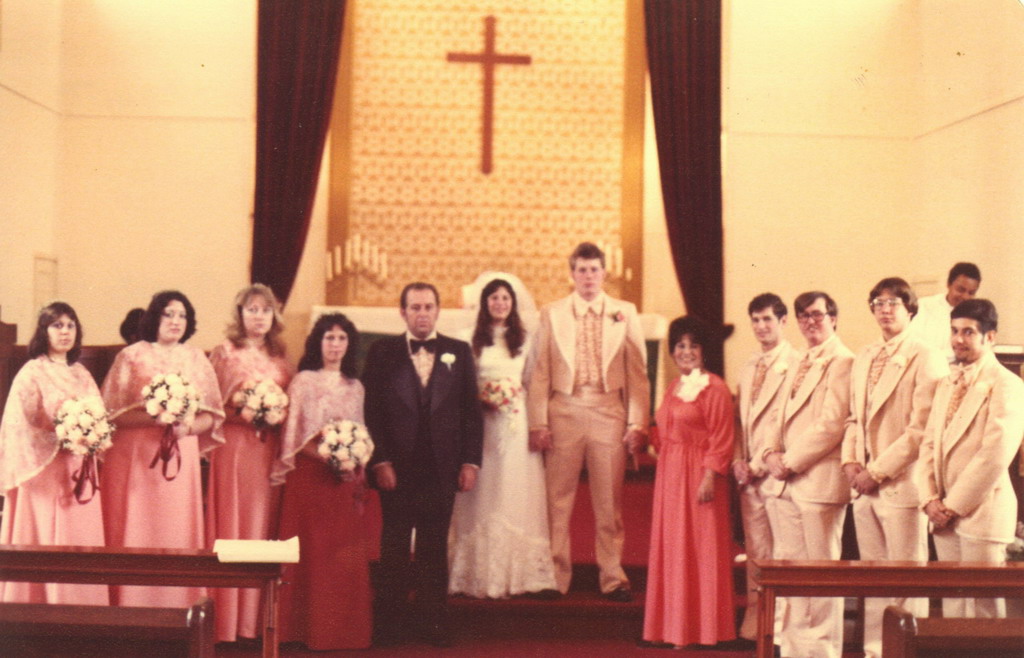 The "happy" wedding party!
---
The participants from left to right are: Cindy Parkins, Lori Anexter, Ciny Perrotti, Dee Cook, Francis Wells, What's Her Name, What's His Name, Carol Wells, Bob Thibidoue, Al Robbins, Nick Lewis and Gilbert Valdes. The only ones smiling are Karen, Al Robbins and Karen's mother, I am in definite SHOCK, this picture is worth a thousand words...
The Dork went in for her second back surgery in less than a year. Last April she had a surgery to chop off a herniated disk. But later on her bones started grinding against each other due to a failure her discs degenerating. So the doctors ordered up MRIs and confirmed her condition required some additional support INTERNALLY. This meant another surgery, which the Dork went in for chopping on January 15th. The slicing and dicing was a success and she is healing way better than she did last time. Her follow up with her witch doctor is February 12th and that is when she finds out if she can drive by herself again. The Dork without the use of he car is almost as sad as the Dork in her back brace which we lovingly refer to as her "jet-pack".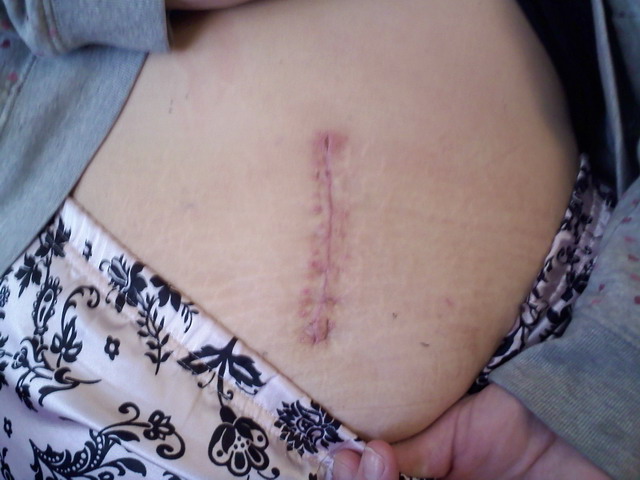 The Dork's scar! Actually a scar on top of a scar!
---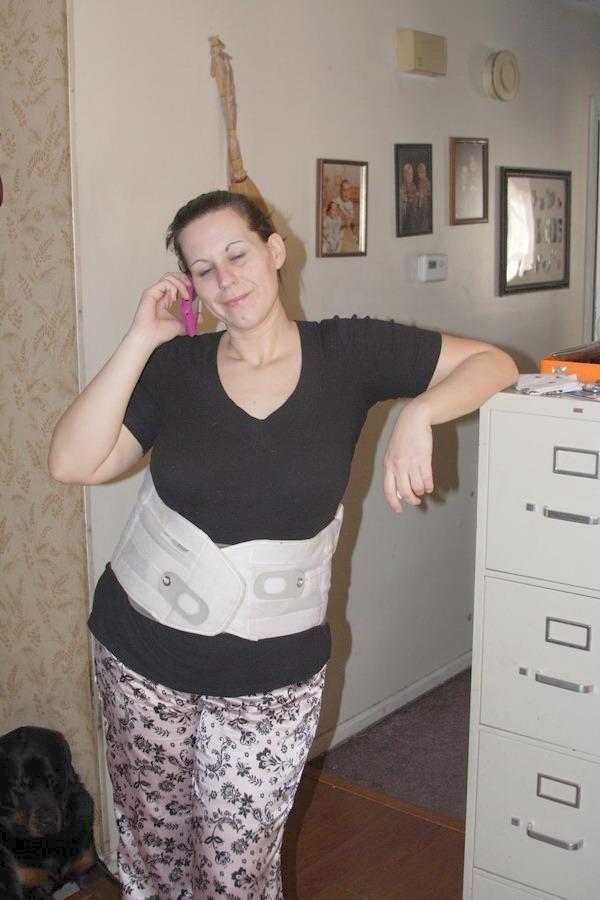 Cheryl convalescing, back brace-on, cell phone on.
---
Now you can see why we call it a Jet-Pack!
---
Several weeks ago I dismounted my trusty 10" LX200GPS telescope from within the Rott'n Paws observatory and replaced it with the Losmandy G11 equatorial head and then I mounted the dual refractor telescope rig onto that. The dual rig consists of an 80 mm & 120 mm semi APO refractors from Orion mounted in tandem. I can use either one for imaging or visual. And I can guide from either as well. I normally attach the Canon 40d as a main imaging camera to the 120mm telescope and a Meade DSI Pro II to the 80mm to guide with. Here in town I don't do much long exposure imaging so the guiding is kind of mute. However, I really enjoy taking images of the moon when I can. And both of these scopes can do this well. To see some of my images click on over to: HERE!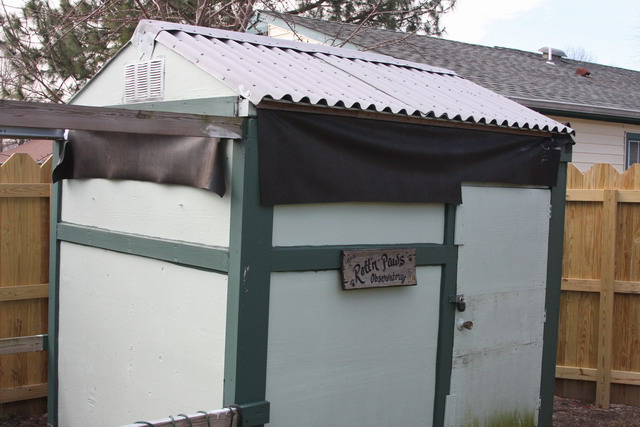 Tiny Little Rott'n Paws Observatory.
---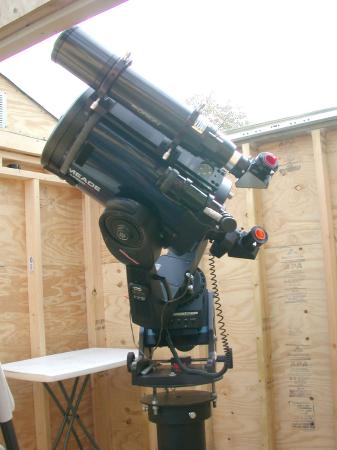 The 10" LX200GPS scope comes out.
---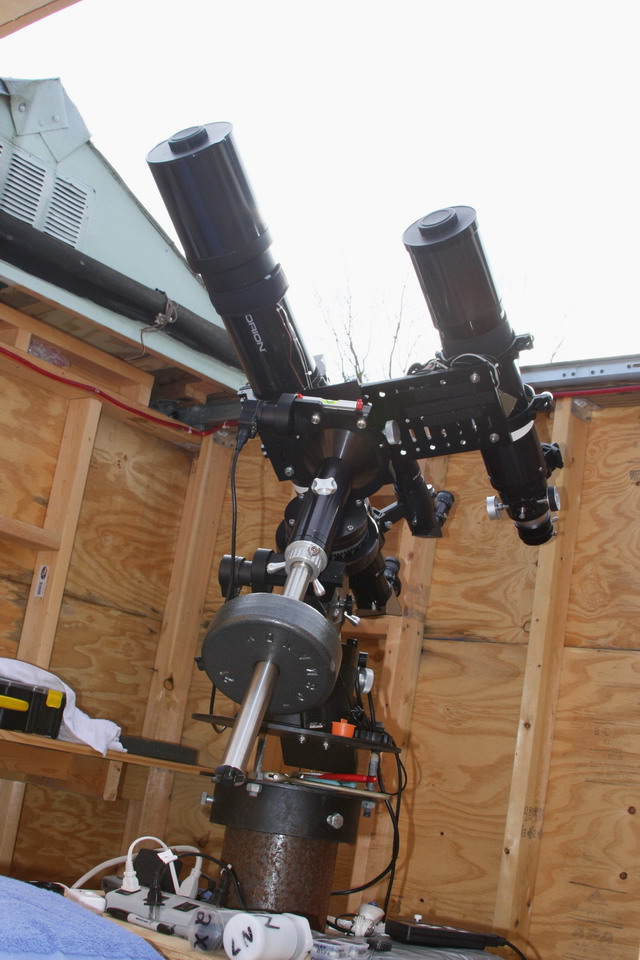 The Tandem Refractors Installed.
---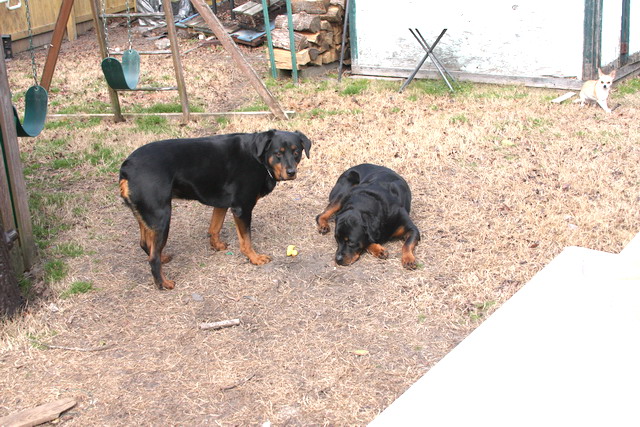 Three of the Rott'n Paws quartet look on... Ninya, Bronco and Ellie.
---
I am sitting here waiting for my Honda Pilot to have its 75,000 maintenance work done on it. It should only cost about $330, but I know my battery is nearly trashed as I have had to keep one of my "jump-start" batteries with me when it didn't want to crank when it had been sitting in the parking lot at the beach in 20 degree weather. And I know a few months ago I broke something at a campground when I took a "pot-hole" in the dark that nearly tipped the truck over. They just called and said two of three motor mounts were broken and the battery had one bad cell and two marginal ones. I had already priced a replacement battery and their price was actually within $10 of the one I would have bought at Sam's club, so their installation was free so for $10 let them do it. The motor mounts are covered under my extended warranty I bought or it would have cost me $1400 instead of $50. So I will be spending about $400 today instead. Just makes my day.
We are having a hard time breaking the newest canine from crapping on our bathroom rug. That little Chihuahua is a year old now and does not like to go outside. She will crap on our rug. She pees in the litter box we have for her, Karen trained her to use a litter box when she was just a tiny pup. But lately she has been slipping. I rub her nose in it every time I find the little tootsie rolls, but I know Karen doesn't. And as far as I know that is the only SURE way of breaking her of the habit, consistent application of the same punishment. Rub her snout in it, not hard - just enough so she knows it is hers and then toss her ass outside.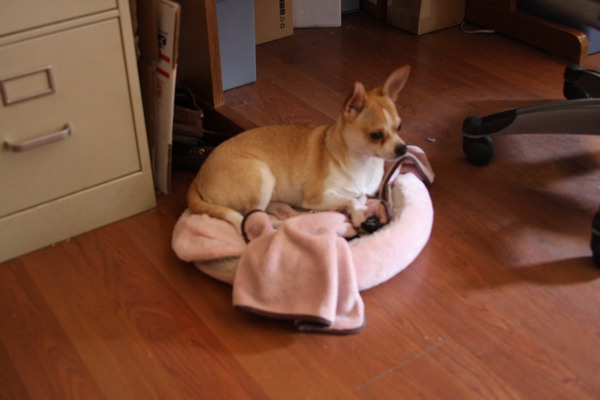 Ellie the Rat Ass Crapping Dog!
---
Karen continues to do well after eight months since her Gastric Bypass surgery. She has lost over 90 pounds and is happy in size 4 jeans. She can only eat certain things now that won't make her ill. Chocolate NOT being one of them. She can eat a TON of popcorn but seemingly take a whiff of some other things and she is gut wrenching sick. She has found a penance for black licorice, the real stuff. Try finding it, not what Twizller thinks it is, but real black licorice. It was a pain to find, just like the darn tea she likes, we had to order it by the case off of the Internet because no merchants carried it in our area. The poor old bird doesn't eat much anymore so that which she does, I try to find for her...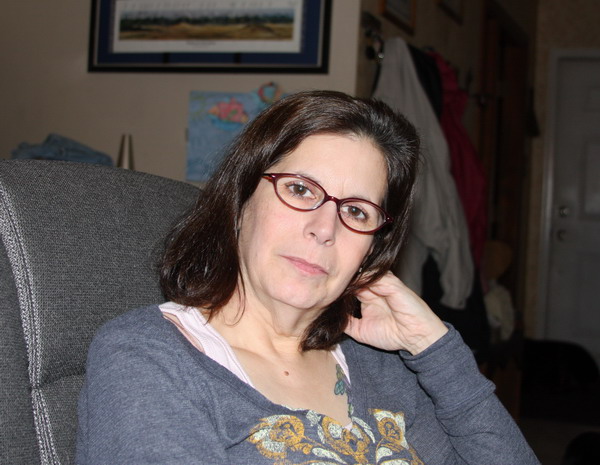 Karen with her new spectacles, quite the look eh?
---
Cameron is continuing as a Cub Scout again this year in Pack #800 and again he has created with help from Dorkie's squeeze a damn fine Pinewood Derby racecar for competition next Saturday.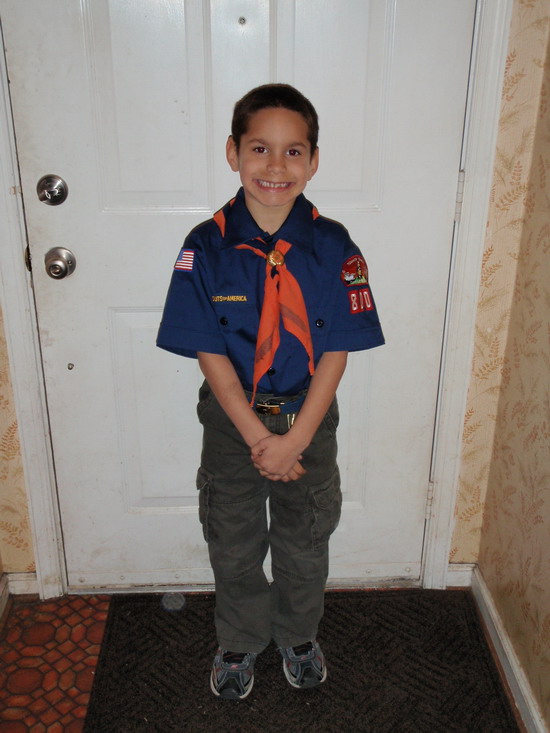 Cub Scout Pack 800, Wolf Cameron.
---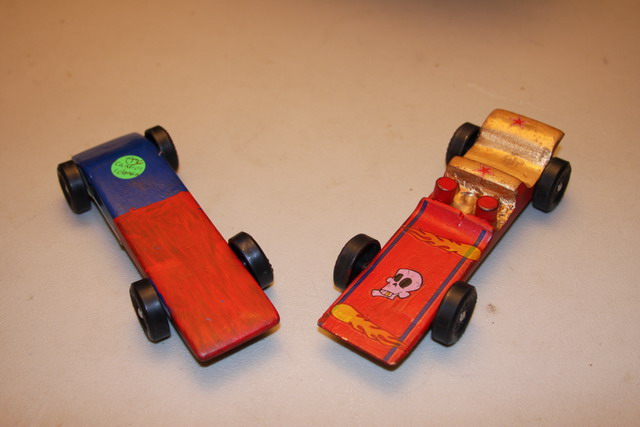 The Pinewood Derby Cars, the Dork's is on the left and Ratbert's is on the right.
---
The rest of the zoo is doing well, Scout seems to only want to go outside to go to the bathroom. It has been so long since he brought home a dead half eaten animal he must have forgotten what hunting was. Tessa just sleeps and eats as does Tinkerbell. In all honesty though, Tinkerbell is constantly under attack from Ellie. If they are both on the floor at the same time and Ellie is not circling and barking at Ninya (if Ellie only knew that Ninya could snap her neck in a single quick snap she surely would not) then Ellie usually has one of Tink's legs in her mouth and is biting her. Poor Tink's only rest is when we put them in their crates when it is bed time or when we go somewhere.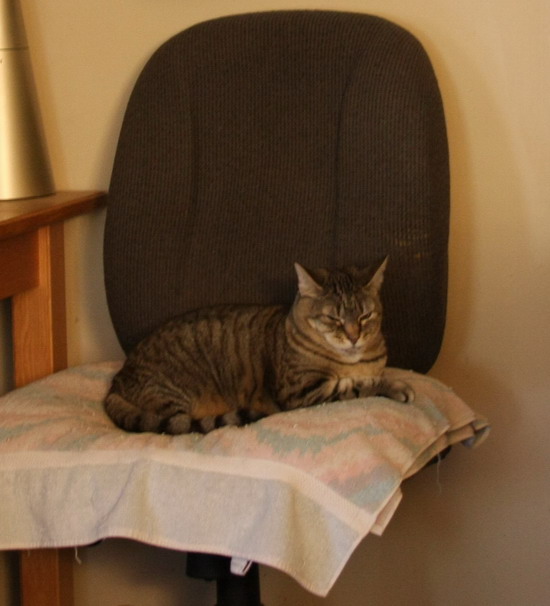 Tessa dreaming about her next meal.
---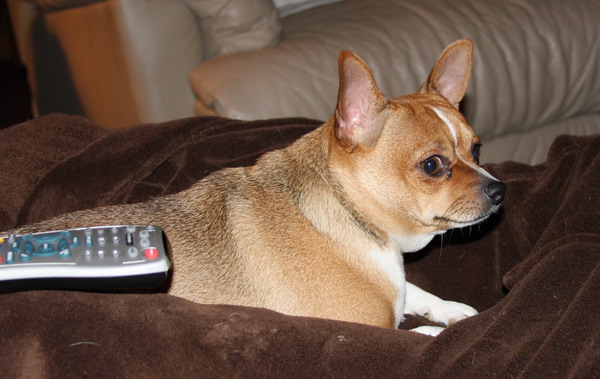 Tinkerbell wondering where that damn Ellie is.
---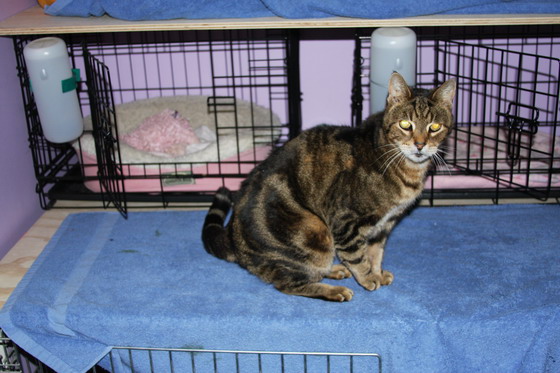 Scout is up, must be time to eat or crap.
---
That's all until next time...
---