January 22nd, 2013
For our 35th wedding aniversary we rode Amtrak up to DC, it was 4 1/2 hours from Norfolk to Alexandria Virginia. We arrived in Alexandria about 10:30 AM and started our walk to the Embassy Suites hotel. We were able to check in early so we made it up to our three room suite with a King sized bed and multiple flat screens. We then shared a club sandwich and fries for lunch before heading out to the museums. To get to the National Mall, where most of the museums are, we had to ride the Metro. Going into DC on the Metro was nice and not crowded. Once at the National Mall we could see the preparations for the impending Inauguration. Literally hundreds of portable toilettes everywhere and steel barricades to keep the "horde" where they could be controlled. At the entrance to each museum was a sign indicating they would be CLOSED on Monday for the Inauguration. So Karen and I humped through the Natural History museum and then we walked up to the Americanna museum. When we finished with that museum, it was starting to get dark and Karen was tired, so no Air & Space museum for Chuck. We walked back to the Metro and met with "hordes" of people with the same idea. This was a Saturday and I should have thought there would be no rush-hour. Wrong was I, the Metro was CRAMMED with people. Once back at our hotel we relaxed for a short while and decided to just bite the bullet ($$) and have dinner in the hotel. The service was sloth-like and when we finally received our food, Karen's was all messed up and both of our's was cold. Karen's chicken dish looked like it was left over chicken from something served at lunch and tasted pretty poor. They eventually took Karen's off of our bill and discounted my Flat Iron steak by 25%. The biggest loss was the time, we wasted over two and a half hours over dinner.
The next day we woke up on Sunday morning and found the "horde" alive and well in our hotel, we had to wait almost an hour for our free breakfast. The breakfast was not too bad and best of all it was free. We then rode the Metro transferring trains once to get to the National Zoo. Once off the Metro our walk up the hill was about a mile from the Metro station to the National Zoo entrance. Next time we will try to catch a bus up that damn hill, it took us a good thirty minutes at least to walk up it. Once at the zoo the real walking commenced. The National Zoo is very poorly laid out, you have to walk up and down other hills to get to the end, and then instead of being circular in construction so that the end takes you out to where you came in, you have to back-track all the way back out, up and over all of the hills you traversed going from exhibit to exhibit. The content of the zoo was good, the elephants were unavailable, and they did not have any rhinos or giraffes, camels and a lot of others you would expect. We did see lots of primates, lions, cats and small mammals, we skipped the birds and reptiles though. And the zoo closes all of the buildings, read that bathrooms, at 4:30 so you are screwed if you are there after that time and might have had too much to drink while humping up/down the hills. Once we left the zoo it was back to walking down that long hill to the Metro station which was, surprise, packed again. It took us about an hour to get back to the hotel.

We left the hotel in search of a better place for dinner. We had heard of a really good Italian place supposedly a couple of blocks from the hotel. Our search for it was pretty lame, as we had no name and no real idea where it was. We wandered about until we found what looked like a Mom & Pop Italian place about 6 blocks away. Cozy and warm it was, but it was pretty poor Italian, our first clue should have been the Lebanese waiters and staff. I ordered a simple 10" pizza and salad while Karen ordered Lobster Ravioli. The first issue was the salad came out wrong, pretty hard to screw up leaves and onions. My pizza came next and seemed OK, then came a plate of chicken parmesan – that was sent back in search of Karen's lobster ravioli. After a few minutes a steaming hot dish of cheese, pasta and something that looked like stuffed shells came out. That was dissected and found out to not have any resemblance of a ravioli and was sent back. The third dish that came out was some kind of ravioli, and Karen is still not sure if it was chicken or lobster. It seems we were not having any luck with dinners at all. After eating we wandered back to the hotel and watched TV and had a restful night.

Monday morning we went downstairs expecting to find the "horde" in line again for breakfast, to our amazement, the "horde" must have already eaten and left for the National Mall. We enjoyed a nice FREE breakfast and then went and took our showers and packed our things. The plan was to check out of the hotel about noon-ish and then wander the streets of Alexandria Old Towne until we had to find our way to the Amtrak station. We made it about two blocks out from the hotel and Karen was frozen, the icy cold wind was blowing pretty brisk on an already cold day and she said she was not interested in walking around freezing even if it meant giving up shopping. We decided to return to the hotel and just hang in the lobby/common area and watch the Inauguration on the hotel's big screen TVs. Walking back, we passed another Italian restaurant which must have been the one we SHOULD have found the night before. We stopped at a Whole Foods grocery store and picked up some snacks for the train ride home.

We left for the Amtrak train at about 3:15 PM to catch our 4:18 PM train back to Norfolk. The train left on time and we now found out where the "horde" was, it was on our Amtrak train trying to get somewhere. We walked all the way to the front of the train looking for two unoccupied seats together, finding none, we walked, with all of our stuff, to the second from the last car and finally found two seats together. By the time the train made it to Fredericksburg almost all of the "horde" had thinned out. Dinner on the way back consisted of Oat & Honey granola bars and mini (I do mean mini) pizzas served hot on the train. The train rambled into Norfolk about a half hour early and we were able to get home by 9:00 PM to our waiting doggies and cats. I was able to get out and set up my telescopes and stuff to see Jupiter and Moon which were the closest they will be in a good number of years. All in all it was good trip. I will NEVER plan a trip to DC on an Inauguration day and a National Holiday at the same time EVER again.
But hey, that is what memories are made from...
Here are some shots I took during the trip, enjoy!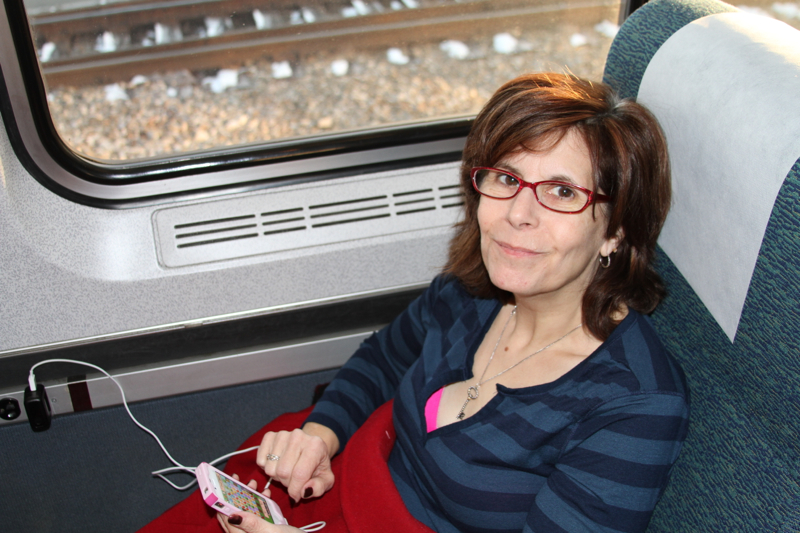 Karen passing time on the train.

---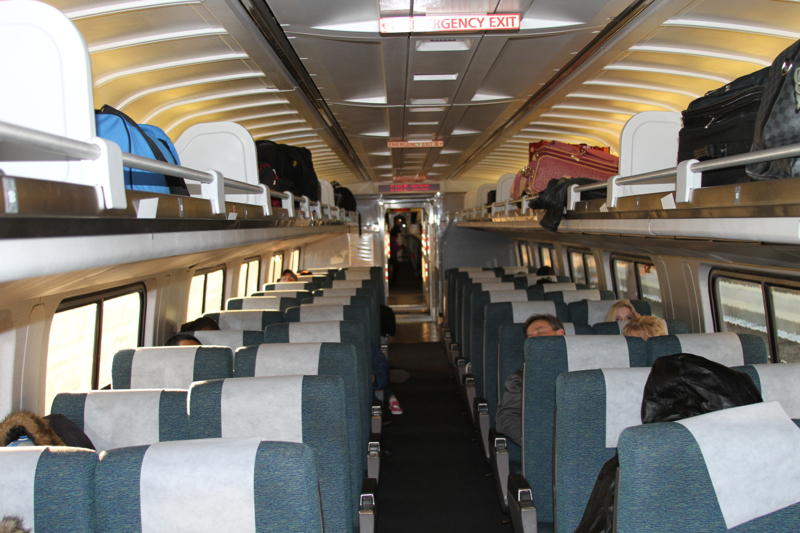 Seating on the Amtrak coach car.

---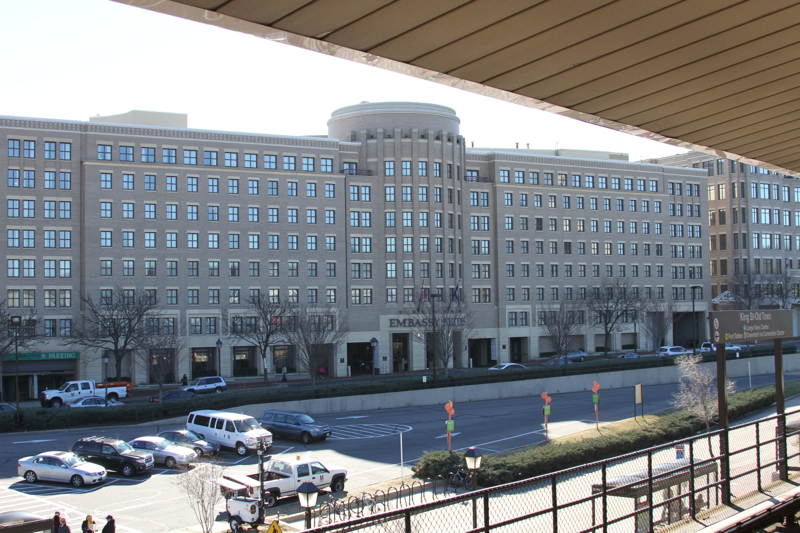 Embassy Suites, our hotel in Alexandria

---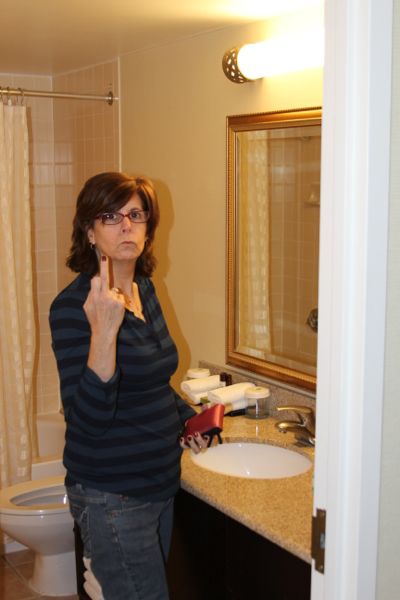 Karen in the bathroom.

---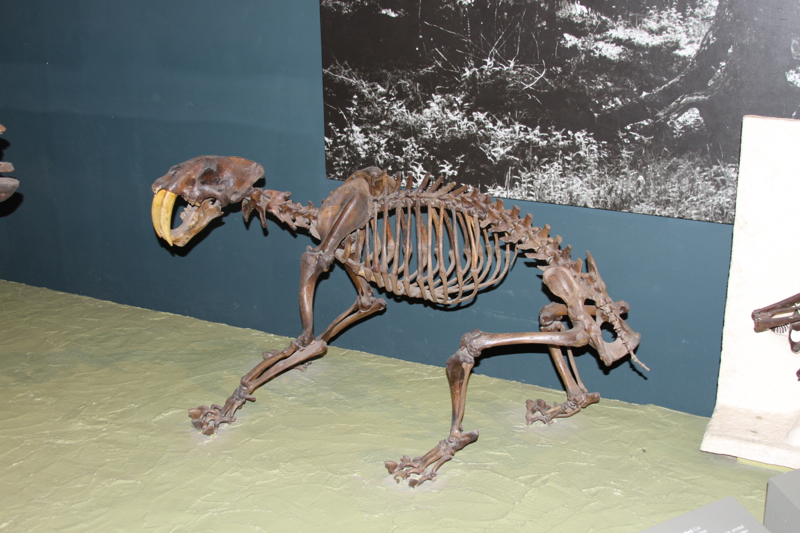 Sabertoothed cat.

---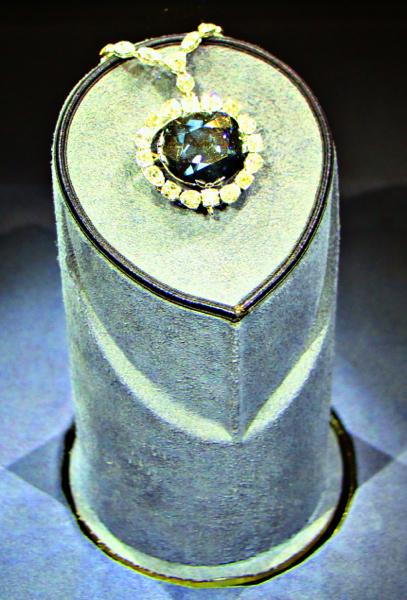 The Hope Diamond.

---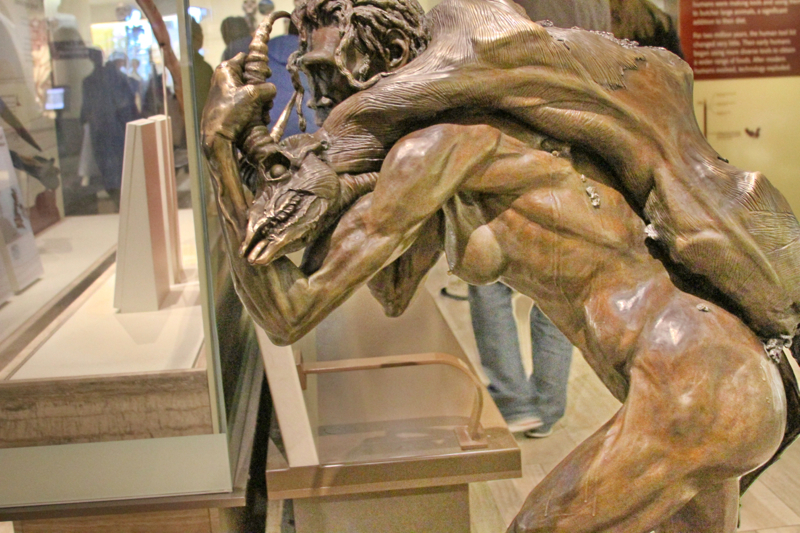 Bronze of a cave woman bringing home the bacon.

---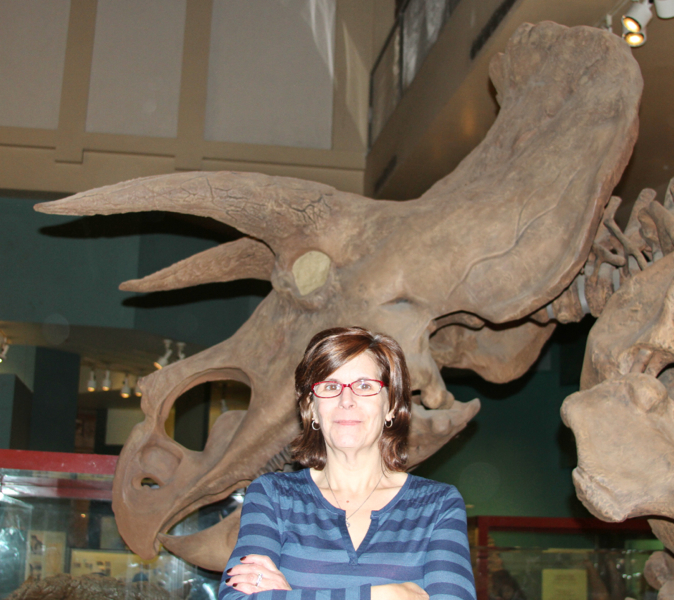 One of these two is very old fossilized Triceratops.
---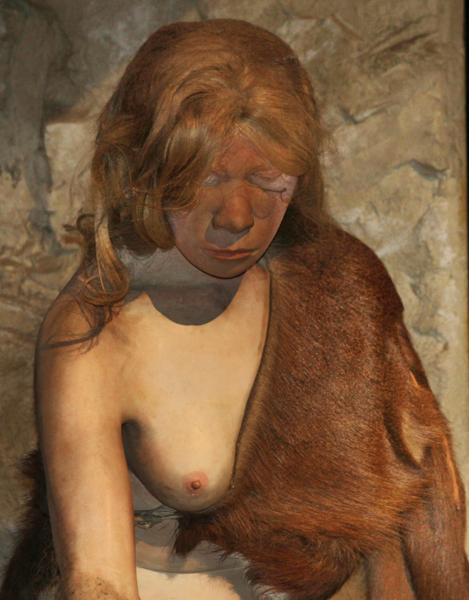 Cave wife fixing dinner.
---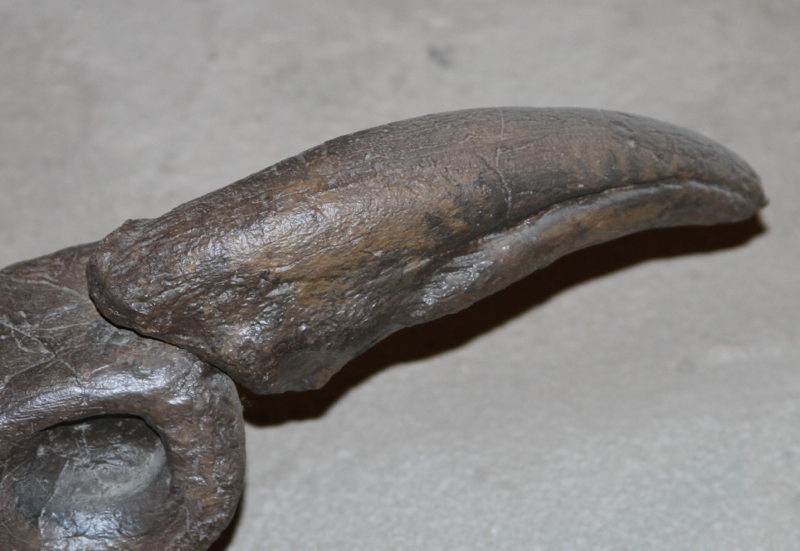 A size reference for the "talon".
---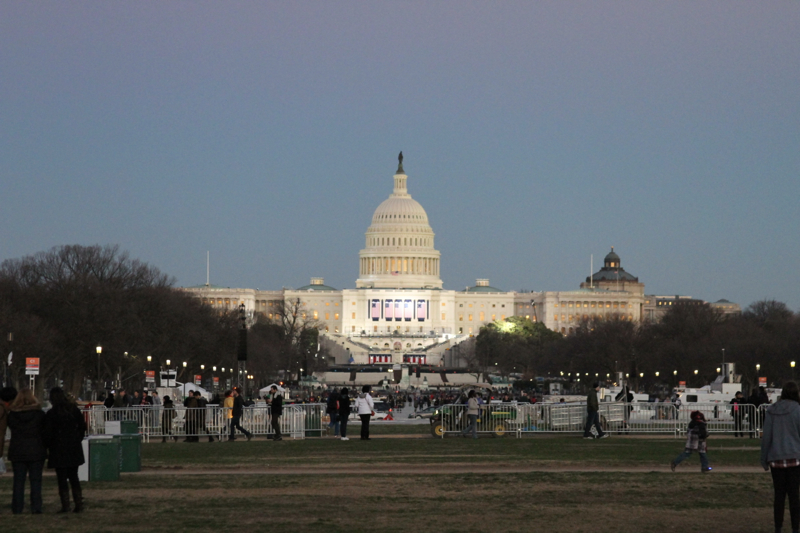 Tourist Shot #1.

---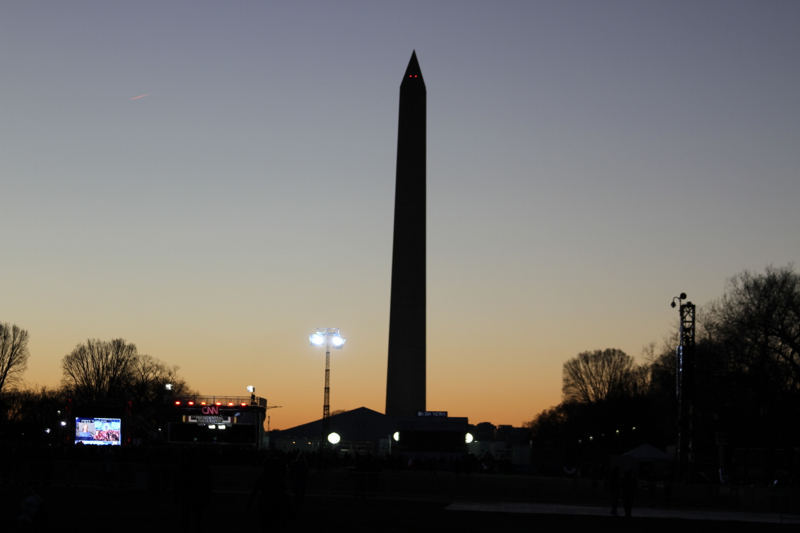 Tourist Shot #2.

---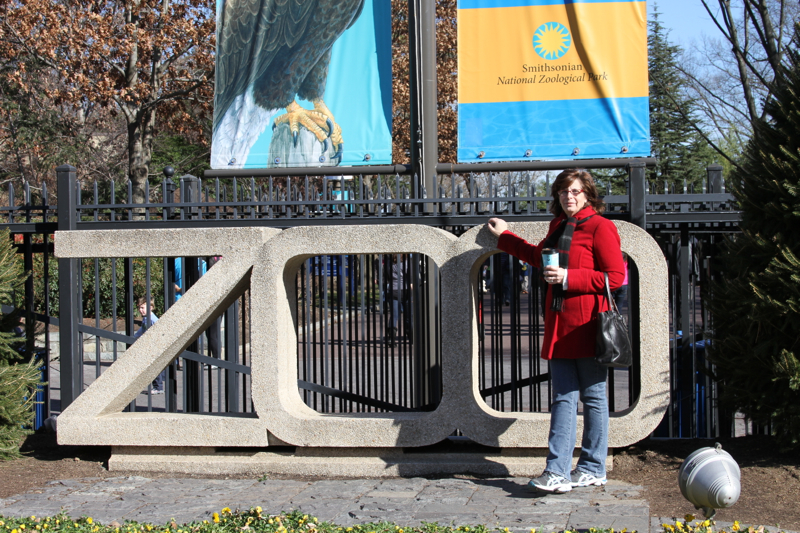 The National ZOO!

---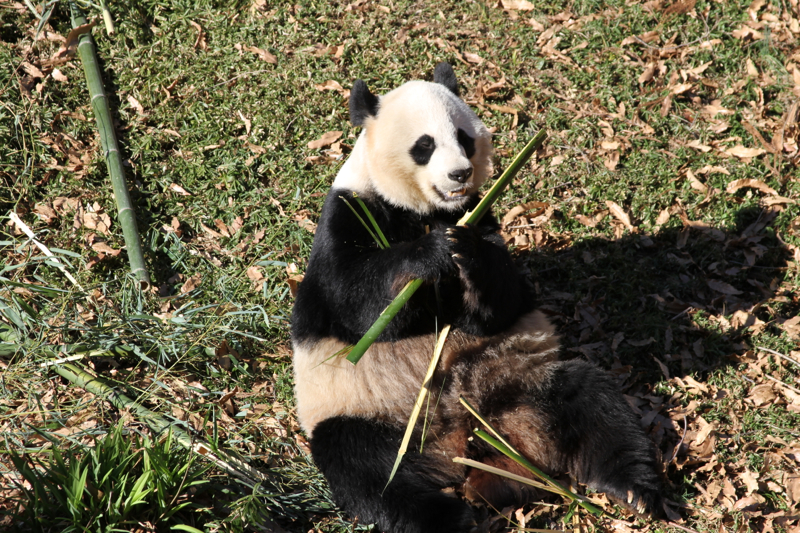 Pandas are so cute, even if they can shred you limb to limb.

---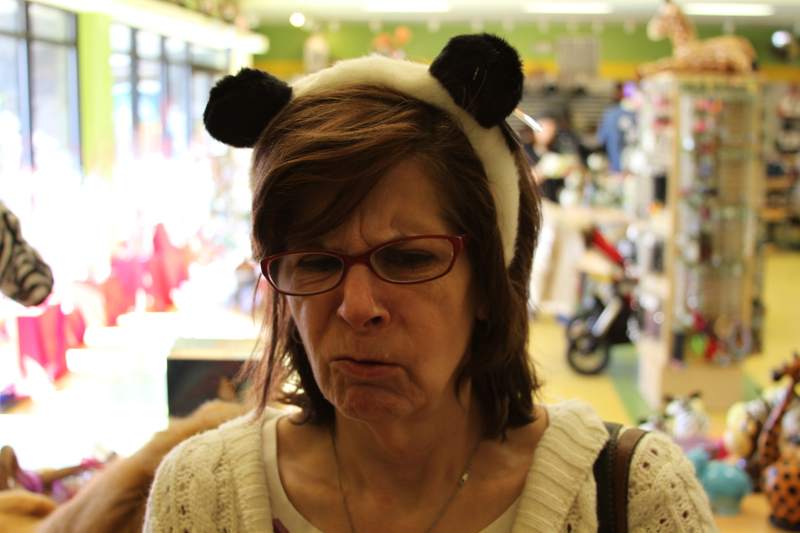 Somebody's doesn't like Panda Ears.
---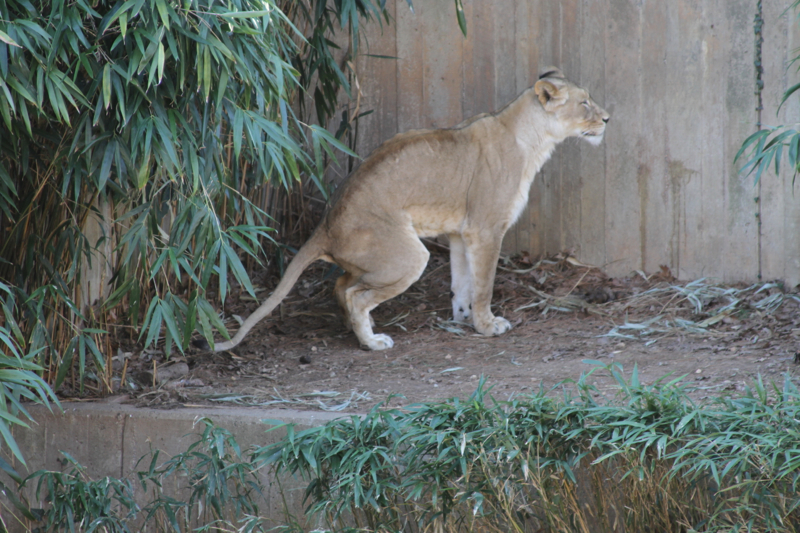 Guess what this cat is doing?

---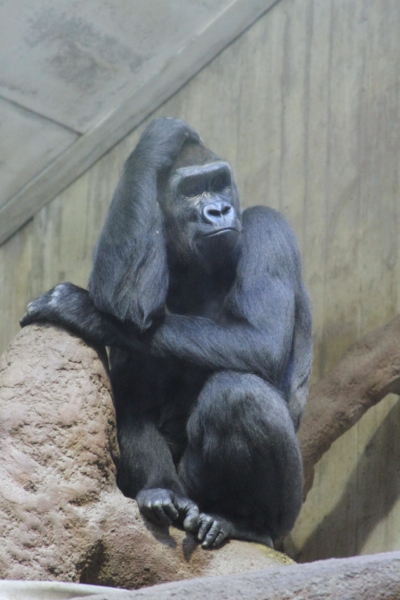 Now I am in charge, what to do...
---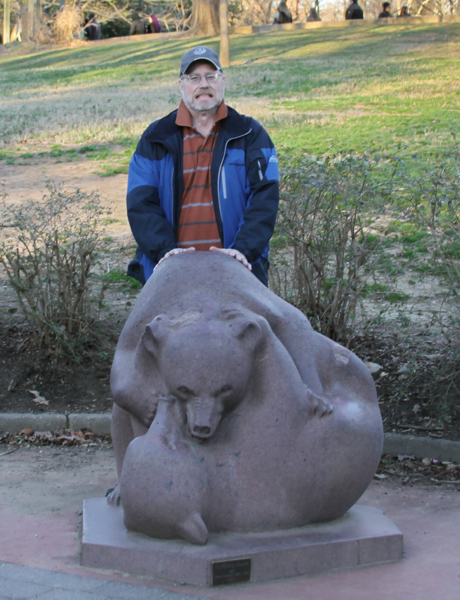 Finally a shot of me at the ZOO!
---