Egypt...
01:01:11 0001 Failed to execute CGI : Win32 Error Code = 259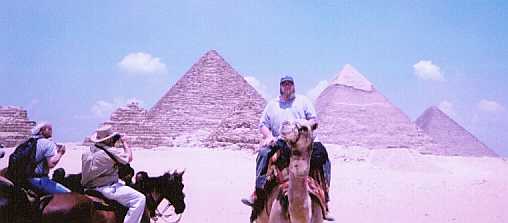 Yours truly on a "cute" camel in front of the Giza Pyramids
The June 2002 trip to Egypt was a working trip. The Egyptians have several of our older FFG class ships. Their Combat Direction System and Fire Control Systems were in need of a groom in preparations for an up coming Egyptian Military Exercise. I was talked into going to assist in the grooming of a unique cabinet we made just for the Egyptians. I won't bore you with work details but I must tell you about our quick side trip to Cairo to visit the Pyramids.
The folks here at the local contractor, Booz-Allen, set up our Cairo trip. They bought our round trip train tickets for us and set up two drivers in Cairo to take us around which we reimbursed them for. The driver picked us up at 7:00 AM to take us to the train station in downtown Alexandria.
Once on the train, it took about two and a half hours to travel to Cairo. When we got off of the train our drivers were holding up signs so we could find them. No in the hands of our drivers we started off to the pyramids. I would have been happy driving up to main tourist trap to Cheop's pyramid and going through the visitor center and such, but nooooooooo! The others in the group decided it would be more fun to take a tour of the pyramids on camel back. There was seven of us but only four camels and three horses and none of the horses were big enough to carry my fat ass. So I got to ride a camel with a very uncomfortable saddle. If it would have been a more comfortable saddle it would have been more fun.
Before we got on the camels the tour guide's offered to let us use their public toilette, it was a pit in the ground with a hose to spray clean your ass. Thank Allah for my daily dosage of Imodium-AD.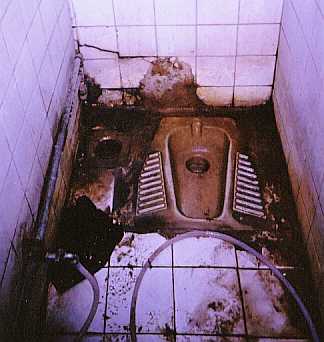 The Egyptian Public Toilette, you stand on the little serrated pads, squat and do your business and then grab the hose off of the floor and clean your arse with a spray of water, don't drink it though, no towels or toilette paper. I will never bitch about a bad highway rest stop ever again...
It took about 20 minutes to ride to the back side of the second big pyramid were we wandered around and looked at things like the slave burials and some ancient hieroglyphics. Then it was back on the camels and we rode to the third pyramid which was smaller than the other two. We all climbed up a few rows of blocks and looked out over Cairo. We also observed how close the blocks are together and the precision they fit, quite amazing. Then it was back on the camels for a ride to the sphinx. This ride was only about 15 minutes. We got off and wandered around the sphinx a little and then back on the camels and started back towards the camel ranch.
Up until this point we had been charged $40 each. I thought that was the complete charge for the trip and tour. I had intended on tipping the boy who led my camel $15-$20 as it was very, very hot and he walked the whole way through the sand and rocks. But what we got hit with was that on the way back, the tour guides approached each rider one at a time and demanded money for their services. I relented and handed the guy $20, boy did he whine and bitch about how he could not feed his family and how his kids have no shoes blah, blah, blah... I gave him $10 to get the hell away. Then the assistant tour guide started to hit me up for money, I told him he could have $5, then comes the whining from him oh this and oh that, ok I gave him $5 more and said get the hell away. Once they were satisfied that I was not going to provide them any more money the ran their horses up to the next unsuspecting soul. When we got back to the cars I gave my camel boy $10 and then he started whining just like the two tour guides. I was going to give him more anyway, I just wanted to see how well his whining was. I gave him another $10 and he was happy.
The camel boy did give me the reins to the camel for a while and I got the camel into a quick trot, much smoother than the walk. Seeing how my saddle did not have stirrups I was reluctant to try to break it into a gallop. The Egyptians were amazed that I did not fall off!. It is pretty high up there on the camel, so high that my feet dangling down were still taller than the back of the Arabian horses which were probably 12-14 hands high (that is horse talk, ask my mom how high it is).
Once back in the cars, the car I was riding in had no A/C (96 degrees) and we drove to some place for lunch. All this joint had was roast chicken.
Roast chicken gizzards, roast chickens, whole or half. I ordered a half of a chicken, a bottle of water and a can of diet coke. The chicken was so dry it made the sand of the Sahara look wet in comparison. The chicken was also stuffed with some damn green nasty looking herb stuff which I tried to scrape off. We had some equally dry bread (like Mongolian BBQ) and some greasy French fries. The toilette facilities were clean, unlike the ones at the camel ranch, and had real sit-down facilities but no paper, you carry your own in Egypt.
After lunch we visited the museum of antiquities. It was nice, lots of Egyptian stuff yanked from the various digs. I saw all of Tutenkamen's things including the gold burial mask. I decided to not pay another $20 just to see the room of mummies as I have seen enough of them on the Discovery channel. After wandering through the museum for a couple of hours, there is just so many carved rocks you can look at, I proceeded to the gift shops. I found a nice gold Egyptian styled bracelet with hieroglyphics on it. I asked how much, let's just say we would have had to sell both Harleys for it (38K). I politely said no thanks and bought some T-shirts instead which were pretty inexpensive. They will no doubt shrink to half their size the first time they are washed and dried.
From the museum we were herded off to the cars and taken to the train station to catch our train ride back to Alexandria. We arrived in Alex about 9:30 PM and had our driver stop at McDonalds for dinner, I had a soy-burger Quarter Pounder with cheese and fries.
We made it back at the hotel by 10:30 PM and so ended our Egyptian tour of the pyramids, museums and Cairo.
I did not see one Harley here at all during my stay. Mostly I saw JAWA street bikes and scooters, I observed one Honda trail bike which was 20-25 years old in Cairo.
Here are the photos commemorating our fine trip, hope you enjoy them!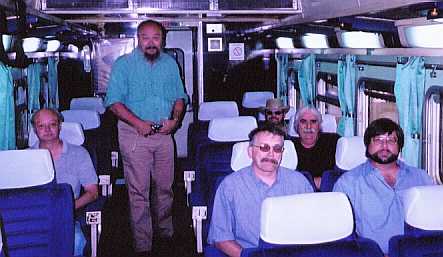 This is the "team" on the train to Cairo from left to right, Rich, John, Rusty, Tony, Kevin and Logan.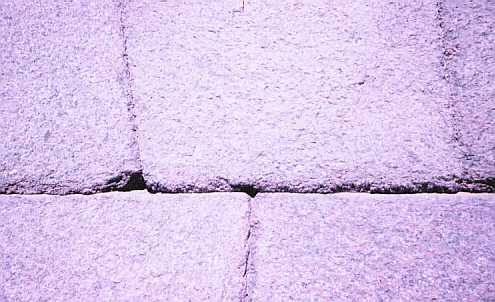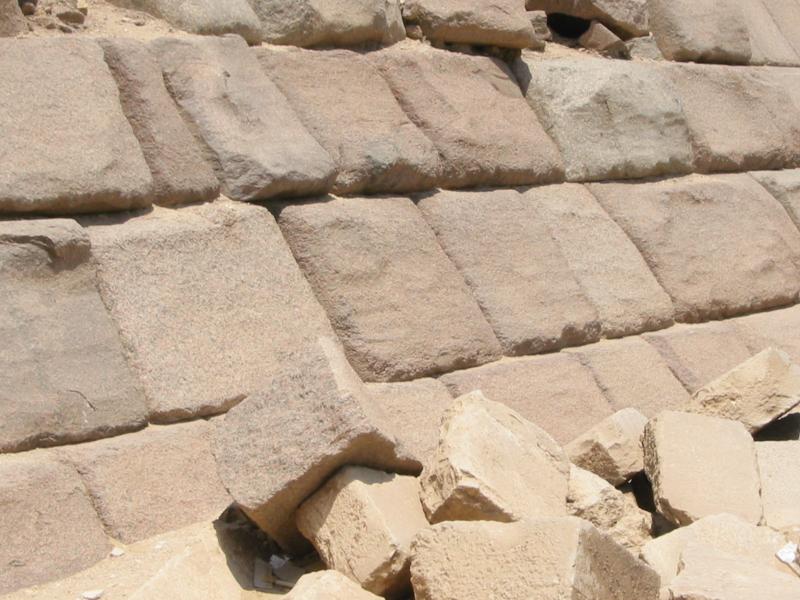 These pictures show how close together the blocks are, no mortar of any type was used on them.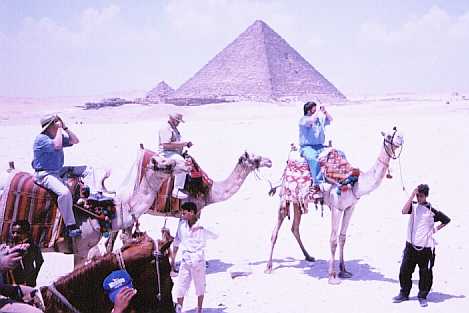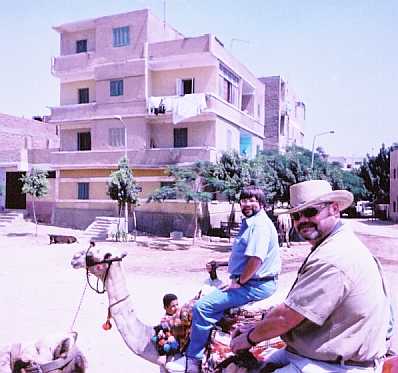 Just some more shots of the "team" on camels.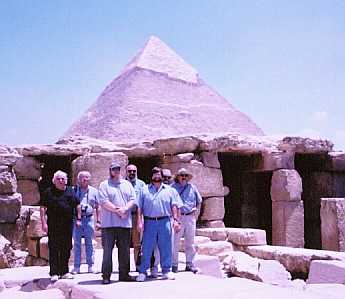 Here is the "team" in front of Cheop's pyramid.
Russ, Rich, Chuck, John, Logan, Tony and Rusty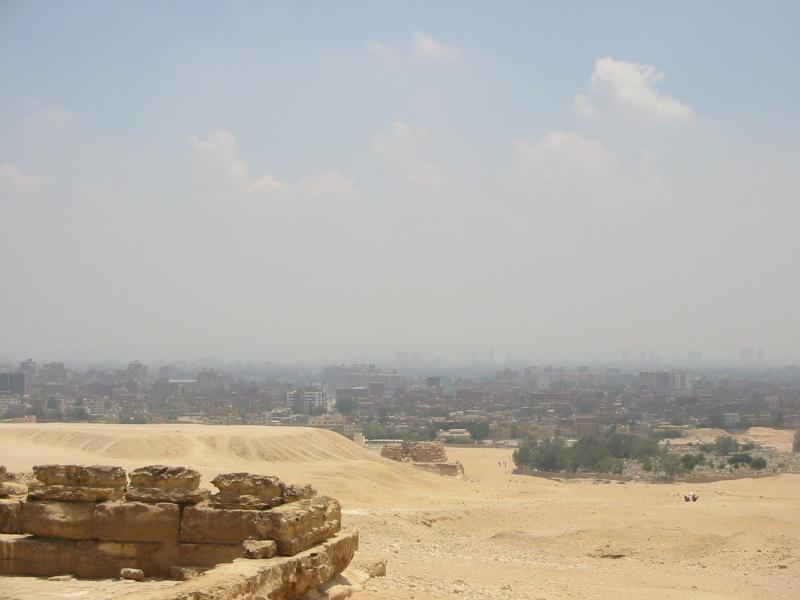 A picture of Cairo from the desert, just a little air pollution.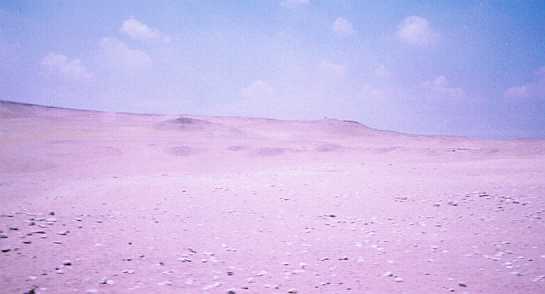 This picture was taken 180 degrees from the previous picture of Cairo, the Sahara Desert.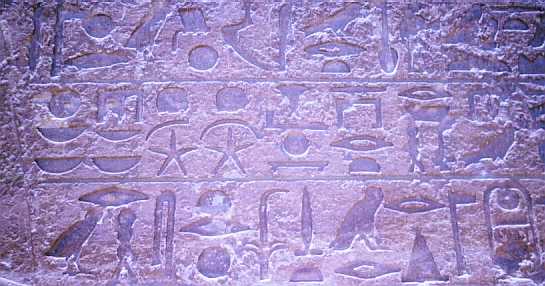 Some ancient Egyptian writing.


Modern Egyptian writing, not much improvement over the last five thousand years. The scribbling in the lower right hand box equates to my name as it is written in English in the upper left corner.


The three big pyramids of Giza and two smaller ones.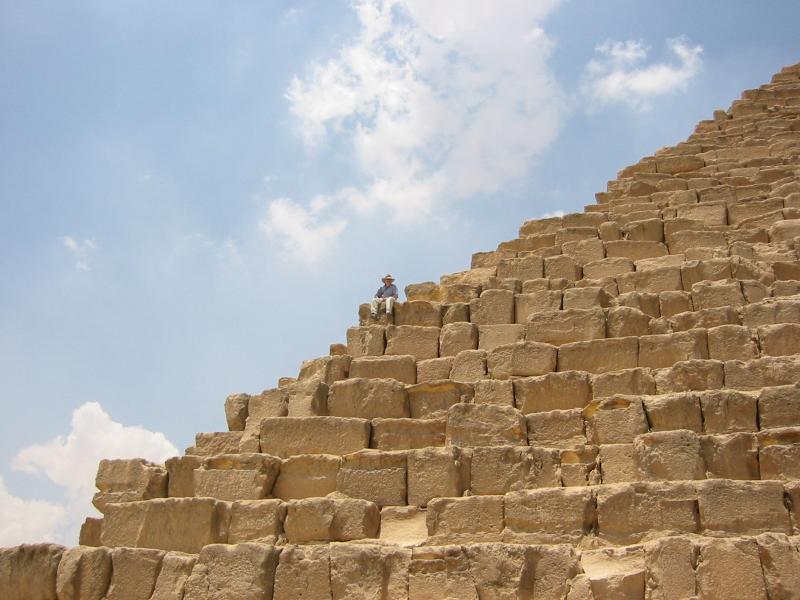 This is where Rusty climbed up about a dozen rows of blocks.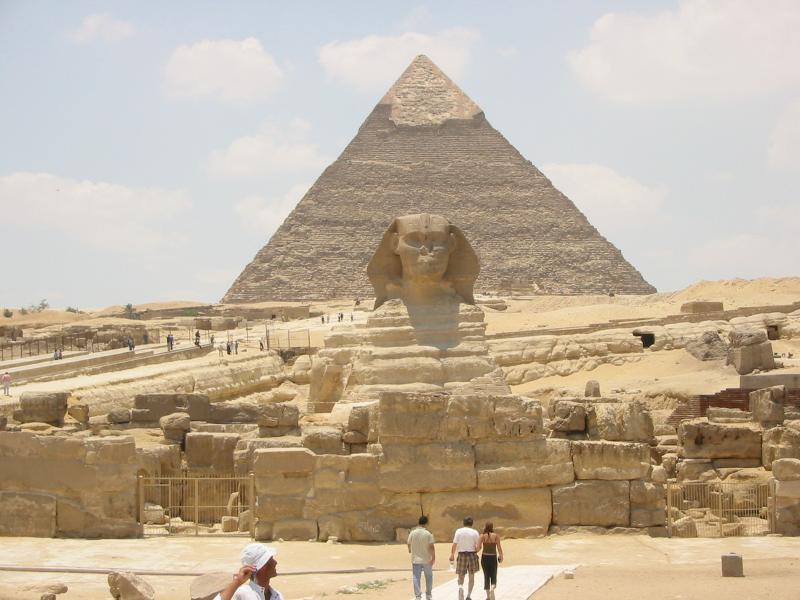 The Sphinx in front of a pyramid.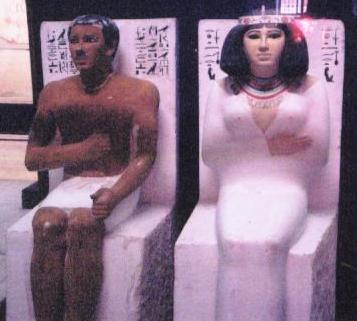 A set of king/queen statues in the Museum of Antiquities in Cairo.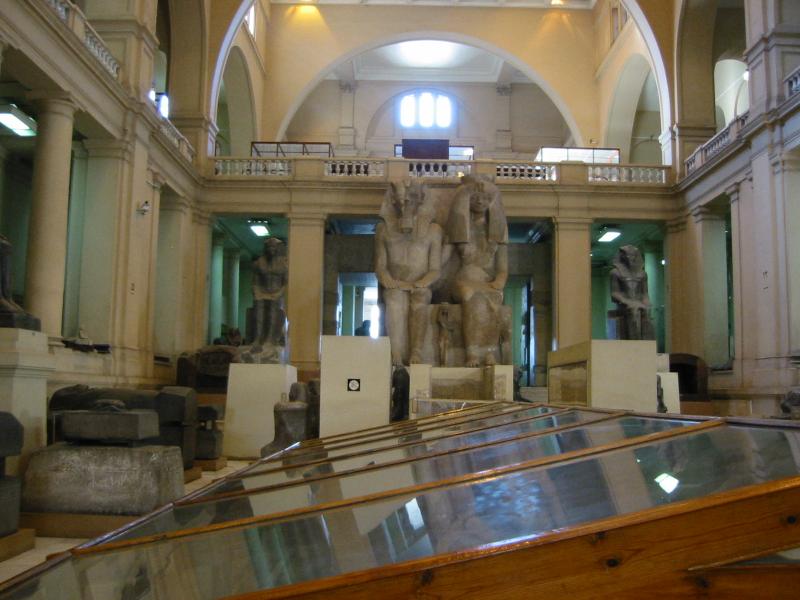 Another picture from within the museum.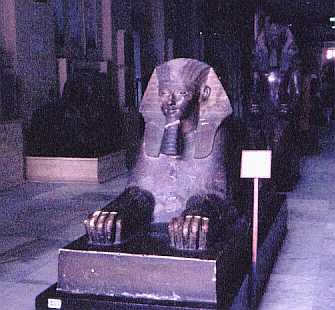 A sphinx at the museum.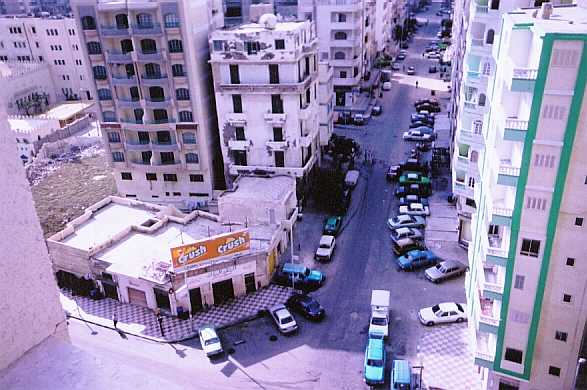 And last but not least, the view from my window in the hotel in Alexandria.
The hotel we stayed in was pretty nice. The beds were good and there was plenty of water and a private washroom in each room which is a very good thing for me. I stayed in a room up on the 8th floor and the view outside was typical of all of Alexandria. Karen asked what it was like, I explained that it was like a never ending Tijuana, as she had visited Tijuana in the 70's before the place was "cleaned up". One evening after work we wanted to try the Chilli's franchise restaurant in Alexandria. I asked the front desk if we could walk there and he told me yes, I asked him how long it would take to get there and he replied 15 minutes. We decided we were all up for a fifteen minute walk so we ventured out. An hour and ten minutes later we finally found our way to the Chilli's restaurant. On the way back from dinner we took a taxi and recorded the odometer, we had walked 6 kilometers that is about 3.5 miles, and the TAXI ride back took about fifteen minutes...
We had a driver assigned to us for our transportation needs and we rode around in a ten passenger Mercedes van to and from the Egyptian Navy Base each day. The ride in took us through the fish markets, and in the morning while they were hauling out the previous day's catch the smell was unbelievable, ten times as strong any fisherman's wharf! Every morning someone in the van would announce "Good Morning Ladies" when we went through that area. By the time we would return to the hotel in the evenings the odors had usually subsided.
We did not get any time to sight see except our quick jaunt to Cairo on Friday which is their Holy day we actually worked long hours which most of the Egyptian sailors did not care for. The fellow who worked with us on the Rehost and UYK-7 computers was a fellow named Mohamed Fathy Khamiss who was a great pleasure to work with. He was very bright and quick to learn what we were doing. My portion of the trip would not have been as successful if he had not been there helping us. Thanks Fathy!
Special Thanks to JOHN for some of his pictures, my camera ran out of film too early...
Back to Chuck's Ramblings